Bitcoin overtakes Johnson & Johnson again: Visa and TSMC next?
Bitcoin (BTC), the world's largest cryptocurrency by market capitalization, recently overtook Johnson & Johnson, one of the world's leading healthcare companies, in terms of market value.
Market data shows that bitcoin's market cap currently stands at $442.55 billion, while Johnson & Johnson's market cap is slightly lower at $441.55 billion. In addition, bitcoin's market value is also closing in on the market caps of other major companies, such as TSMC and Visa.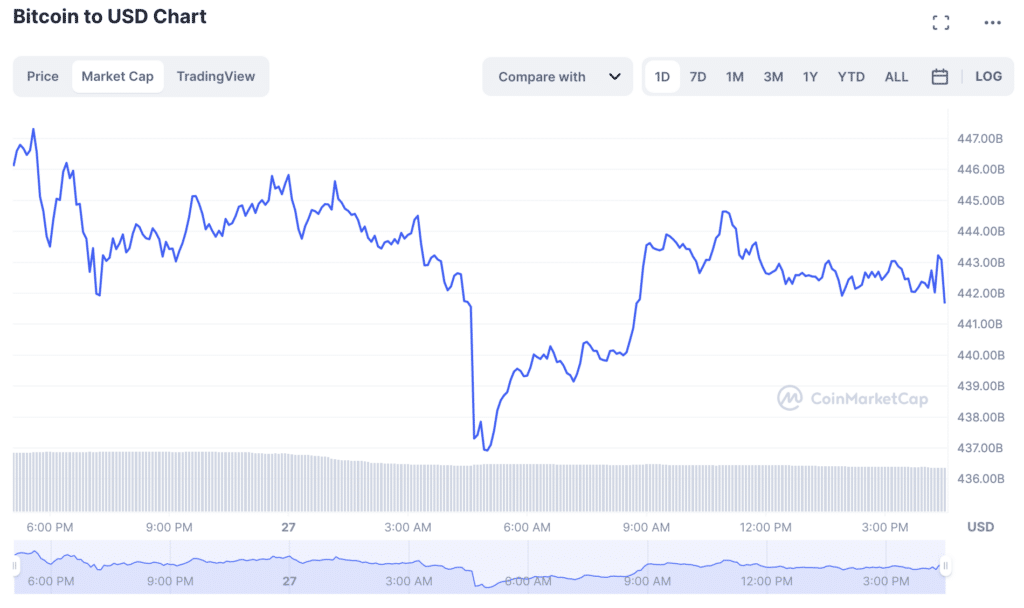 TSMC — shorthand for Taiwan Semiconductor Manufacturing Company — is the world's largest dedicated independent semiconductor foundry and has a market cap of $484.63 billion. Visa, a multinational financial services corporation known for its payment processing network, has a market cap of $475.85 billion.
Johnson & Johnson, the healthcare company whose market value was recently overtaken by bitcoin, is also known for its role in the fight against COVID-19. The company developed a single-dose COVID-19 vaccine that received emergency use authorization from the U.S. Food and Drug Administration in February 2021.
At its highest, bitcoin's market cap stood at $1.23 trillion — much higher than any of those companies stand at, as of press time. Such a market cap would make bitcoin worth more than Amazon at its current market cap of just over $1 trillion and would be worth two times the current Berkshire Hathaway valuation of $685.33 billion.
Berkshire Hathaway is a multinational conglomerate holding company led by Warren Buffett, one of the world's most successful investors. Buffett has been quite vocal about his critical views of the cryptocurrency space.
In a 2018 interview, Buffett referred to bitcoin as "probably rat poison squared" and argued that it had no unique value as an asset. He also said that he didn't own any bitcoin and never would. Charlie Munger, Berkshire Hathaway's vice chairman, has also been critical of bitcoin, calling it "worthless artificial gold" in a 2018 interview.
The development follows recent reports examining some popular bitcoin models and their recent bullish predictions. Also, market data provided by on-chain analytics firm Glassnode shows that the amount of bitcoin in circulation that has not moved in over the last 10 years has reached a new all-time high.