Bitcoin price prediction 2024: billionaires' crystal ball revelations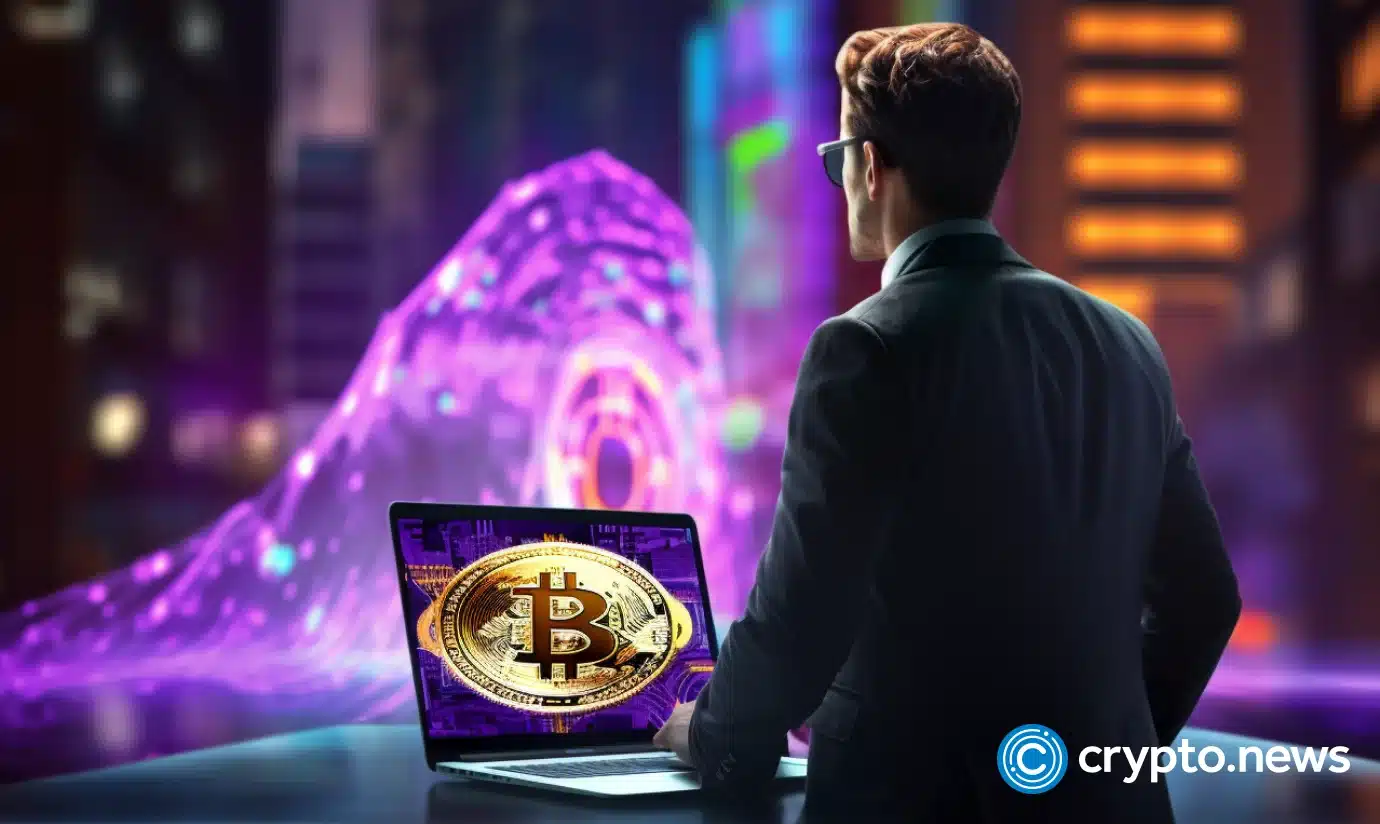 What do the billionaires and experts forecast for Bitcoin price in 2024 and beyond? Dive into the predictions that might shape the crypto space in the coming years.
As we approach the much-anticipated Bitcoin (BTC) halving next year, a time when the crypto market tends to make its best impression of a roller coaster, some well-known figures are offering their insights on where the Bitcoin price may be headed in the coming years.
These forecasts originate from individuals who appear confident in their ability to predict financial trends. Figures such as Cathie Wood, Robert Kiyosaki, and other experienced cryptocurrency experts openly express their often unconventional visions for the future of digital currencies.
So, let's unwind the most bizarre Bitcoin forecasts for 2024 and beyond.
Cathie Wood: $1 million by 2030
Cathie Wood and her team at ARK Invest are making waves with some eye-catching forecasts. According to Cathie, Bitcoin might be gearing up for a significant leap, possibly reaching a staggering $1 million by 2030.
This isn't a number picked from thin air. Despite a rollercoaster of a year in 2022, ARK's recent "Big Ideas" report maintains that Bitcoin is still a sturdy player in the game.
To support these bold claims, ARK highlights Bitcoin's robust network fundamentals and the growing number of long-term holders. It's worth noting that Cathie has been making price predictions for some time now. In 2021, she anticipated Bitcoin hitting $500,000 by 2026. As we approach 2024, many are eagerly awaiting to see how her ambitious forecast unfolds.
Mike Novogratz: no longer $500,000
Meanwhile, Mike Novogratz, the CEO of Galaxy Digital, has had a change of perspective. Initially, Novogratz was quite optimistic, picturing Bitcoin skyrocketing to a whopping $500,000 by 2027.
However, it seems the shifting sands of the crypto market and an assertive stance from the Federal Reserve (FR) and the Securities and Exchange Commission (SEC) have made him revisit his stance.
The enthusiastic $500,000 forecast has been toned down somewhat, with Novogratz acknowledging the significant hurdles Bitcoin faces in reaching that golden mark within his initial time frame.
He highlighted the Federal Reserve's aggressive measures to combat inflation as a major factor in the recent decline in Bitcoin's value. The cryptocurrency went from reaching a high of $69,000 in November 2021 to below $16,000 in November 2022, partly due to FTX's issues.
Despite the "crypto winter", Novogratz maintains a resilient spirit, hinting at brighter days ahead. He believes the industry will learn from its current tribulations, brushing off the setbacks and ultimately soaring to new heights.
Tim Draper: $250,000 in April 2024
Venture capitalist Tim Draper, a seasoned figure in the crypto space, remains optimistic about Bitcoin's future. In a recent On The Ledger podcast chat, he reiterated his bold stance that Bitcoin would touch the $250,000 mark.
Draper hoped to see this milestone by June of 2023, but he concedes that this timeline might stretch further. Yet, with an enthusiastic tone, he hinted that this pivotal moment might coincide with the approaching "halvening" event in April 2024.
While he does entertain the notion of potential hurdles, Draper doesn't envision a future where Bitcoin is nudged completely off the stage.
Rather, he envisages a resilient trajectory for cryptocurrencies, seemingly unthreatened by the conventional financial institutions and fiat currencies, which he predicts are unlikely to dampen the crypto momentum.
Tom Lee: up to $180,000 in 2024
In August 2023, Fundstrat's Tom Lee showcased an optimistic outlook for Bitcoin in 2024, particularly keeping an eye on the potential approval of the first-ever US spot Bitcoin ETF.
This move, Lee predicts, could catapult Bitcoin to unprecedented heights, possibly scaling beyond the previous peak of $69,000 to even hover around the substantial marks of $150,000 to $180,000.
He explained that this bullish projection is primarily based on the anticipated surge in demand surpassing the daily Bitcoin supply once the spot Bitcoin gets a green light. This event might significantly influence the "clearing price", according to Lee.
Moreover, Lee foresees bright prospects for the cryptocurrency, even without the ETF approval, attributing positivity to the impending Bitcoin halving event slated for next year.
Lee emphasized that this halving event alone could elevate Bitcoin's value considerably, although a six-figure leap seems more plausible with the regulatory nod for the US spot ETF.
Pantera Capital: $148,000 after halving
Pantera Capital, a leading crypto asset management firm, anticipates a considerable surge in Bitcoin's value, nearing a staggering $148,000 in its forthcoming four-year halving cycle, a sentiment echoed in their recent "Blockchain Letter".
The firm's analysis highlights Bitcoin's historical trends of experiencing cycle bottoms and peaks in roughly equal intervals surrounding each halving event.
It illustrates a pattern where Bitcoin generally bottoms out 477 days before the halving, escalating steadily into it and then reaching new heights afterward, with an average span of 480 days from the halving to the peak of the next bullish cycle.
In light of this pattern, Pantera Capital posits that the 2022 bear market possibly delineated the bottom of the current Bitcoin price cycle. Looking forward, they project that by the next halving in April 2024, Bitcoin could command a value of around $35,000.
Furthermore, the ensuing 480 days post-halving could propel Bitcoin not just to a new pinnacle but potentially to a towering value of around $148,000 by July 2025.
This projection is grounded on the anticipated reduction in new Bitcoin supply, expected to halve, potentially fueling a significant price upswing in line with historical patterns.
Robert Kiyosaki: $100,000
Author and entrepreneur Robert Kiyosaki, famed for his book "Rich Dad Poor Dad," continues to staunchly advocate for the inclusion of precious metals and Bitcoin in investment portfolios as a hedge against the potential economic instability instigated by governmental maneuvers.
Kiyosaki's enthusiasm extends fervently to gold and Bitcoin, as he considers them robust options to steer through turbulent economic phases.
He anticipates a sharp surge in the prices of gold and silver in the event of a crash in the stock and bond markets. Simultaneously, amid escalating global economic tensions, Kiyosaki foresees Bitcoin touching the landmark value of $100,000.
During his conversation with Daniela Cambone, Kiyosaki didn't hold back on voicing his skepticism towards the federal government, the Treasury, the Fed, and Wall Street, candidly acknowledging his lack of trust in these entities.
He advises like-minded individuals to exercise caution, recommending a shift away from saving in dollars and evading bonds as part of a prudent financial strategy.
Navigating crypto price predictions
As we steer through the stormy seas of cryptocurrency predictions, let's not forget that our fortune tellers have a hefty stake in the game. A blooming Bitcoin garden would mean a golden harvest season for them.
So, while their forecasts might tickle your investment bones, do wear your skeptical glasses and sprinkle a generous dose of salt over those predictions.
After all, taking small, measured steps is always safer than sprinting blindly in a race filled with unexpected twists and turns.
As you navigate this exciting yet unpredictable market, let common sense and caution be your guiding stars, and never invest more than you can afford to lose.