BitTube Gains Recognition as the Altcoin is Added to Bittrex and Upbit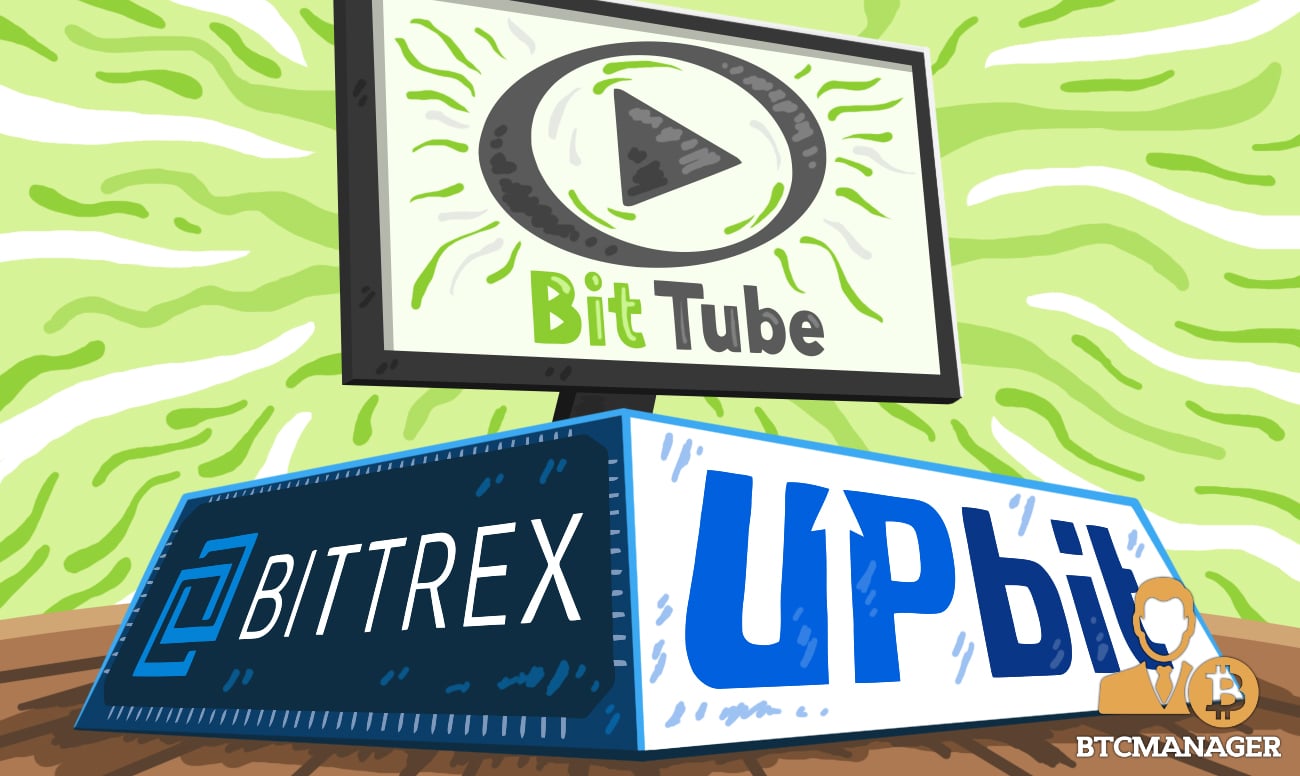 BitTube (TUBE), formerly known as IPBC, has gained wider recognition and the altcoin has been added to favorite cryptocurrency exchanges Bittrex and Upbit on June 5, 2018.
BTCManager first covered IPBC (now known as BitTube) in early April 2018, and the cryptocurrency has made substantial progress in just a couple of months, including exchange listings and a better user experience overall.
The platform provides a censorship-free outlet for video creators and livestreamers by utilizing the InterPlanetary File System (IPFS), along with the CryptoNight protocol to reward content creators whenever their material is viewed. Users can also gain rewards from engagement.
Similar to how many philanthropic causes, and clever cyberpunks, have mined the cryptocurrency monero via a computer's browser to generate themselves some funds, BitTube works on a similar concept, borrowing your CPU cycle when watching videos on the platform to help mint new TUBE coins.
Addition to Bittrex, Upbit Boosts Price
TUBE is a mineable altcoin you can use to pay for content on BitTube, tip creators, and eventually, rent videos as you would on Netflix. Alternatively, you can earn TUBE by submitting videos or live streams.
With a clear use case and no ICO, the cryptocurrency was destined for great things early on and was added to Bittrex on June 5, prompting a massive spike in volume and value. TUBE reached a fresh high on the TradeOgre exchange, trading as high as $0.46, with the price currently near $0.26 at the time of writing.
Large Spike in Volume
According to CoinMarketCap, the 24-hour volume is almost 80 percent of the cryptocurrency's market capitalization ($15.5 million) at the time of writing. Remember, volume precedes price, which means that this is a good sign that the upward climb will continue over the medium term. Of course, over the short term, we may see some profit-taking and a slight decline from current levels.
Quick update: The $TUBE wallet is open and trading will begin within the hour on @BittrexExchange. For more information about BitTube (TUBE) visit: https://t.co/iKeV4Sea1A

— Bittrex (@BittrexExchange) June 5, 2018
One great benefit of being on Bittrex is the greater visibility and attention the coin will receive.
For instance, many smaller cryptocurrency exchanges are not included on TradingView, a popular tool for crypto traders. Since TUBE is now available on Bittrex, traders will now be able to analyze price movements using technical analysis on the well-known trading platform. Coinigy is a similar platform that covers smaller exchanges but is not as popular.
South Korean exchange Upbit also added support for BitTube's altcoin the same day. The BitTube team have put in a request for addition to Binance, which could strengthen the bullish trend even more.
Mobile Support Coming Soon
Since April, the team has made steady progress, implementing the YouTube migration, allowing anyone with a YouTube channel to set themselves up on the BitTube platform automatically, and adding more languages to cover Chinese, German, Spanish, and Russian.
The crypto platform is also set to release mobile apps in the coming week for both Android and iOS and move to a less resource intensive reward system known as Proof of Verification to support the mobile rollout.
Disclaimer: The author is still long on TUBE.