BlackBerry Set to Revolutionize the Healthcare Industry with its Blockchain Solution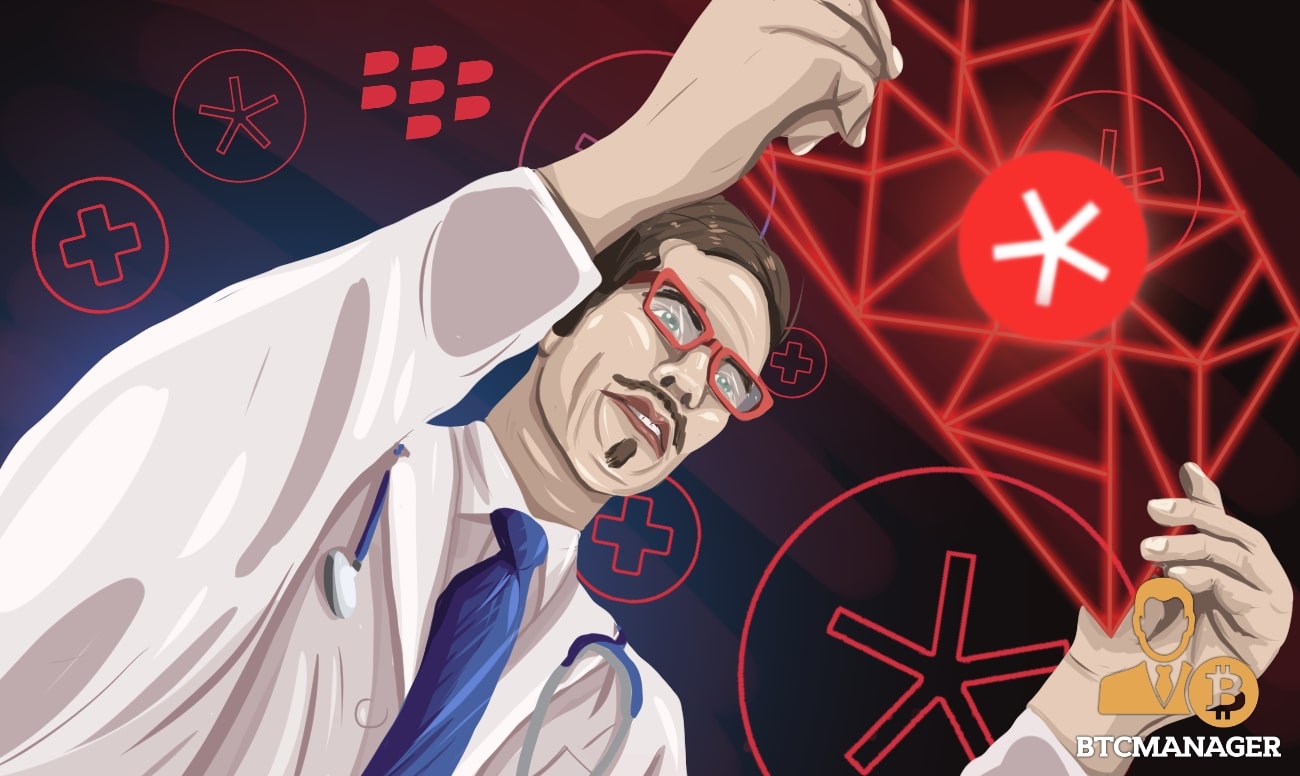 BlackBerry Limited, a Canadian multinational company specializing in the development of enterprise software and the Internet of things (IoT), has announced the launch of its Blackberry Spark platform as well as its Enterprise of Things (EoT) blockchain system to foster ultra-secure data sharing in the global healthcare industry, according to a PR Newswire press release  on October 4, 2018.
BlackBerry Launches Own DLT Network for the Health Sector
BlackBerry Limited has joined forces with the Mackenzie Innovation Institute (MI2) to develop a highly functional blockchain solution that would leverage healthcare endpoints and improve the healthcare industry while ensuring data security and privacy.
As stated by the team, its innovative network operation center (NOC) will work for hand in hand with ONEBIO's distributed ledger technology (DLT) solution to develop a highly functional, ultra-secure system for storing medical data globally.
If all goes as planned, the blockchain-powered solution will make it possible for patients data stored on the platform by the patients themselves, to get anonymized and made available to researchers.
BlackBerry Limited, formerly known as Research In Motion (RIM), best known to the general public for the creation of the BlackBerry brand of smartphones and tablets, will make its blockchain solution available to the Global Commission.
The Global Commission is an organization whose primary aim is to end the 'diagnostic odyssey' with life-threatening and rare diseases.
Co-chaired by the Shire, leading global biotech focused on rare health conditions, the Global Commission's technology pilots will trial BlackBerry's DLT solution to see if it could provide 'real-time actionable analysis, as the Commission seeks to utilize technology to shorten the time to diagnosis.
Blackberry's New Operating System for Secure Medical Devices
In a bid to make the development of robotic surgical instruments, patient health monitoring systems, infusion pumps, and other safety-critical health products a seamless process, Blackberry has also launched its QNX OS for Medical 2.0.
Per BlackBerry, the new QNX OS is a real-time, highly secure operating system crafted to comply with IEC 62304 safety-certification standards.
BlackBerry claims its QNX OS for Medical 2.0 will give medical device manufacturers the assurance of working with a trusted software field, "proven in thousands of life-critical environments, including in FDA Class III medical equipment.'
While highly reputed financial institutions across the globe have already started adopting the burgeoning DLT, it's worth noting that forward-thinking firms in the health sector are now using the groundbreaking technology to change the face of healthcare.
Earlier in August 2018, BTCManager reported that HEX Innovation had partnered with the Korea Association of Regional Public Hospital (KARPH) and TPLUS to transform the health industry with blockchain technology.