BLUR plunges 99% from its all-time high, here's why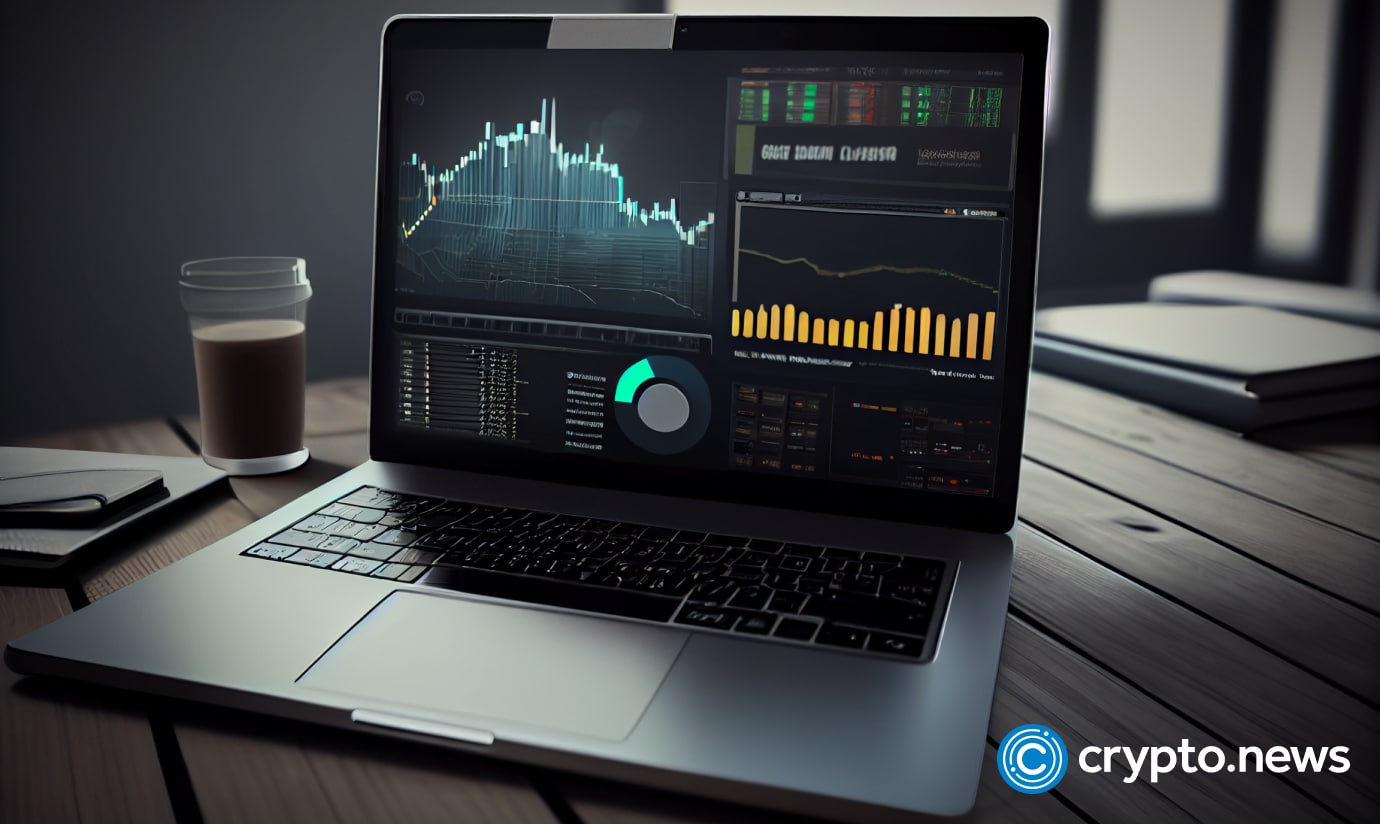 What's going on with Blur and why it's native token plunged? This article covers everything you need to know about BLUR's market positioning, price action, and much more.
The non-fungible token (NFT) market has always been ruled by one behemoth: Opensea, with a jaw-dropping valuation of $13 billion.
But just as it seemed untouchable, Blur emerged with a game-changing feature: the ability to buy multiple NFTs from different marketplaces in one fell swoop.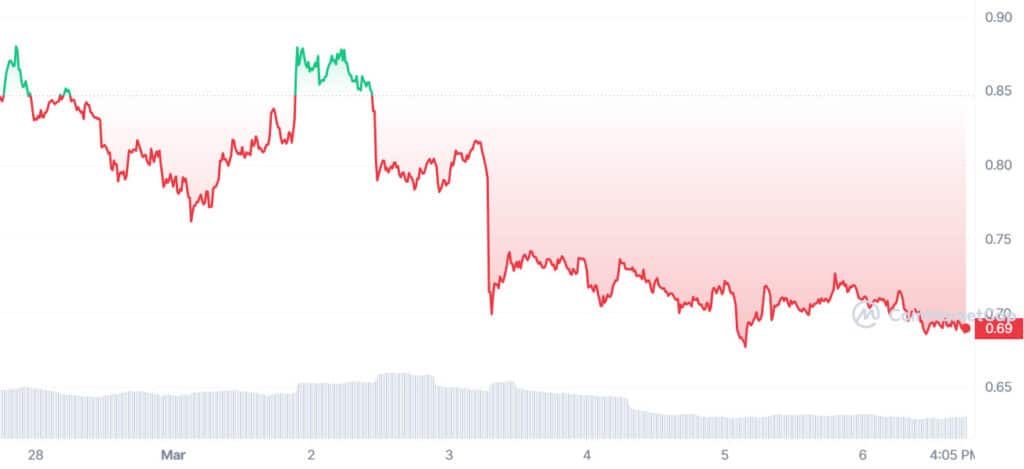 The excitement surrounding Blur's ascent is palpable, but so is the rapid decline of its price, which has plunged over 18% in the past seven days as of Mar. 6, now trading at a mere $0.69 and down a colossal 98% from its all-time high of $45.98.
What's BLUR and how has it taken NFT markets by storm
Blur is an NFT marketplace built on the Ethereum (ETH) blockchain that's been taking the crypto world by storm lately. Blur was founded by Tieshun Requerre, an MIT graduate.
As of March 6, according to DappRadar, Blur's trading volume over the last 30 days has hit an impressive $1.58 billion. In comparison, OpenSea only clocked in at $364.02 million during the same period. 
Meanwhile, Delphi reported that with the assistance of BLUR airdrops, Blur was able to capture a 53% market share in the NFT marketplace shortly after its launch.
According to Delphi, the rise in adoption of Blur can also be attributed to its point-based distribution approach that incentivizes users to fill the liquidity pool order book.
Delphi explained that this approach assigns a risk score to each order, resulting in airdrops being given to those who make higher bids and lower asks. This incentivizes liquidity and encourages users to fill Blur's liquidity pool order books.
That's a pretty big difference, and it's a testament to just how much people are loving Blur's features and offerings.
What sets Blur apart from other NFT marketplaces is its native token, BLUR. It's a governance token that gives users a say in the future of the marketplace and a piece of the profits through community ownership.
But that's not all that's making Blur so popular. Unlike other marketplaces, Blur doesn't charge any transaction fees for buying and selling NFTs. This makes it a top pick for traders who want to buy low and sell high without worrying about additional fees cutting into their profits.
Plus, Blur makes it super easy to find the deals on NFTs. The rarity of traits and floor prices for each one are all displayed right on the interface, so you can quickly find the lowest-cost listings for each rare trait and snap up a deal.
And if you're a creator, you'll love that Blur enforces a low minimum royalty fee of just 0.5%, which is much lower than the typical 5-10% charged by other marketplaces.
OpenSea's response to competition includes implementing optional creator earnings and reducing its marketplace fees to 0%, which is noteworthy.
Plus, with lightning-fast processing speeds that are reportedly ten times faster than other NFT aggregators, you'll be able to stay ahead of the game and make quick transactions before anyone else can snatch up your target NFT.
The upcoming Blur airdrop
In a stunning move, Blur announced that it would be airdropping a whopping $300 million worth of additional tokens to its devoted users.
This announcement came just days after the platform surpassed its once-untouchable competitor, OpenSea, as the most popular Ethereum NFT trading platform by trading volume.
Previously, during so-called season 1, traders who had switched to Blur from competing NFT marketplaces, listed NFTs on the platform immediately following its October launch, or used Blur to bid on NFTs, were gifted with "care packages" of BLUR tokens.
However, for season 2, the airdrop will be distributed through a gamified program based on a trader's loyalty score, calculated based on their interaction with and commitment to the trading platform. 
For example, those who solely use Blur as their NFT marketplace will receive a perfect 100% loyalty score. A user's loyalty score and the number of NFTs they have listed will determine the number of BLUR tokens they will ultimately receive in a later airdrop.
This announcement has generated immense buzz in the NFT community, with many eagerly anticipating their chance to earn some BLUR tokens through their loyalty to Blur.
Why BLUR plunged
There are two primary reasons for decline in price of BLUR token:
Alleged 'wash trading'
Blur's innovative approach to the NFT market has generated billions of dollars in trading volume within months, surpassing the largest marketplace OpenSea. Despite the NFT industry's prolonged bad market, Blur's success has piqued the interest of the crypto community.
However, the marketplace has been accused of foul play, with the latest allegation being the use of "wash trading." Wash trading is a deceptive practice where an entity trades with itself to artificially increase prices and create the illusion of massive liquidity, attracting investors and traders.
Recently, CryptoSlam, the leading NFT data aggregator, announced the revocation of $577 million due to market manipulation, claiming that 80% of NFT trading activity on Blur.io is inorganic and controlled by the top 1% of bidders.
Proponents of NFTs have criticized the unethical behavior and raised concerns that a marketplace supported by 80% wash trading may not survive in the long term.
Inflated supply amid airdrops
Another reason for a free fall in BLUR is the upcoming airdrop. Although airdrops can be a great way to acknowledge early investors and foster engagement within a crypto project, the downside of flooding the market with excess tokens is always present.
Specifically, the new tokens are usually distributed to existing holders. While this may incentivize investors to hold onto their assets, it can also lead to a sudden influx of selling if many investors choose to liquidate their newly acquired tokens at once.
BLUR price prediction
As the value of BLUR takes a hit, it's clear that the volatile nature of the crypto market is at play. The looming airdrop of new tokens has triggered oversupply concerns and choppy investor sentiment, particularly regarding emerging projects.
Meanwhile, allegations of wrongdoing should be taken seriously and supported by solid evidence to avoid contributing to an uncertain market.
In light of these factors, investors must exercise caution and carefully consider the long-term prospects of any project before investing.
However, if the project can weather the storm, it may still have a chance to establish itself as a legitimate player in the crypto space. Only time will tell whether it will sink or swim, but the best approach is to tread carefully and stay vigilant for now.