Brave (BAT) Left Red-Faced as Search Bar Found With Affiliate Links to Crypto Firms, CEO Apologies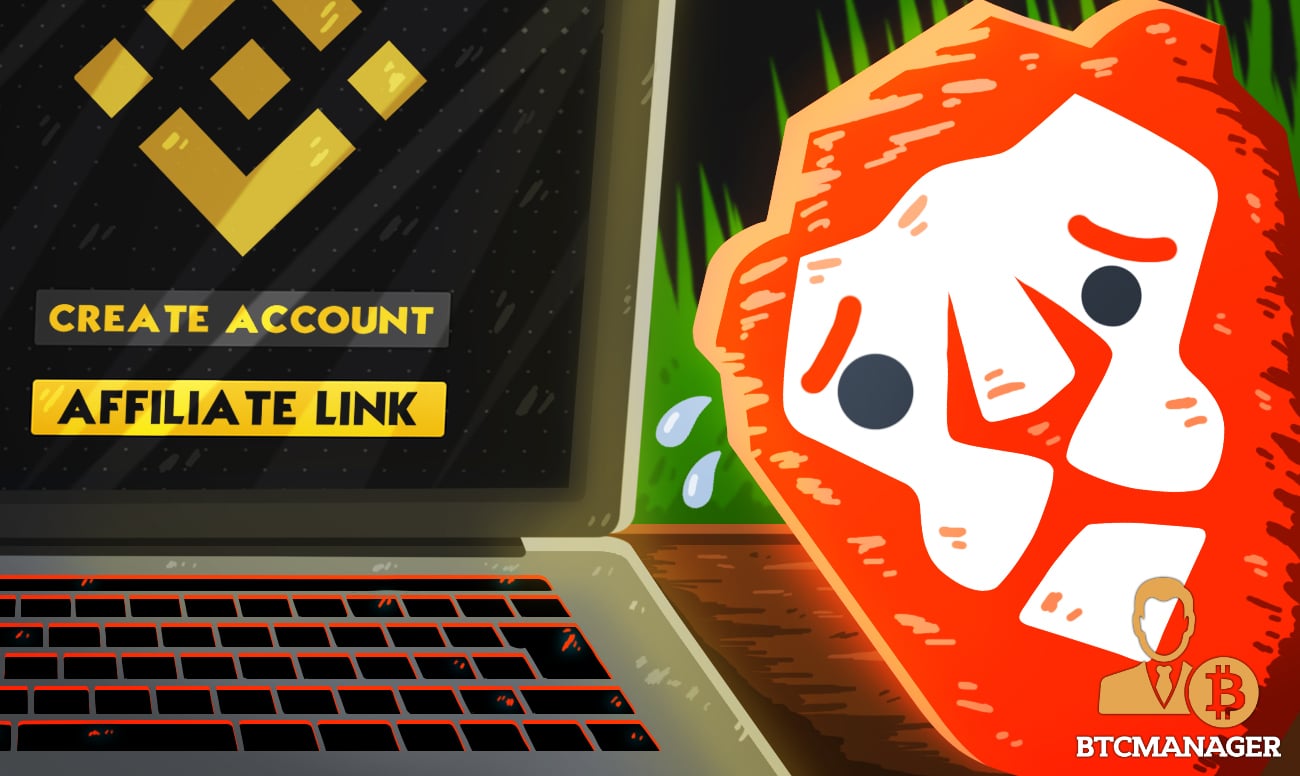 Brave, the crypto-rewards privacy browser that recently became Japan's top internet app, was left red-faced over the weekend as users found it's search bar was redirecting users to Binance via an affiliate link – its own. 
Brave Caught Red-Faced
Affiliate links, for the uninitiated, are a form of commission-based marketing. In Brave's case, the link was redirecting users to Binance, the world's largest cryptocurrency exchange, in turn of a commission for every user that signed up using for the latter using the browser. 
Other such links were found redirecting to Coinbase and Trezor, the U.S.-based exchange and hardware wallet firm respectively. At the time of writing, there's no clarity on since when have these affiliate links being installed, and how much has Brave benefited.
The redirects were first noted by Twitter user Yannick Eckl, a.k.a "CRYPTONATOR1337," who noted Brave redirects to Binance wherever a user searches for the latter's website. 
So when you are using the @brave browser and type in "binance[.]us" you end up getting redirected to "binance[.]us/en?ref=35089877" – I see what you did there mates 😂

— CR1337 (@cryptonator1337) June 6, 2020
Needless to say, the post instantly went viral and faced a backlash from almost all quarters. Brave's ethos, since its founding, has been that of providing end-to-end privacy for users and not allowing advertisers to profit on one's online footprint.
However, the use of affiliates goes almost directly against the ethos, leaving several to question the firm's motives and even allege ulterior angles. The firm, at press time, has over 15 million monthly active users, 3.3 million daily users, and over a 100 million downloads on Google's PlayStore. 
Larry Cermak of The Block found other Brave redirects on their Github:
"Looks like it's not a very isolated mistake. Brave also does this for Ledger, Trezor, and Coinbase if you look in their Github."
Brave CEO Apologises
Responding to the development, Brave founder Brendan Eich said the issue was immediately patched when found, adding he was "sorry" about how the event unfolded. 
He accepted the firm's affiliate links, indicating the redirections were not a bug or an unintended consequence.  
Eich said:
"But we seek skin-in-game affiliate revenue too. To do this, Brave must bring its users to exchanges through widgets and also look for revenue deals, as all major browsers do." 
He added the redirects never revealed any user data to the affiliates, in keeping with the privacy-first agenda of the browser. In addition, Eich noted the feature was present in Brave's source code "for months," viewable to anyone on  Github. 
Despite Eich's elaborate apologies, users seemed to believe the firm lost some "integrity," considering most use Brave for it's transparent, non-profit seeking narrative. 
Meanwhile, Eich told Decrypt: "We are not depending for our survival on any affiliate revenue share," adding the firm's users want "Brave to live."