Brave Blockchain-powered Web Browser Launches Chromium-based Desktop Version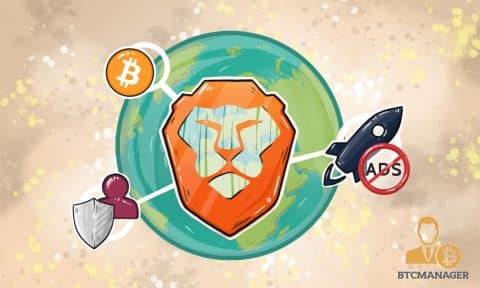 Brave Software Inc., the makers of the Brave distributed ledger technology (DLT) based web browser with advertisement and web tracker blocking functionality, has announced the release of the new version of the Brave desktop browser based on Chromium, according to a news release by the team on October 18, 2018.
Brave Desktop Browser Redesigned
Per the Brave team, the all-new version 0.55 of its Brave desktop browser which was formerly based on Muon has now been redesigned, with more exciting features added.
The Brave team has stated that its new Brave desktop browser (version 0.55) is now based on Chromium and is available for Windows, MacOs, and Linux operating systems.
Initially made available to developers and early adopters on September 6, 2018, with the initial beta version made available to a larger user base on September 17, 2018, the Brave team claims its new Chromium-based desktop browser comes with significant performance advantages, and it has a 22 percent faster load time than the Brave Muon version.
Brave Chromium Desktop Browser Bursting with Exciting Features
The Brave team boasts the new Chromium desktop browser is its fastest browser ever, helping users to save roughly eight to twelve seconds on some websites.
Additionally, the browser supports other innovative features including private browsing with Tor support, more attractive user interface with the dark theme option and a more efficient ad blocking mechanism.
One of the many excellent qualities of the Brave browser blockchain project that distinguishes it from other browsers is its integration of the Brave Basic attention Token (BAT) to reward web content creators.
As reported by BTCManager earlier in August 2018, Brave announced Reddit and Twitter users would soon be able to instantly tip users who post interesting content on those social media platforms with via the Brave browser.
Now, the Brave team has made it clear that the new Chromium-based Brave browser for desktop is a sneak-peak at Brave Rewards – the feature that will reward users with BAT tokens when they view ads.
Brave browser version 0.55 also restores users' last browsing session by default, blocks cookies, fingerprinting protection and much more.
Brave Using DLT Positively
With more than 10 million downloads already and counting, there's no denying that Brave is really transforming lives and innovatively contributing its bit to the cryptospace while also fostering more blockchain technology adoption.
While some observers have criticized the groundbreaking distributed ledger technology in recent times, questioning its ability to handle large-scale transactions, a research result published by the Depository Trust and Clearing Corporation (DTCC) on October 16, 2018, demonstrates that DLT can seamlessly control the average daily trading volumes in the US equity market of more than 100 million trades per day.