Cardano's bull run: Why the price is up and what's next for ADA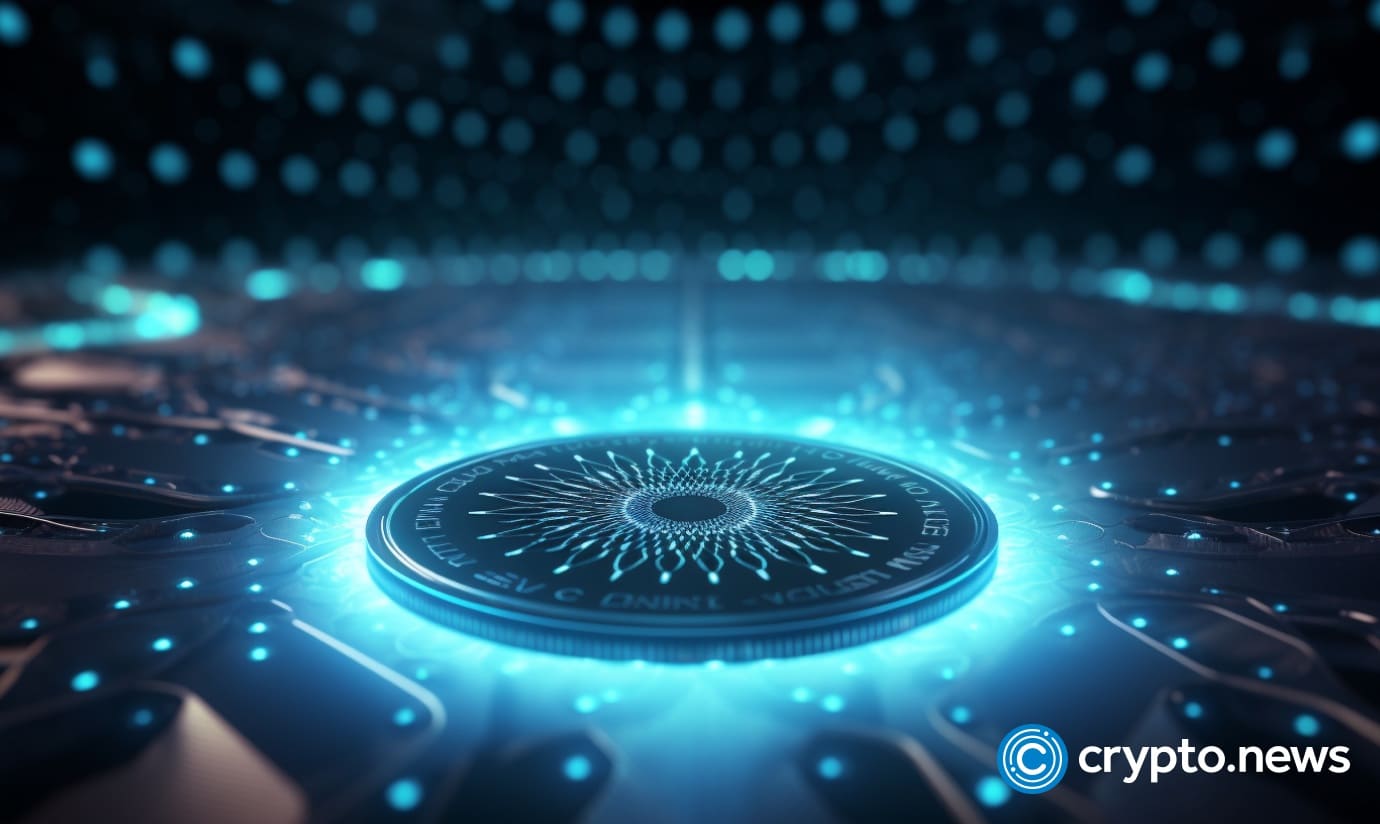 Cardano's rise in TVL and active addresses postulates a positive trend, but will this trajectory hold? We delve into the market and explore experts' price predictions for ADA.
Cardano (ADA), a third-generation cryptocurrency aiming to improve upon scalability, interoperability, and sustainability issues prevalent in earlier blockchain platforms, has displayed a strong performance over the past month.
As of Nov. 9, the ADA token holds 8th rank in market capitalization. It has experienced a nearly 53% surge over the past 30 days, breaking past crucial resistance levels, and is now hovering close to the $0.38 mark with a target of $0.40 in sight​​. 
Let's dive deeper into this and try to uncover the fundamentals of ADA and where it is headed in the long run.
Resurgence in active addresses
Cardano's active addresses are a significant indicator of the network's health and user engagement.
After peaking at 427,000 in June 2023, the network witnessed a notable downturn in active addresses, reaching as low as 150,000 by September, marking a decline of 64%.
Such a decrease often points to a period of consolidation or a lack of newsworthy developments capable of attracting and retaining users.
Nevertheless, the recent uptick in ADA's price has mirrored a resurgence in network activity, with active addresses climbing to 209,000 as of Nov. 9, signifying a 39% increase from the September low.
The data implies that while Cardano experienced a period of reduced activity, which coincided with a bearish phase for the asset, the network is now seeing signs of revitalization.
Moving forward, it will be crucial to monitor whether this is a short-term reaction to price changes or indicative of sustained growth and increased adoption of the ADA platform.
Resurgence in TVL levels
Cardano's total value locked (TVL) reflects the amount of ADA committed to the network's smart contracts and is a metric commonly used to gauge the overall health of a decentralized finance (defi) ecosystem. 
Despite being the eighth-largest cryptocurrency by market capitalization, Cardano's TVL has historically not matched the levels seen by Ethereum (ETH), which is often considered the benchmark for defi activity and one of Cardano's key competitors.
At its peak in March 2022, Cardano's TVL reached $330 million, which pales in comparison to Ethereum's $110 billion peak in November 2021, underscoring the significant difference in scale and defi adoption between the two platforms.
Cardano's relatively lower TVL can be attributed to various factors, including the maturity of the ecosystem, user base, and available defi applications, which have been far more established on Ethereum for a longer period.
Throughout the past year, Cardano's TVL declined, bottoming out at $50 million by the end of the year, which may suggest a contraction in defi activity or a shift in investor sentiment during that period. 
However, 2023 has witnessed a gradual resurgence, with TVL slowly climbing. The trajectory remained largely sideways until a noticeable uptick to $251 million as of Nov. 9.
This recent increase, particularly over the past month, aligns with the broader recovery in the cryptocurrency market and could indicate growing confidence in Cardano's defi ecosystem.
As the ecosystem continues to evolve, the increasing TVL might suggest a growing appetite for Cardano's defi offerings and could forecast a more competitive stance in the blockchain space.
Cardano's whale activity turns favorable
Cardano has been witnessing significant whale activity among high-net-worth investors within its ecosystem.
Recent data suggests an increased level of accumulation, particularly within the favorable price range of $0.249 to $0.271, where over $600 million was invested into ADA based on its current valuation.
The smallest scale holders, those with 0-100 ADA, have shown a slight 30-day decrease of 0.15% in address count. While this demographic's movement is relatively stable, it still appears to be slightly diminishing or consolidating.
In contrast, the more substantial holders are increasing their positions. Addresses with 100,000 to 1,000,000 ADA have increased by 0.87%, and those in the 10,000-100,000 ADA bracket have also risen by 0.81%.
Most notably, the segment of addresses holding investments valued over $10 million has experienced a dramatic surge of 138.89%.
This leap signals a strong outlook from the wealthiest participants in the Cardano community.
The increase in whale activity, particularly at a time when the price of ADA has seen a substantial increase, suggests that heavyweight investors are optimistic about Cardano's future prospects.
Potential impact of treasury tax reduction on Cardano
Cardano is contemplating a strategic fiscal adjustment with a proposal to significantly reduce the treasury tax from its heightened 20% to a more modest 5%.
For such a proposal to take effect, it must garner community support through a vote, especially considering that the effective treasury tax is approximately 33%.
The Cardano treasury is a crucial financial mechanism, playing an instrumental role in the network's sustainability by financing development and maintenance. It also funds community-driven ventures, particularly through programs like Project Catalyst.
As of Nov. 7, an estimated 30 million ADA were funneled into the treasury monthly, culminating in a substantial sum of roughly 1.39 billion ADA.
If enacted, the cutback in the treasury tax rate could have multiple effects. On the one hand, it may boost stakeholder morale by increasing the rewards for ADA holders and stake pool operators, potentially incentivizing greater network participation and investment. 
Conversely, it could reduce the funds available for future projects, which might slow down the expansion and enhancement of the ecosystem.
Criticisms against Cardano
Cardano, despite its ambitious technological underpinnings and strong community support, has not been without its criticisms.
A primary concern is the "network effect," where the value of a service increases with the number of its users. In the world of cryptocurrencies, the network effect is crucial for adoption, and more users can lead to more developers, creating a cycle that boosts a platform's growth. 
Cardano's slower start compared to Ethereum means it has fewer users and developers, which can limit its growth and the development of applications on its platform​.
Furthermore, Cardano has been criticized for its lack of capabilities and applications. Although the platform has been developed with a scientific approach and peer-reviewed research, it has been a work in progress for a long time.
As of today, the platform is still building out features such as smart contracts that are already in place on platforms like Ethereum.
The success of Cardano, in the long run, will likely depend on its ability to overcome these challenges and realize the potential its community and developers see in it.
Cardano (ADA) price prediction
As we look into the future of Cardano (ADA), various predictions present a cautiously optimistic view of its price trajectory.
For 2023, some ADA forecasts suggest a significant price point of $0.81, while projections for 2024 indicate a further increase to around $0.90. 
Shorter-term Cardano price predictions for Nov. 24 are placing ADA at $0.392776, which would represent a 9.51% increase. Moving into December 2024, the anticipation grows with a predicted price of $0.601.
However, investors must approach these ADA price predictions with a degree of skepticism. Price predictions are often based on historical data and market sentiment, which can shift dramatically based on global economic factors, regulatory news, and changes within the Cardano network itself.
It is essential never to invest more than you can afford to lose and to be aware of the high-risk nature of cryptocurrency investments.
Disclosure: This article does not represent investment advice. The content and materials featured on this page are for educational purposes only.