CBoE Withdraws Application for VanEck SolidX Bitcoin ETF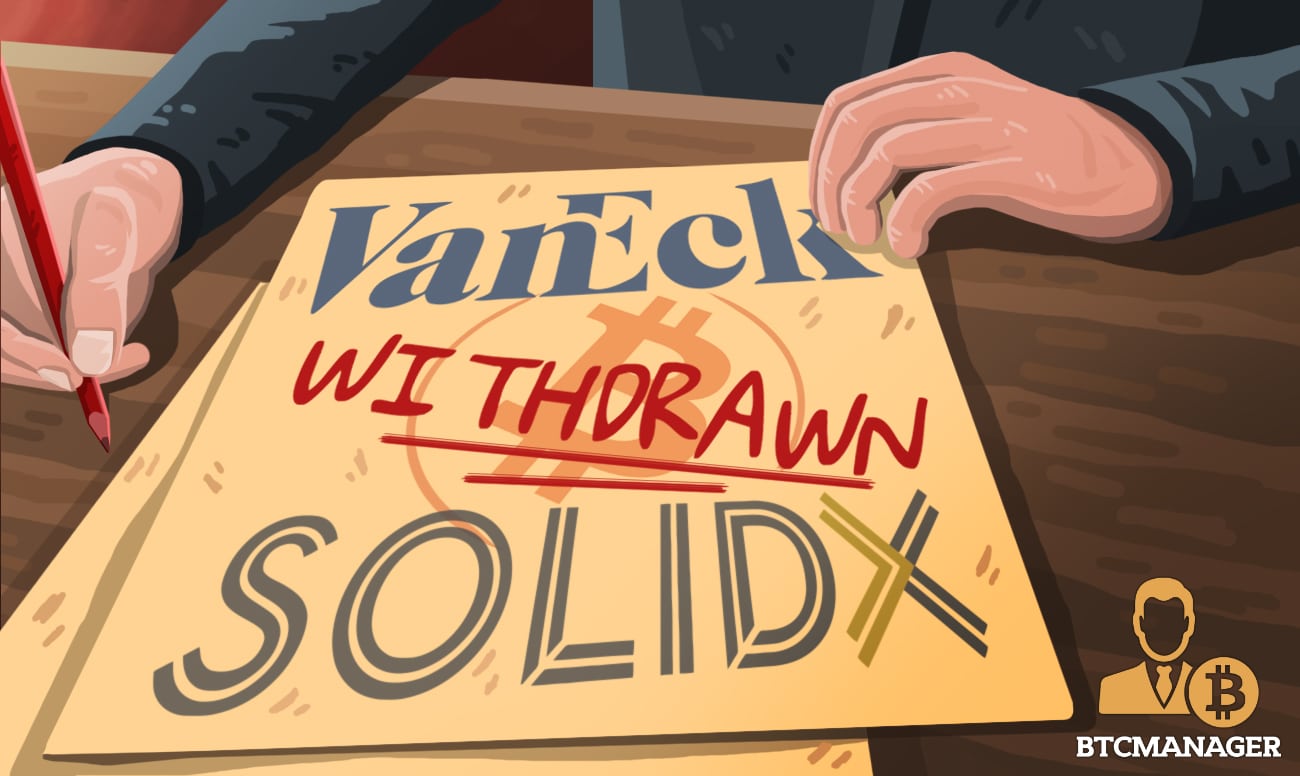 The Bitcoin ETF saga has taken another dramatic turn as the VanEck SolidX ETF proposal was withdrawn by CBoE. The SEC informed the public in a filing, September 17, 2019, just a month before they were to come to a decision about the ETF. If the SEC finds the ETF to have merit, Bitwise and Wilshire Phoenix will be the only two ETFs that launch.
Behind the Surprise Withdrawal
Nobody would've expected that the cause VanEck has been fighting for over the last year would suddenly be abandoned by the company. This news comes just a week after VanEck decided to launch an institutional focused Bitcoin investment product.
The logic behind this move is quite hazy because the ETF would target retail investors who are looking for an easy way to gain exposure to Bitcoin.
Institutions that are pushing a significant amount of capital into the asset class can recreate a passive investment strategy for a fraction of a cost that the VanEck SolidX trust charges.
With a growing number of firms getting involved with institutional custody, purchasing over-the-counter (OTC) Bitcoin and holding it with a trusted custodian is the most efficient manner of investment for institutions.
It was revealed last week that VanEck's new institutional product managed to raise a mere $41,000 in a week. That number is still the same at the time of writing. This is consistent with the fact that the product is too expensive for an institution.
What's the Play?
It is honestly quite difficult to make sense of what VanEck is playing at here. If the ETF launch finally gets accepted, Bitwise and Wilshire will be the sole beneficiaries of this as it currently stands.
Seeing the party that initiated the entire ETF proposal give up in their conquest has shocked the broader community.
VanEck's director of digital assets, Gabor Gurbacs, confirmed that the company remains committed to launching a liquid, regulated Bitcoin ETF product.
We are committed to support Bitcoin and Bitcoin-focused financial innovation. Bringing to market a physical, liquid and insured ETF remains a top priority. We continue to work closely with regulators & market participants to get one step closer every day. https://t.co/bDYiSbTRVl

— Gabor Gurbacs (@gaborgurbacs) September 17, 2019
Although their actions differ from this statement, one can only imagine there is a lot more happening behind the scenes. This news last year would've tanked the market, but this time around, Bitcoin has been resilient and held its ground.