VanEck Inks Strategic Partnership with SolidX to Launch Bitcoin ETF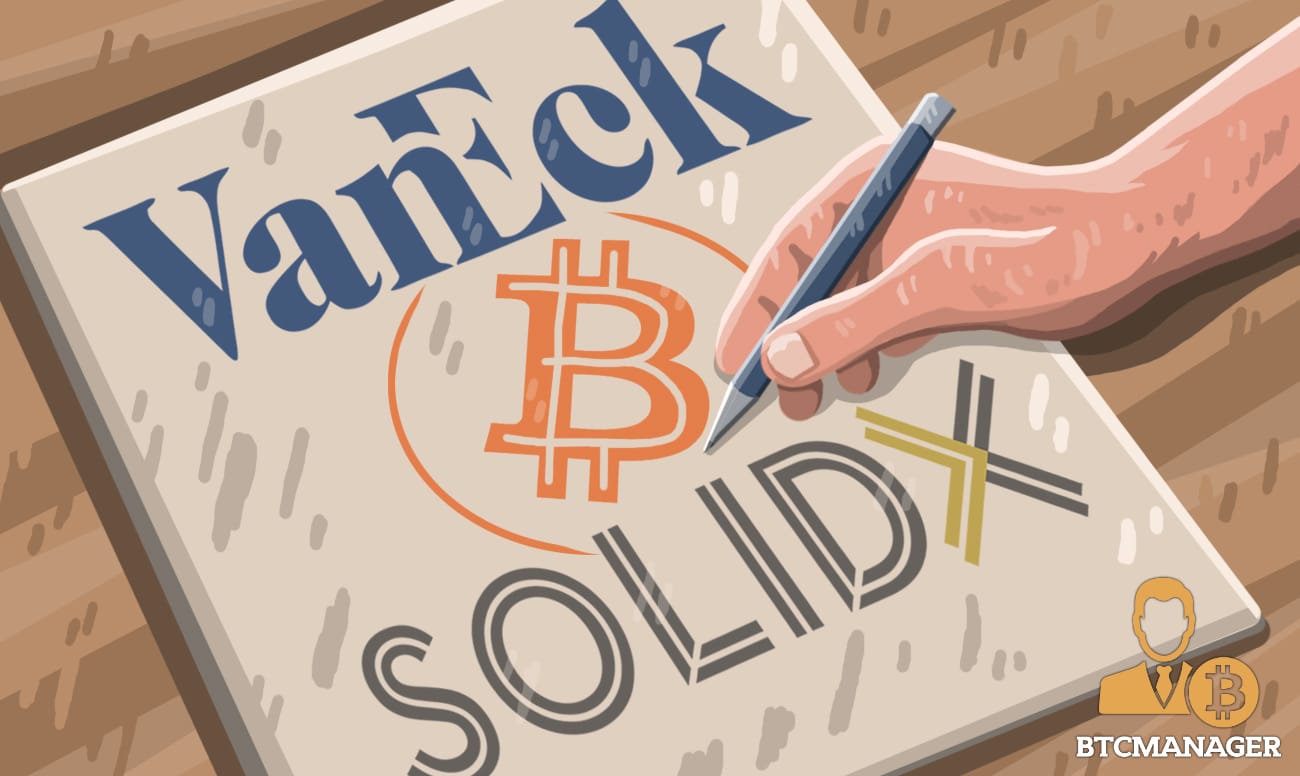 After trying twice without succeeding, New York-based investment management firm, VanEck has joined forces with SolidX blockchain and fintech firm, in a bid to launch a crypto-powered ETF.
Strike One, Bitcoin ETF
According to Business Wire, VanEck asset management company has declared it will partner with SolidX blockchain technology company to start a physically-backed bitcoin ETF that will be insured against loss or theft of bitcoin.
According to the filing with the US Securities and Exchange Commission (SEC), SolidX Management LLC is the sponsor of the trust, while VanEck will handle all marketing operations including the sale of shares.
The team has also revealed that the fund will work with bitcoin prices from over-the-counter (OTC) trades through MVIS, a subsidiary of VanEck, rather than electronic crypto exchanges.
Per CNBC VanEck, a highly reputable asset management company with $46 billion under management as of April 2018, first tried getting approval for an ETF based on bitcoin futures contracts back in August 2017. The firm had to withdraw the application, however, following the request of the SEC in September the same year.
Buoyed by the launch of the CME and Cboe bitcoin futures contract in late December 2017, VanEck tried to get on the bitcoin train again without much success.
In July 2016, SolidX announced it had filed a registration statement on Form S-1 with the SEC, for the launch of the SolidX Bitcoin Trust. However, the request was rejected by the securities watchdog in March 2017. Unlike its previous attempts, VanEck is looking to create a fund that will be based on actual bitcoins and not futures contracts.
"I believe that bitcoin has emerged as a legitimate investment option, as a type of 'digital gold' that may make sense for investors' portfolios. The SolidX team has in-depth experience with bitcoin, cryptography, and capital markets. We're pleased to join with them in supporting the effort to bring a physically-backed bitcoin ETF to market," said Chief Executive Officer of VanEck, Jan van Eck.
The CEO of SolidX Fintech firm, Daniel H. Gallancy also expressed optimism over the new alliance. In his words:
"In determining a marketing partner, we looked for a firm with a clear understanding of the potential of bitcoin and the role it can play in an investment portfolio. VanEck is deeply involved in this space, understands its potential, and has a long track record of successfully opening new avenues for investors to access unique and compelling investment opportunities. We're excited to work with the team at VanEck."
If all goes as planned, the VanEck SolidX Bitcoin Shares ETF will go live in the first quarter of 2019 and will also be listed on the Cboe BZX Equities Exchange. The project is targeted at institutional investors, and each share of the fund is worth $200,000.
Good News for Bitcoin?
A growing number of institutional investors have shown interest in offering bitcoin-related services to investors in recent times. However, the entry of these financial whales has yet to stir a bullish effect on the price of the world's flagship crypto.
Arguably, the CME and Cboe bitcoin futures contracts have only succeeded in giving bitcoin pessimists an upper hand in the market. However, it remains to be seen whether the VanEck-SolidX alliance will be able to turn the game on its head if they get the SEC go-ahead.