China's Blockchain-Based Service Network (BSN) Integrates Ethereum, Tezos, and Four Other Public Chains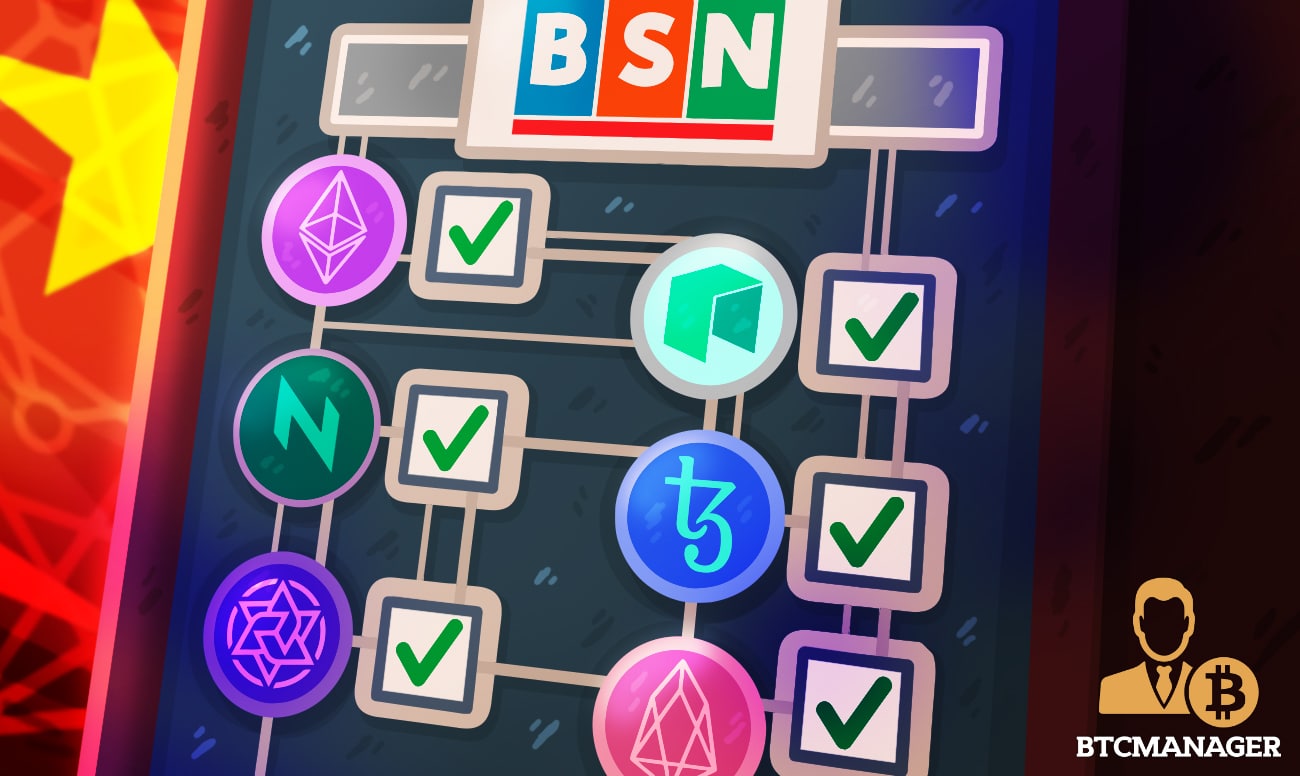 Beginning August 10, global blockchain developers can begin building decentralized applications (dApps) and run nodes using resources from the Chinese government-backed Blockchain Service Network (BSN) overseas data centers. Toward that end, the BSN has now integrated six public chains including Ethereum and Tezos and assigned nodes to their respective mainnets and testnets as per a CoinDesk report, July 22, 2020. 
Ethereum and Tezos Among Public Chains Integrated in the BSN
Seeking global dominance, the integration of BSN data centers with leading public blockchains shows how indispensable trustless solutions are. With this announcement, Ethereum, Tezos, and supported chains developers can easily build and deploy solutions using resources like bandwidth and storage from the BSN. 
Developers will also benefit from the interoperability that's baked-in the BSN. They will easily mingle with Chinese blockchain enterprises and users, even accessing vital domestic financial data from China UnionPay. 
Overly, and as divulged by the CEO of Beijing Red Date Technology, BSN will support over 10 public chains by December 2020. However, only Ethereum and EOS developers can opt for API services through Canada-based dFuse, a blockchain middleware firm. 
Still, Chinese developers will only access enterprise blockchains due to local laws restrictions on chains with tokens.
China Plans to Be a Blockchain Leader
The Chinese government hopes to be the leading provider of blockchain infrastructure for DLT firms around the world. Notably, this development also syncs with Xi Jinping's calls in October 2019 for China to take the lead and integrate emerging technologies such as blockchain in core sectors of their economy.
The BSN was launched by top government officials for commercial use in late April after six months of testing. During that time, an accompanying report revealed that over 2,000 developers trialed the network after it was released for beta testing in late October 2019. 
Interestingly, at the time of launch, the chairman of the Blockchain Service Network Development Alliance, Shan Zhiguang, said 126 public nodes were already running. A majority were stationed in China but eight more overseas nodes will be built on six continents.
Its solution provides a core base from where firms can easily and cheaply deploy or integrate blockchain in their businesses. With this, China hopes to accelerate the development of smart cities and a digital economy.
Earlier, BTCManager reported that Chainlink had integrated with BSN via IRITA interchain service hub.