Chinese Bitcoin Mining Equipment Manufacturers Suffer Setback as Trump Increases Tariffs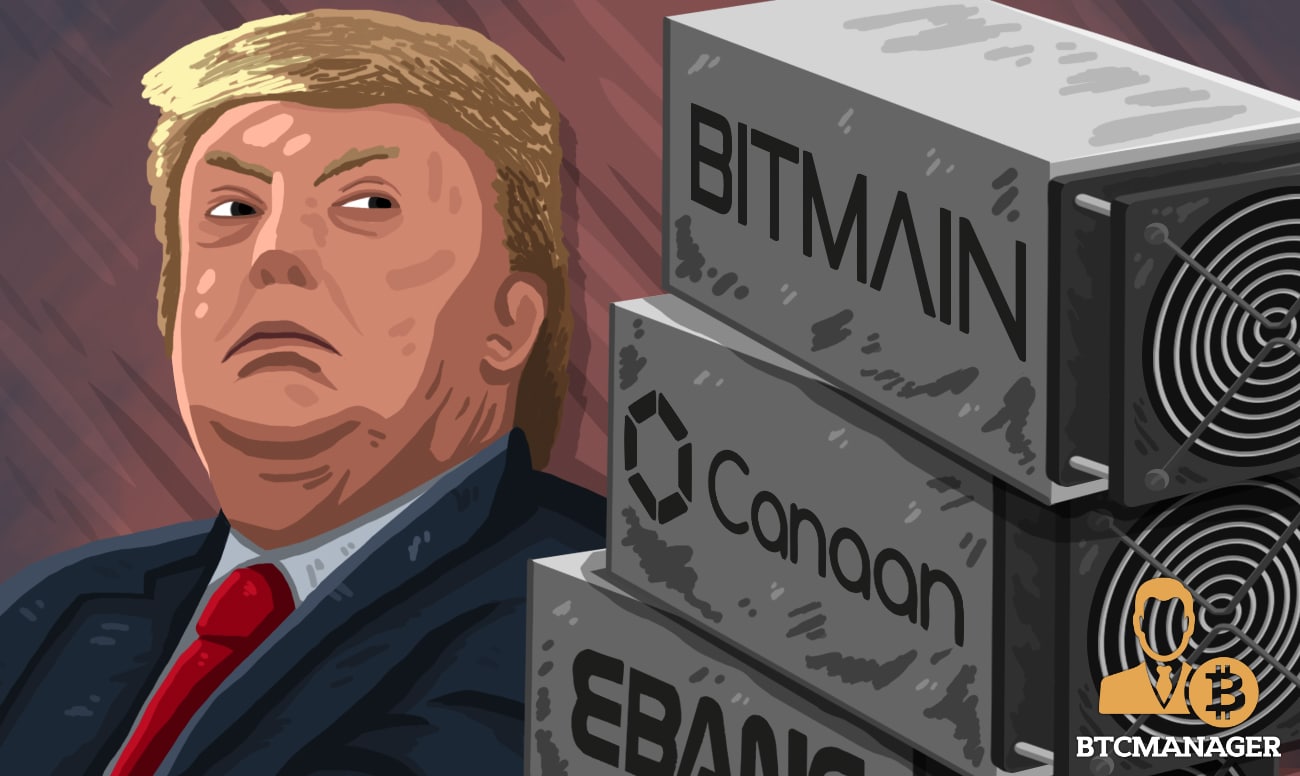 Bitmain's $3 billion initial public offering (IPO), as well as that of other Chinese bitcoin mining equipment manufacturers such as Canaan and Ebang, may be adversely affected by the June categorization of the firm's Antminer S9 ASICs miners as "electrical machinery apparatus."
The move by the U.S government added the equipment to the list of Chinese goods subject to nearly 30 percent tariffs, up from zero previously, reported the South China Morning Post on October 16, 2018.
Chinese-U.S Trade War Bad for Bitmain and other Chinese ASICs Makers
As reported by BTCManager, earlier in August 2018, "the big three" in the Bitcoin mining equipment manufacturing industry, Bitmain, Canaan Creative, and Ebang are making active preparations to launch their IPO targeted at raising billions of dollars for their business expansion.
However, with the June 2018 reclassification of Bitmain's Antminer S9 bitcoin mining equipment as "electrical machinery apparatus" by the office of the United States Trade Representative (USTR), and the new import tariffs on Chinese goods by President Trump which went live on August 23, 2018, attracting nearly a 30 percent tariff on Chinese cryptocurrency mining machines, the future undoubtedly looks very bleak for these firms.
"All manufacturers of mining rigs based in China will likely be affected by the tariff code change and, in turn, captured by the U.S. trade tariff," said Ben Gagnon, co-founder of LuTech, a Bitcoin mining equipment developer.
While Canaan and Ebang are reportedly looking to raise $400 million and $1 billion respectively in their IPOs, the world's largest bitcoin mining hardware manufacturer Bitmain seeks to generate a whopping $3 billion from the fundraiser.
End of the Road for Bitmain?
Per sources close to the matter, the highly reputed ASICs cryptocurrency mining machine maker will be most affected by the ongoing trade war between the United States and China, as the firm's overseas sales reportedly contributed an impressive 51 percent and 51.8 percent of its total revenue in 2016 and 2017 respectively.
Although Bitmain did not mention the specific regions it made the most overseas sales last year, it's most likely that the U.S. market may have had a hand in the company's previous success, since the firm has already expanded operations to the United States.
On the other hand, Canaan and Ebang International have stated that overseas sales only contributed a meager 8.5 percent and 3.8 percent to their total 2017 revenues respectively.
As reported by BTCManager on September 20, 2018, it may be almost impossible for Bitmain to achieve the same level of success it enjoyed last year, as more competitors are venturing into the crypto mining space and the new U.S. trade tariff will only worsen the situation for the Beijing-based bitcoin big whale.