Chinese Internet Giant Baidu Ban Cryptocurrency-Related Discussions on Its Platform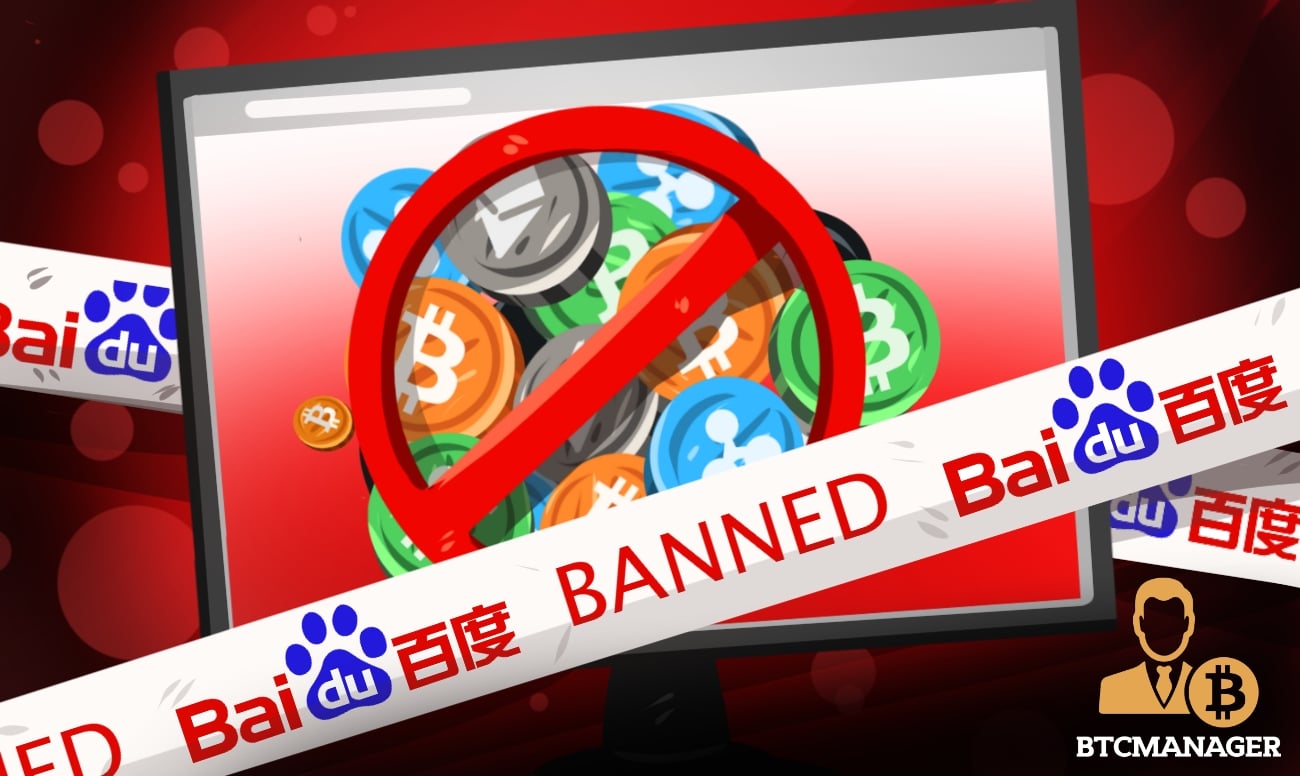 Following in the steps of WeChat and AliPay, favorite Chinese search engine, and social media platform, Baidu has started restricting digital currency and initial coin offering (ICO) related topics on its platform, according to a China Times report on August 26, 2018.
Cryptos not Allowed
According to sources close to the matter, Baidu has blocked all the cryptocurrency-focused channels on the platform and has even deleted all information about virtual currencies, bitcoin trading and ICOs on its platform and crypto enthusiasts, project organizers and investors who used to rely on Baidu for information are now using Facebook and Telegram instead.
Per the report, the Baidu platform has been an integral part of some people's lives especially entrepreneurs who use the platform to conduct business activities such as ICO promotion and more.
"At present, the company has increased supervision over digital currency, and according to relevant laws, regulations, and policies, it will not open the relevant post bars," said a Baidu spokesperson.
Created in January 2000 by Robin Li and Eric Xu, Baidu is a Chinese multinational specializing in artificial intelligence, search engine services and more.
With an employee base of more than 40,000, the Beijing-based firm is one of the largest internet and AI companies in the world. It currently has a global Alexa Traffic Rank of 4 and generated revenues of about CNY 84.809 billion in 2017.
Bitcoin Must Leave China Completely
Since banning bitcoin trading and crypto investment schemes in late 2017, Chinese authorities have been working round the clock to ensure cryptoassets die entirely in the region.
In April 2018, as previously reported  by BTCManager, China's regulatory watchdogs including the Peoples Bank of China (PBOC), which is the nation's central bank, declared it had successfully stifled the growth of cryptos as well as digital assets-linked businesses within its shores and pledged to crush all forms of corrupt fundraisers in the country.
Determined to survive despite all odds, DLT-based virtual currency traders and ICO organizers in China moved their operations to social media platforms like WeChat.
They utilized the instant messaging and payments app in promoting their businesses and sending payments for their over-the-counter (OTC) cryptocurrency trading.
However, on August 23, 2018, WeChat also started restricting accounts of crypto and blockchain news media outlets on its platform, working in line with the directive of the Cyberspace Administration of China, which recently mandated all instant messaging apps to desist from spreading information that is against national interest and public orders.