Chinese Social Media Platform WeChat Block of Crypto and DLT News Media Accounts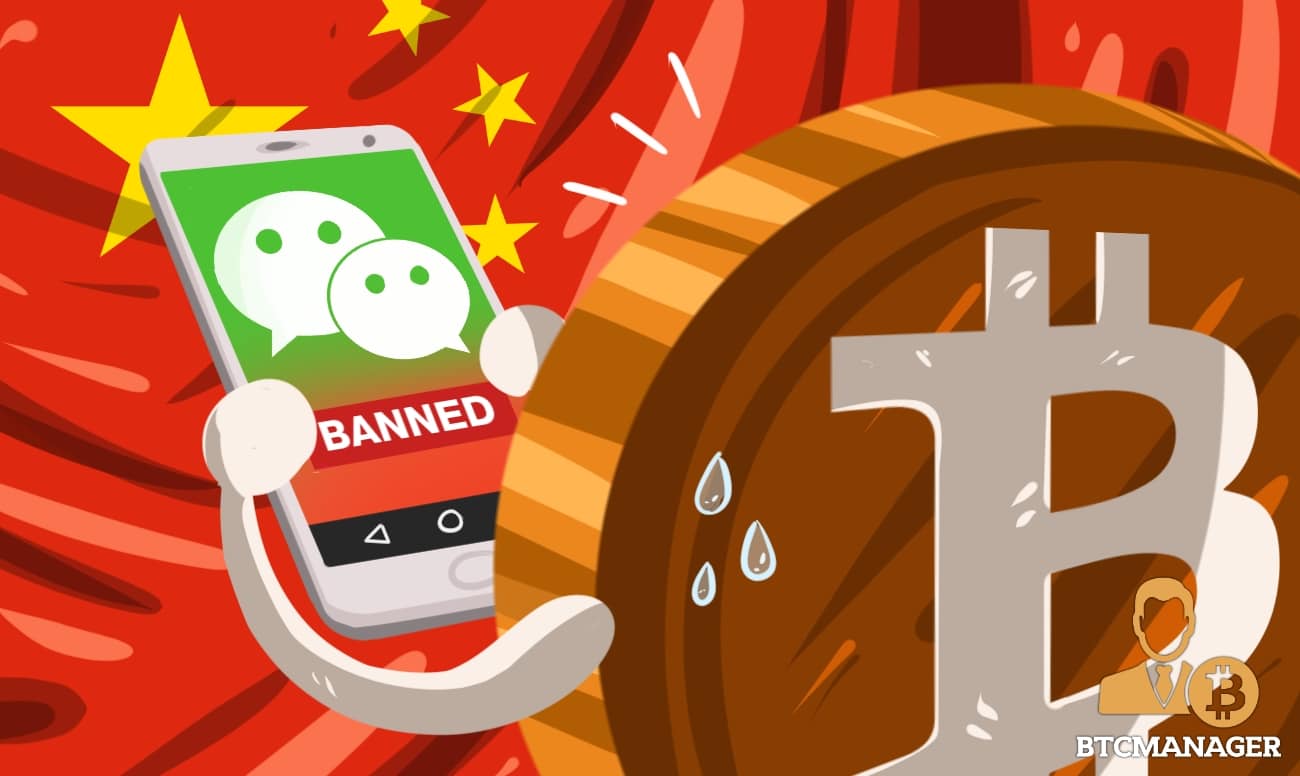 Chinese instant messaging app and social media platform, WeChat has barred a vast array of cryptocurrency and distributed ledger technology (DLT) startups from the platform, according to a local news source Lanjinger on August 21, 2018.
Blocked Crypto Accounts
Per sources close to the matter, several WeChat accounts belonging to digital currency platforms in China have been shut down.
Tencent, the multi-billion dollar Chinese conglomerate that's in charge of WeChat, claimed that the owners of the blocked accounts published information promoting initial coin offerings (ICOs) and cryptocurrency trading against the "interim provisions on the development of public information services for instant messaging tools."
It worth noting that the Cyberspace Administration of China introduced the "interim provision" on which the WeChat team is reporting. The regulation mandated all instant messaging apps as well as social media platforms to refrain from spreading information that is against national interests and public orders.
According to Lanjinger, most of the blocked accounts are owned by the top 50 blockchain-focused media outlets in the region, some of which include Huobi News, Firecoin Information, Cannon Rating, Coin World Express Service, Deep Chain Finance, Daily Currency Reading, Wujie Block and others.
China Still Wary of Cryptos
China has banned bitcoin trading as well as initial coin offerings in the region since September 2017. However, hodlers have devised various ingenious means of organizing or participating in cryptoasset-related activities via social media platforms and other methods including OTC cryptocurrency trading facilitated by WeChat Pay.
Beijing Chaoyang release a file to ban offices, hotels from hosting token-related promotions. pic.twitter.com/vxtyld9q3n

— Red Li (@redtheminer) August 22, 2018
In similar news, Yahoo reported that authorities in the central Chaoyang district in Beijing have ordered all hotels, office buildings, and shopping malls in the region disban cryptocurrency enthusiasts to use their premises to host related seminars and events.
This is not the first time Chinese authorities are shuttering social media handles of distributed ledger technology-linked businesses.
https://twitter.com/wheatpond/status/1032370119526113282
Back in March BTCManager informed that China's government had intensified efforts to make it near impossible for citizens to engage in crypto investment activities by crushing the social media presence of cryptocurrency exchanges like OKEx.
Fondly called the "Super App," WeChat was first released in 2011 and since then, the multipurpose instant messaging, and mobile payments app has grown from strength to strength, with an active user base of more than one billion and an impressive 600,000 mini-programs.