CME Announces Launch of Two Ethereum-focused Indices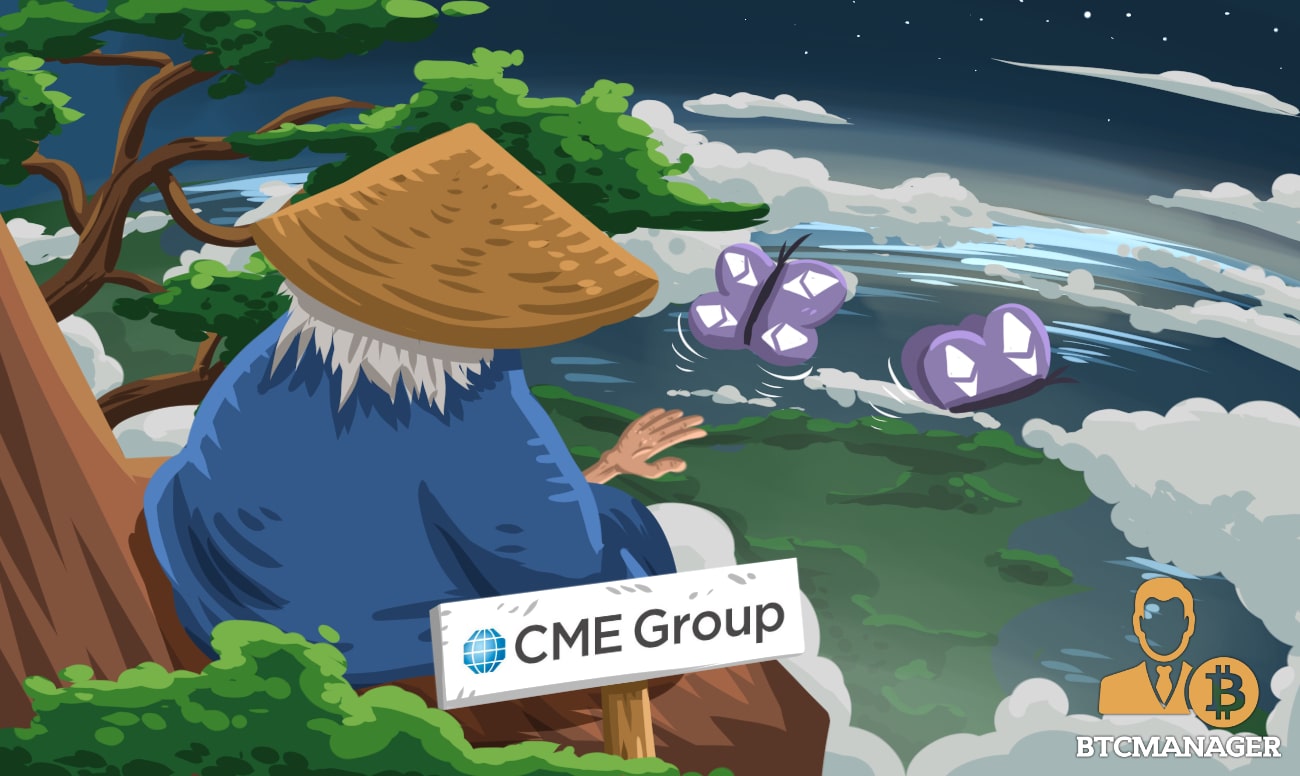 After announcing the launch of bitcoin futures in December 2017, the Chicago Mercantile Exchange (CME) announced the launch of two Ethereum-focused indices on May 14, 2018, germinating speculation about the possible launch of an ether futures product in the near future.
CME's ETH Introduction
According to an official press release, the world's largest futures operator said that it would provide "a daily benchmark price in U.S. dollars," in addition to collating data (calculated by UK-based Crypto Facilities) from crypto-exchanges Kraken and Bitstamp to determine real-time prices. This data would be based on transactions and order book activity of the world's second-largest digital currency by market cap.
The two launched indices are the CME CF-Dollar Reference Rate, which would close daily prices at 3 PM (UTC), and the CME CF Ether-Dollar Real-Time Index. UK-based exchange Crypto Facilities calculates the price of both indices.
While the real-time value of ETH is already online on CME's website, the necessary market data shall be processed starting June 4, 2018.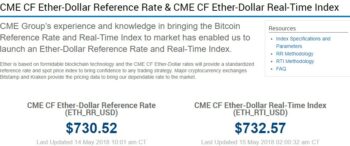 (Source: CME)
Speaking about the development, Tim McCourt, CME Group managing director and global head of equity products and alternative investments, said in a statement:
"The Ether Reference Rate and Real Time Index are designed to meet the evolving needs of this marketplace. Providing price transparency and a credible price reference source is a key development for users of ethereum."
In a similar vein, Timo Schlaefer, CEO of Crypto Facilities, noted:
"Ether, the second largest cryptocurrency, experienced incredible adoption and growth in 2017, evolving into the leading blockchain for smart contracts. We are excited to be contributing to the strong community that has developed around the Ethereum network by providing a reliable reference rate and real-time Ether-Dollar price."
Echoing the thoughts of Schlaefer and McCourt was Brian Quintenz, a commissioner of the Commodity Futures Trading Commision, speaking at Consensus 2018, believing that quite a few traditional exchanges have expressed interest in ethereum derivatives, but the "decision needs to be made carefully."
"No Plans for ETH Futures"
Despite the widespread speculation of soon-to-be-launched ether futures, CME maintained its stance and said that no plans currently exist for the product, even though the ether index is very firmly structured like the previously launched bitcoin index. McCourt adds that "the focus right now is on the index itself."
In December 2017, CME surprised the world by launching bitcoin futures, possibly catalyzing the pioneer cryptocurrency's largest price-spike, which saw it reach $20,000 on some exchanges. Undeniably, the futures launch saw a flurry of market activity by institutional investors, with banks such as Goldman Sachs going ahead to open their trading desk in May 2018.
According to the release, CME's Bitcoin Oversight Committee shall be monitoring the newly launched indices, along with Crypto Facilities and "other industry participants." The committee shall enforce appropriate methodologies and practices while maintaining a high standard to ensure and "protect the integrity of the reference rates." Notably, Crypto Facilities also provides CME with data for its bitcoin futures product.
At the time of writing, ether is trading at $730, according to data on CME's real-time CF reference index.