Coinbase Crypto Exchange Now Supports USDC and Zcash for New York Traders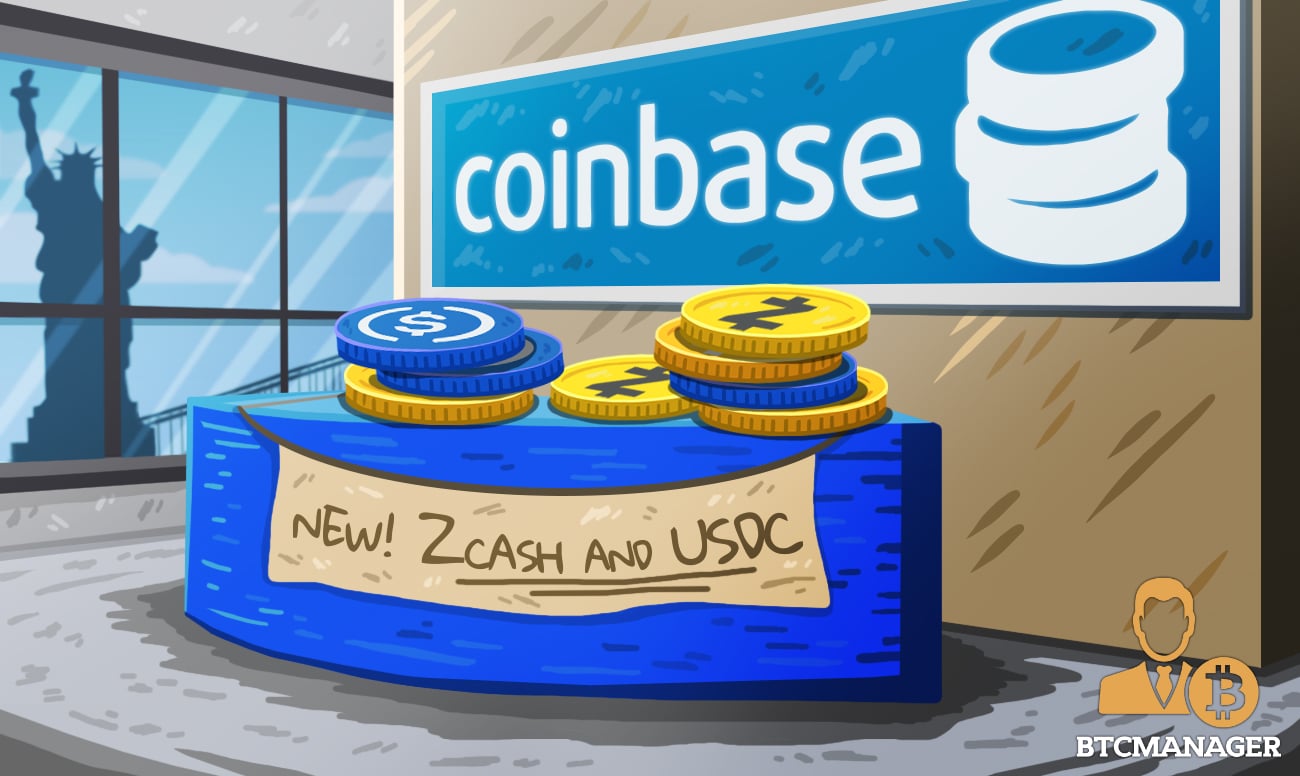 Coinbase, a leading United States-based bitcoin trading venue has announced that its New York customers can now buy, sell, convert and store Circle's USDC stablecoin and the privacy-centric Zcash (ZEC) altcoin, according to a tweet published on February 10, 2020.
USDC, Zcash Live on Coinbase New York
Per a tweet by the Coinbase team, New York residents can now buy, sell, store, convert, send and receive zcash (ZEC) and USD Coin (USDC) on the exchange, through the official Coinbase.com website or on their Android and iOS apps, with immediate effect.
The tweet read:
"USDC ($USDC) is now available to New York residents at Coinbase.com and in the Coinbase iOS and Android apps. New York residents can log in to buy, sell, convert, send, receive, or store these assets."
Notably, while both USDC and Zcash have been available to Coinbase users in other jurisdictions since late 2018, New York residents have not been able to enjoy the same privilege, possibly due to regulatory issues.
Coinbase successfully secured the highly controversial New York BitLicense in January 2017, making it the first exchange in the region to achieve that milestone.
At the time, Juan Suarez, a member of the Coinbase Legal team made it clear that operating in total compliance with state laws was of utmost importance to the exchange.
He said:
"The BitLicense, which authorizes Coinbase's continuing virtual currency business operations in the state of New York, is an important validation of our highest priority: to operate the most secure and compliant digital currency exchange in the world."
Coinbase Playing by the Rules
Talking about compliance, Coinbase has been adding support for altcoins on a jurisdiction-by-jurisdiction basis, in order to avoid overstepping its boundaries in states with stricter crypto regulations.
In September 2019, Coinbase added support for Stellar Lumens (XLM) in New York, and pledged to continue listing more coins in crypto-friendly jurisdiction as time goes on.
It's worth noting that Coinbase's altcoin listing spree was recently criticized by Larry Cermak @lawmaster, who argued that the exchange's support for venture capital-backed coins could result in a "retail dump" of those coins.
He tweeted:
Coinbase is exploring listing all of these assets. The vast majority of them are VC chains that will very likely crash in value immediately after being listed. Some VCs already wrote off these investments. Coinbase is basically considering facilitating a retail dump 👏🏻👏🏻👏🏻 pic.twitter.com/fVMqPMBUhP

— Larry Cermak 🫡 (@lawmaster) September 19, 2019
In related news, Coinbase Custody has joined forces with Web4 Foundation to provide custody services to digital assets that will be powered by the Polkadot network.