Coinbase Rolls Out Support for Ethereum-based dApps Access to Some Users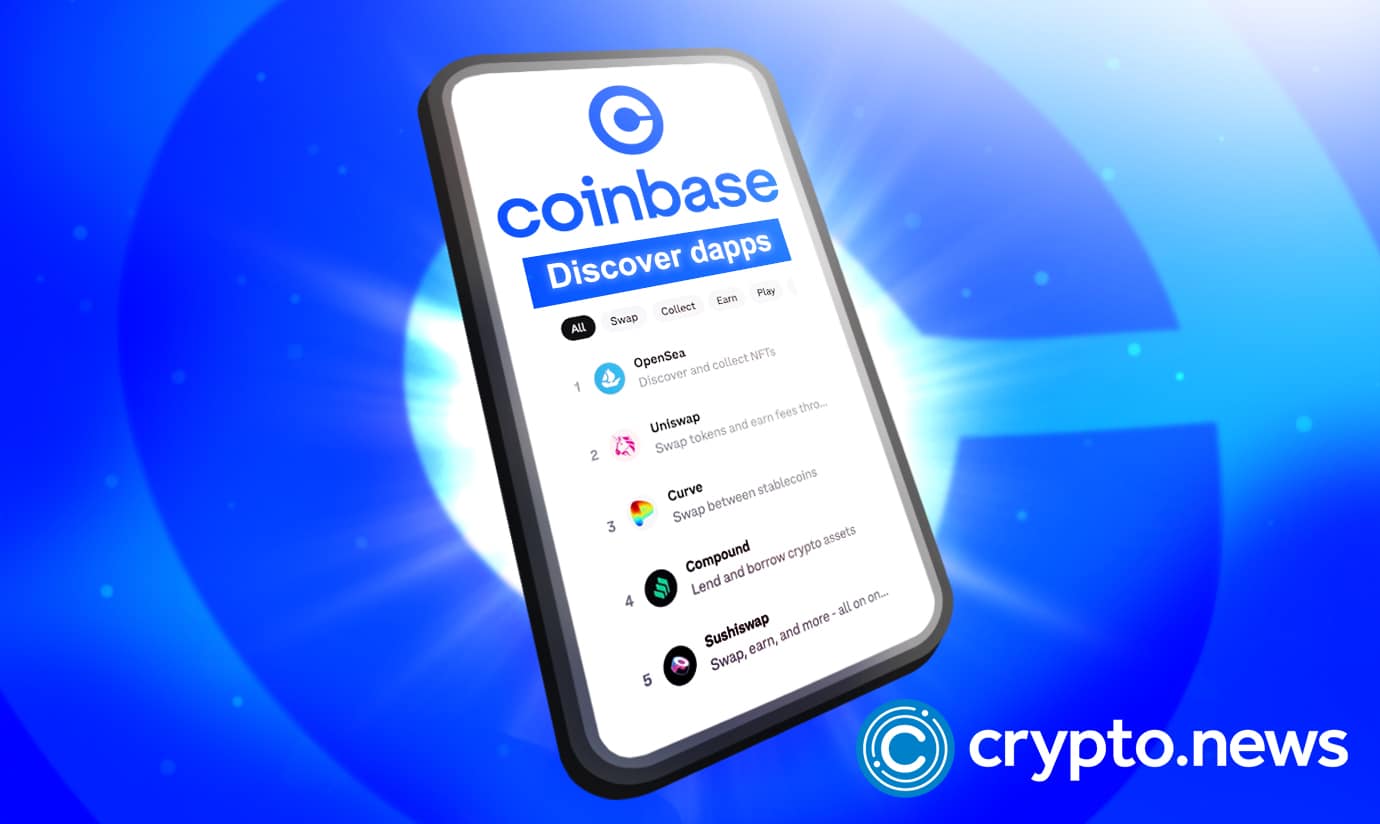 In a blog post on Monday, Coinbase Global said it would allow a small group of its users to access Ethereum-powered decentralized applications (dApps) through its app. 
Coinbase's Support for DeFi and NFTs
Coinbase's new addition will enable users to purchase and trade non-fungible tokens (NFTs) on various marketplaces, including OpenSea and the company's own NFT platform. They will also get to lend and borrow through DeFi platforms such as Curve and Compound.
The exchange is rolling out a new set of features powered by its new browser and dApp wallet. The company noted that these features would soon be available in the U.S. on Android, and it plans to expand its offerings to other platforms as well.
Notably, the new dApp wallet will let users explore apps without having to type in a recovery phrase. With the help of multi-party computation, users can keep their money secure.
On April 20, the company also launched a non-fungible token marketplace in beta, allowing users to buy and sell digital collectibles. In its first week of operation, the marketplace saw 900 transactions and 73 ETH worth of sales. Yesterday, Coinbase confirmed the marketplace is accessible to its 90 million users.
During a press briefing last month, Sanchan Saxena, the company's vice president of product, said that Coinbase NFT is looking to take a slice of the market share of OpenSea, which is the world's largest NFT marketplace.
The company noted that it plans on growing its user base through various partnerships, such as one with the New York Film Festival. The event will feature a film trilogy from Bored Ape that will take place in June.
Regarding the latest move by Coinbase, Andrew Thurman of blockchain analytics firm Nansen said in an interview:
"Over 95% of the nearly 300 million cryptocurrency investors worldwide have not ventured beyond a centralized exchange. This move by Coinbase has the potential to give a new wave of users the chance to explore the frontier of DeFi and NFTs."
Coinbase's Take on Web3
On April 19, executives at Coinbase announced that they would no longer be restricting users' ability to use their existing wallets to make payments and store NFTs. They noted that they would allow users to use any wallet, including their own.
In response to the increasing number of platforms banning hate speech, Coinbase plans to adopt a more laissez-faire approach when it comes to content moderation. Dick Costolo, the former CEO of Twitter, and executives at Reddit who avoided banning hate speech until 2021 were among the early adopters of this approach.
Although it may be required to develop more robust content moderation practices, Coinbase still maintains that it will continue to follow the laws in the jurisdictions it serves. In February, CEO Brian Armstrong warned that the company's decision to remove the restrictions on NFTs could set a dangerous precedent. He said that it would encourage tech companies to act as jurors and judge regarding social issues.
Although the number of NFTs has been growing steadily, it's still not clear how big a business they will be in the future. In the past year, the sale of Beeple's NFT at Christie's made it one of the most prominent cryptocurrencies. In March 2022, OpenSea became the most popular trading hub for NFTs.
In the past few months, the popularity of the website LooksRare has complicated OpenSea's dominance. It's believed that the high trading volumes that the platform has seen were due to wash trading, where users sell their assets to create an illusion of demand. Generally, NFT transactions have remained on the decline side.