Cricket South Africa's Twitter Account Hacked by Bitcoin Scammers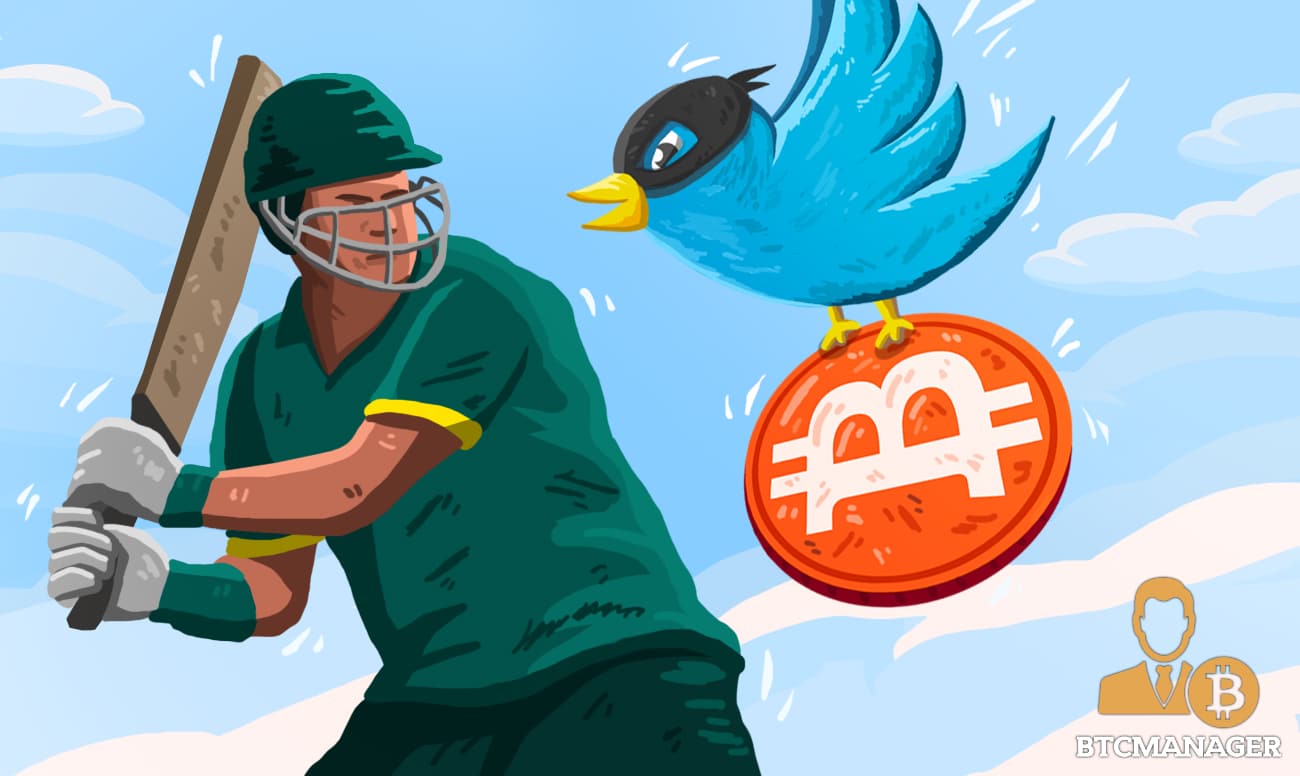 A report from The Indian Express, published on January 14, 2019, states that the Twitter handle of Cricket South Africa (CSA) fell victim to hackers who were selling fake bitcoin lottery tickets. However, the account has now been retrieved and all the erroneous Tweets deleted.
Bitcoin Invades the Cricket Pitch
On the night of January 13, 2019, the official Twitter account of South Africa's cricket board was attacked by hackers in a very ungentlemanly manner.
The incident came to light when the CSA's account posted a Tweet announcing a fake partnership with the cryptocurrency wallet company Luno. Reportedly, the partnership came into being for the first South African bitcoin lottery. The Tweet asked people to send 0.01 BTC to a certain wallet address and once sent, people could stand a chance to win 20 BTC, approximately worth $71,000.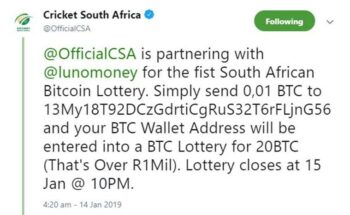 (Source: The Indian Express)
Notably, Luno distanced themselves from the Tweet and clarified that there is no such partnership in place with Cricket South Africa. World cricket's governing body, the International Cricket Council (ICC) also urged people to not click on any links or engage with CSA's account until the situation is resolved.
Alistair Hogg, digital content manager, ICC, raised his voice through social media to beware users of CSA's compromised Twitter account. He Tweeted:
"No, the Proteas aren't running a bitcoin lottery. Please disregard the @OfficialCSA account until we confirm it's safely back in the hands of our friends in South Africa."
BTCManager searched through the wallet address provided by the hackers and found that they received 0.02 BTC (worth $70) in total. Hence, it would be safe to assume that not many people fell victim to the ploy.
It's also worth highlighting that the account has now been retrieved by CSA and all the fake Tweets have also been deleted.
Twitter Crypto Scams Continue to be a Menace
Scams on Twitter asking for donations in cryptocurrency have long plagued the industry and its goodwill.
BTCManager reported on November 6, 2018, how a fake Elon Musk Twitter account managed to trick people on social media.
Hackers follow a simple yet robust approach to impersonate celebrities on Twitter. Their modus operandi includes creating a new profile bearing a striking resemblance to the original account. This is followed by appearing in the target celebrity's Twitter mentions to further blur the line between the original and fake. Finally, the hackers manage to get verified on Twitter and post Tweets asking people to donate cryptocurrencies in exchange for monumental returns.
Unfortunately, many people fall victim time and again to this re-hashed scamming technique.
This technique hasn't gone unnoticed by celebrities. In September 2018, BTCManager reported how Musk reached out to Dogecoin's Jackson Palmer to get rid of Twitter spammers.