Crypto adoption across generations: examining ownership age trends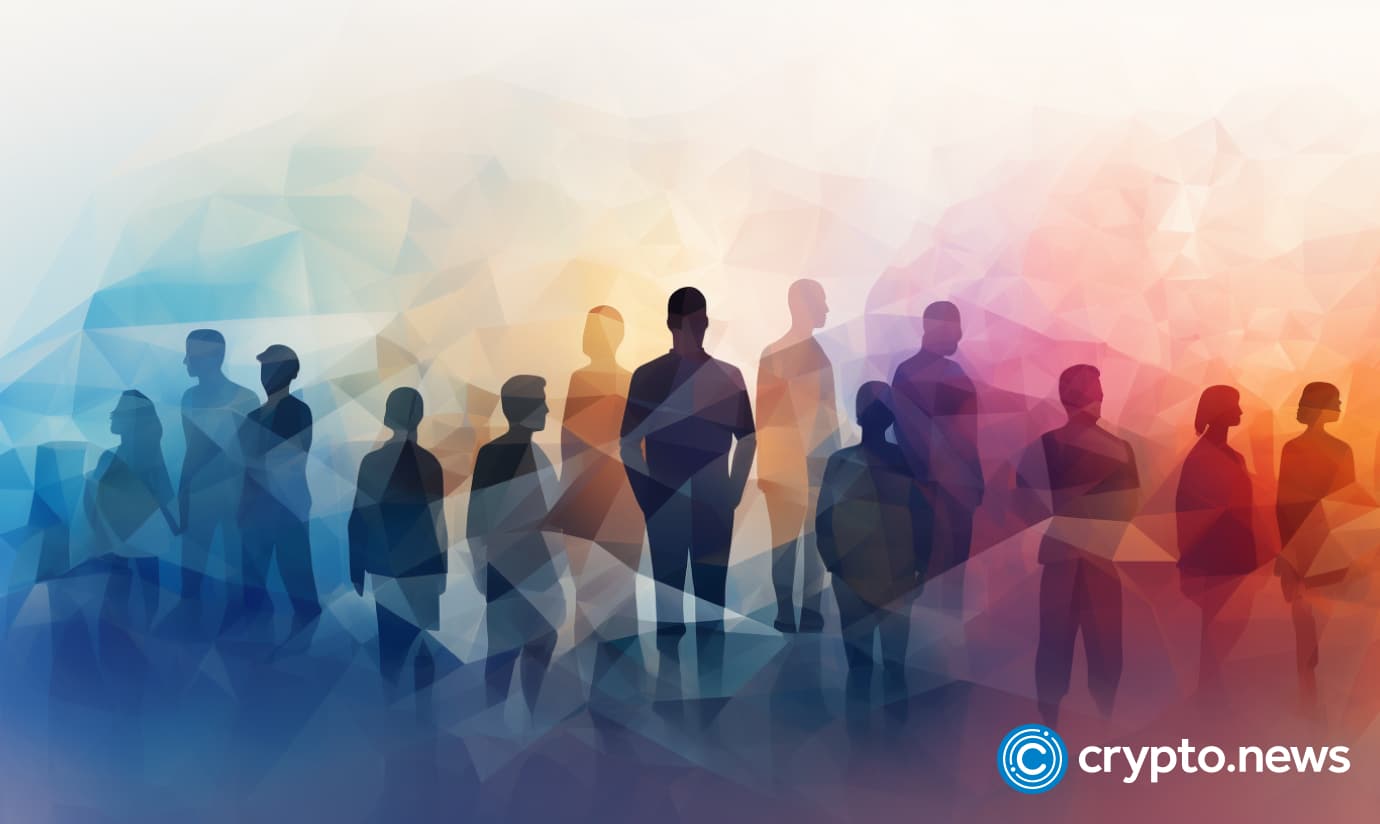 Which age group owns the most crypto? We've analyzed the latest studies on cryptocurrency adoption to explore the ownership trends among different generations.
Millennial dominance in crypto adoption
Millennials seem to have the highest ownership rates among all generations. They are the dominant group of crypto enthusiasts, accounting for 46% of the respondents, the study by Bitget, a crypto derivative and copy trading platform, shows. The company analyzed over 255,000 survey responses from 26 countries between July 2022 and January 2023.
They categorized participants into four age groups: baby boomers (born pre-1964), Gen Xers (born 1965-1980), millennials (born 1981-1996), and Gen Z (born post-1997).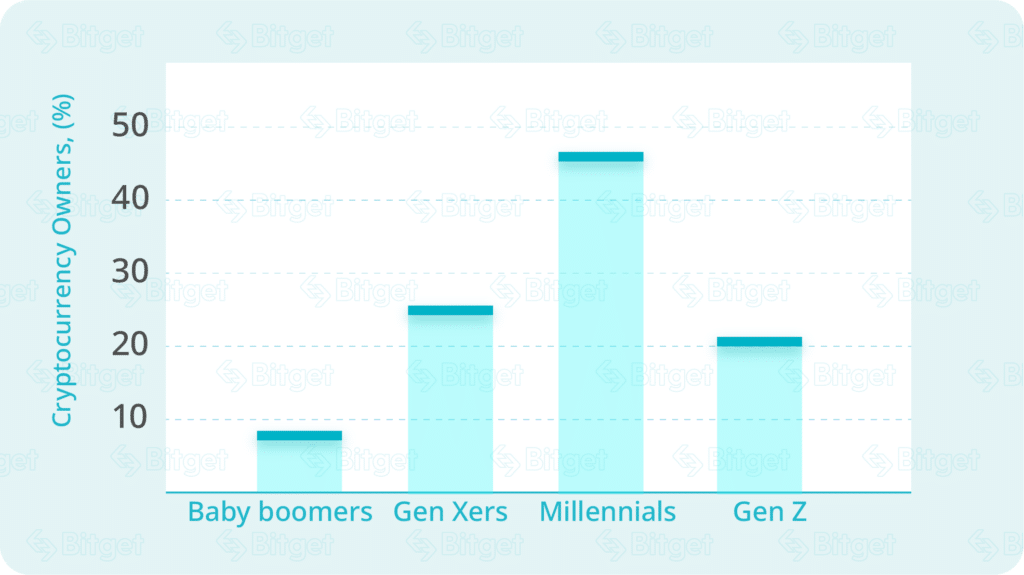 The Bitget study also suggests millennials and Gen Z individuals are more favorable towards cryptocurrencies due to their familiarity with the internet and digital technologies. Growing up in the digital era, they perceive cryptocurrencies as attractive investment opportunities with high return potential. Gen Z, with no negative experiences of financial crises, shows a greater inclination to embrace blockchain and digital assets.
Crypto adoption in the US
Data from the Cryptocurrency Adoption Index report, published in January 2023 by Finder, adds further insights into crypto adoption trends in the United States.
Only 15% of Americans own cryptocurrencies, and most of the population doesn't plan to invest in this asset class.
The report highlights a gender gap, with more men than women perceiving cryptocurrency as a good investment.
Among the generational breakdown, 98% of baby boomers and 87% of Gen Xers do not consider cryptocurrencies as good investments, while 49% of Gen Z individuals view them favorably.
Another study by Security.org shows that awareness of cryptocurrencies has increased significantly in the United States. In 2021, only 47% of American adults were familiar with crypto, whereas in 2023, 69% consider themselves familiar with the concept. However, despite the rise in awareness, the number of cryptocurrency owners has stagnated in the past year, with approximately one-third of Americans currently holding crypto tokens in 2022 and 2023 comparing to the number of  crypto owners more than doubled between 2020 and 2021.
The research confirms that ownership tends to be more prevalent among younger individuals, specifically those aged 30-44, who are familiar with cryptocurrencies and already possess some disposable income.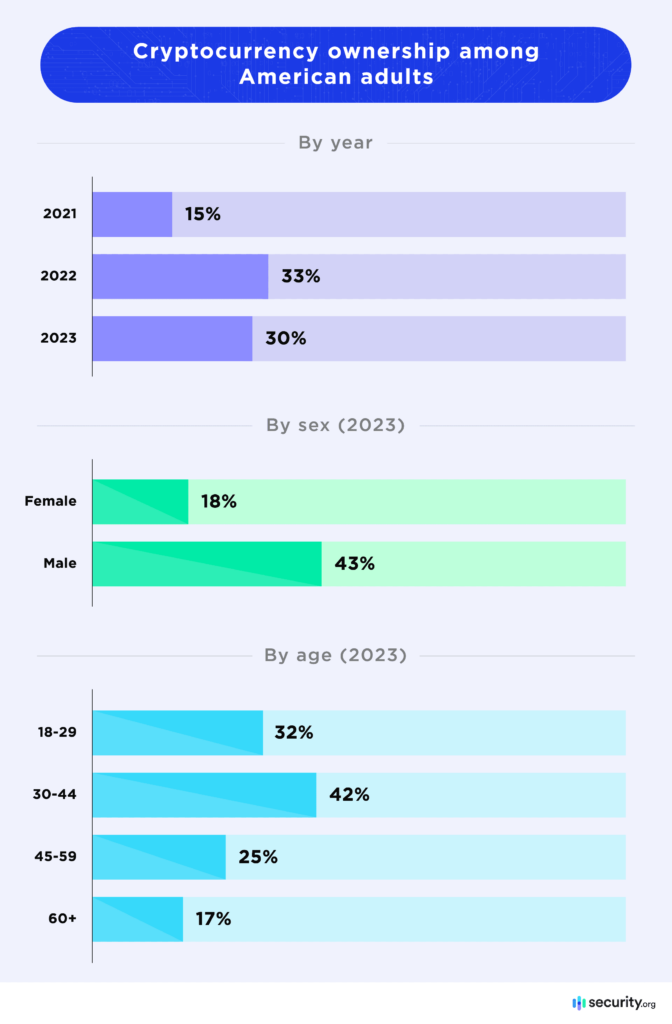 Price volatility, security issues and lack of widespread adoption are among the major concerns for potential crypto owners. People are also worried about the lack of clear government regulation and reliable trading exchanges in the crypto space.
Meanwhile, European authorities have moved to establish clear regulation and licensing rules from 2024 onwards to ensure consumer protection, market integrity, and financial stability. The Markets in Crypto-Assets (MiCA) directive aims to create a secure and regulated environment for crypto adoption in Europe.
What nations are leading in adoption?
In 2023, cryptocurrency ownership saw an upswing in regions like Africa, Asia, and South America, outpacing countries like the United States. This finding, based on an analysis of 55 surveys conducted by Statista, showed that nearly one-third of respondents in Nigeria either owned or used digital currencies. This trend stands in stark contrast to the US, where only 6% of respondents reported similar use or ownership.
The use of cryptocurrencies varied across different regions. For instance, in Nigeria, mobile money operations using cryptocurrencies became commonplace for everyday transactions. In Poland, cryptocurrencies were accepted for a variety of purchases. Conversely, Vietnam permitted cryptocurrency ownership for investment purposes but prohibited their use as a payment method.
Future of crypto adoption
Millennials and Gen Z currently exhibit the highest adoption rates of cryptocurrencies, driven by their familiarity with technology and positive perceptions of digital assets. However, widespread crypto adoption across all age groups depends on addressing security, regulation, and mainstream acceptance concerns. As awareness and understanding of cryptocurrencies continue to grow and regulatory frameworks become more established, crypto adoption could increase across all age groups in the coming years.