Crypto.com is bullish on DeFi for 2023 amid institutional interest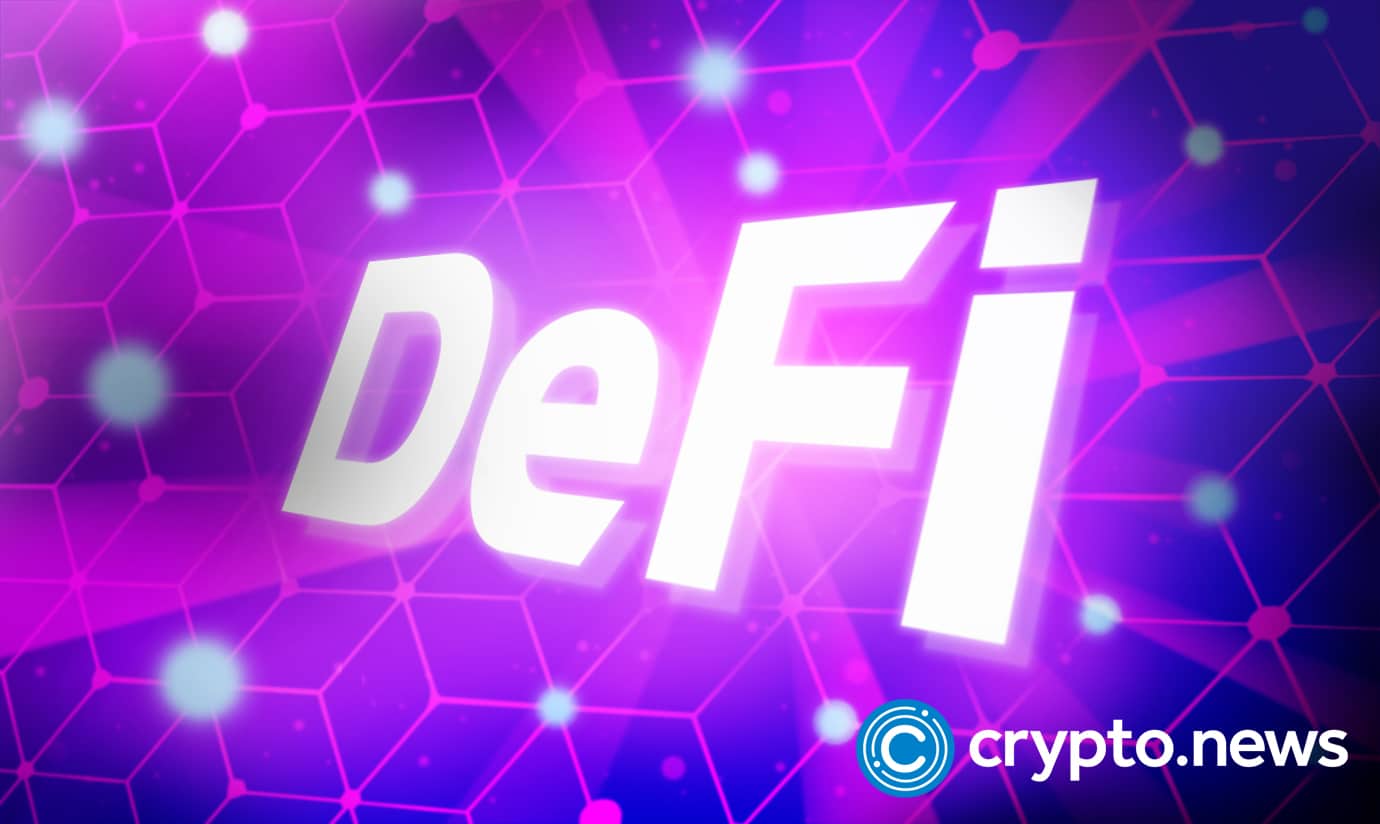 Crypto.com researchers are optimistic about crypto projects in 2023 despite an unprecedented bear market. The fundamental analysis has shown an imminent rise of cryptocurrencies and blockchain-powered technologies to highs never recorded in history.
Despite the ongoing turmoil in the blockchain-powered markets, crypto.com has made an exciting discovery that brings a wave of hope for crypto-savvy investors. The report reads:
"As of November 2022, the number of crypto owners crossed the 400 million milestones, reaching 402 million."

Crypto.com: 2022 Year Review & 2023 Year Ahead
According to stats published by the exchange, the projected number of crypto owners is set to increase to 800 million in 2023, signaling bullish momentum.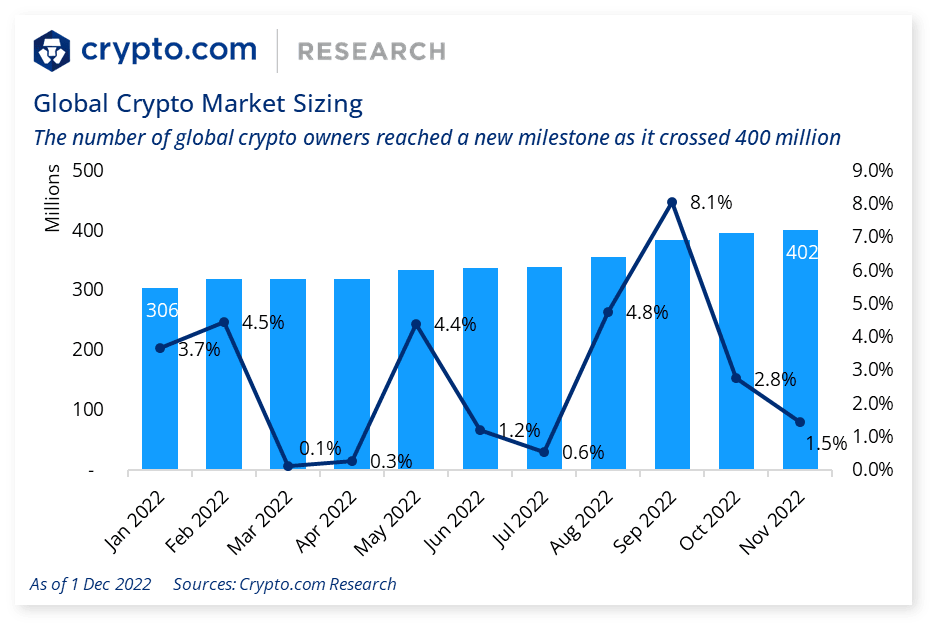 Crypto.com also expects "to see a few AAA games in the next year or two, which will provide players with new gaming experiences that integrate high-performance gameplay with blockchain technology."
The year 2022 has also seen the initial use of high-utility soulbound tokens (SBTs), which are expected to surge in 2023. The Japanese Government pioneered these NFTs by issuing SBTs on the ethereum network to seven mayors. They served as rewards for the mayors' initiatives towards improving the lives of citizens using contemporary technology. 
How crypto hacks of 2022 can make crypto safer
According to crypto.com, blockchain-powered technologies are becoming safer daily due to bankruptcies and hot wallet hacks that have occurred in bulk in 2022. For instance, the proof-of-reserve (PoR) model has mandated exchanges to publish their digital asset reserves held on behalf of customers. Although accompanied by many controversies, the PoR mechanism has initiated a step forward for centralized exchanges (CEXes) to regain users' trust, which has been widely affected by SBF's illegal practices with customer funds. 
"The key to building a successful business model is establishing trust with end users," Crypto.com wrote, citing improvements in the crypto industry set to secure investors from massive financial losses.
Crypto.com's 2022 review
This year has left an indelible mark on the minds of enterprising individuals, hedge funds, asset managers, and general finance enthusiasts. In the wake of a financial recession predicted by analysts and experts such as Robert Kiyosaki, the Federal Reserve has continuously fought inflation using the most effective financial weapons, the interest rates. In March, the Fed raised interest rates to the highest level ever witnessed in 15 years, according to CNBC.
The war in Europe also wound financial sectors, including cryptocurrencies. Graphical data from crypto.com shows a decline in Gross Domestic Product figures this year from highs recorded in 2021. Inflation has been rising to highs of 8.8%as macroeconomic factors raise the cost of goods and services.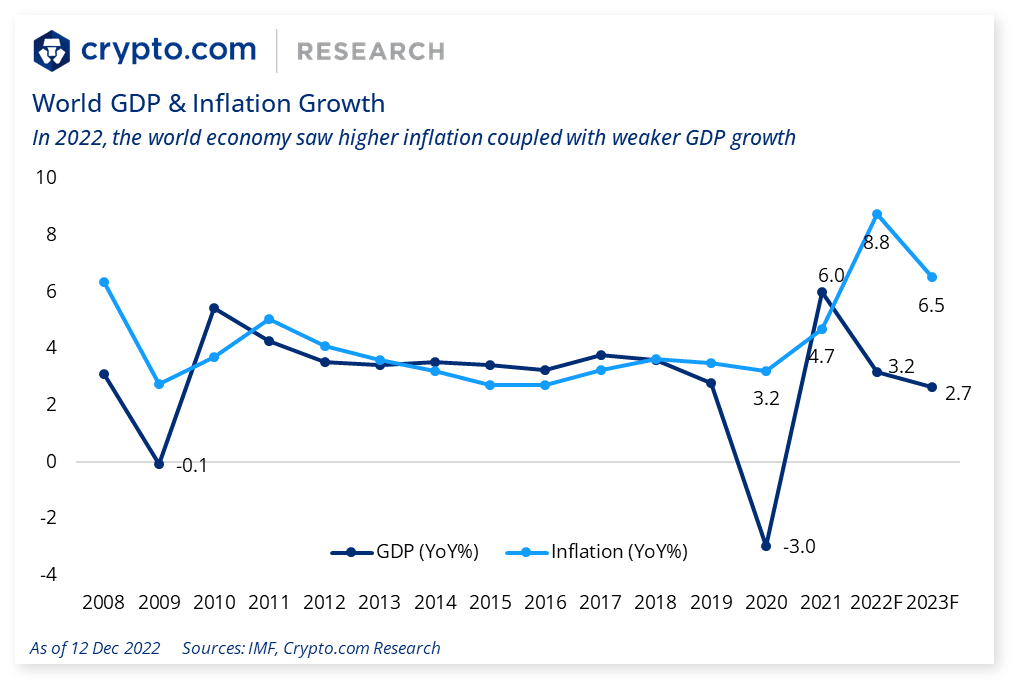 In addition to the increased inflation and interest hikes, the crypto community received countless additional occurrences. First was the collapse of the Terra-Luna ecosystem in May, which wiped out $45 billion in days as the founder, Do Kwon, went missing. Just a month later, two incidents happened. Celsius, a widespread crypto borrowing and lending platform, announced going under receivership for protection against creditors. 
Similarly, Three Arrows Capital (3AC) filed for insolvency, and founders Kyle Davies and Su Zhu again went missing. July saw Voyager Digital plummet to bankruptcy due to heavy exposure on the already collapsed TAC, with FTX winning its liquidation by offering the highest bid. 
October was nicknamed HackOctober by netizens upon experiencing a record-breaking number of cyber-attacks. In mid-October alone, Chainalysis recorded $718 million stolen by hackers in security breaches as hackers compromised DeFi protocols. Or the recent FTX collapse that wiped out $32 billion and ended up in the books of history as the most well-known crypto scam of all time.