Crypto.com Named an Official Sponsor of 2022 FIFA World Cup in Qatar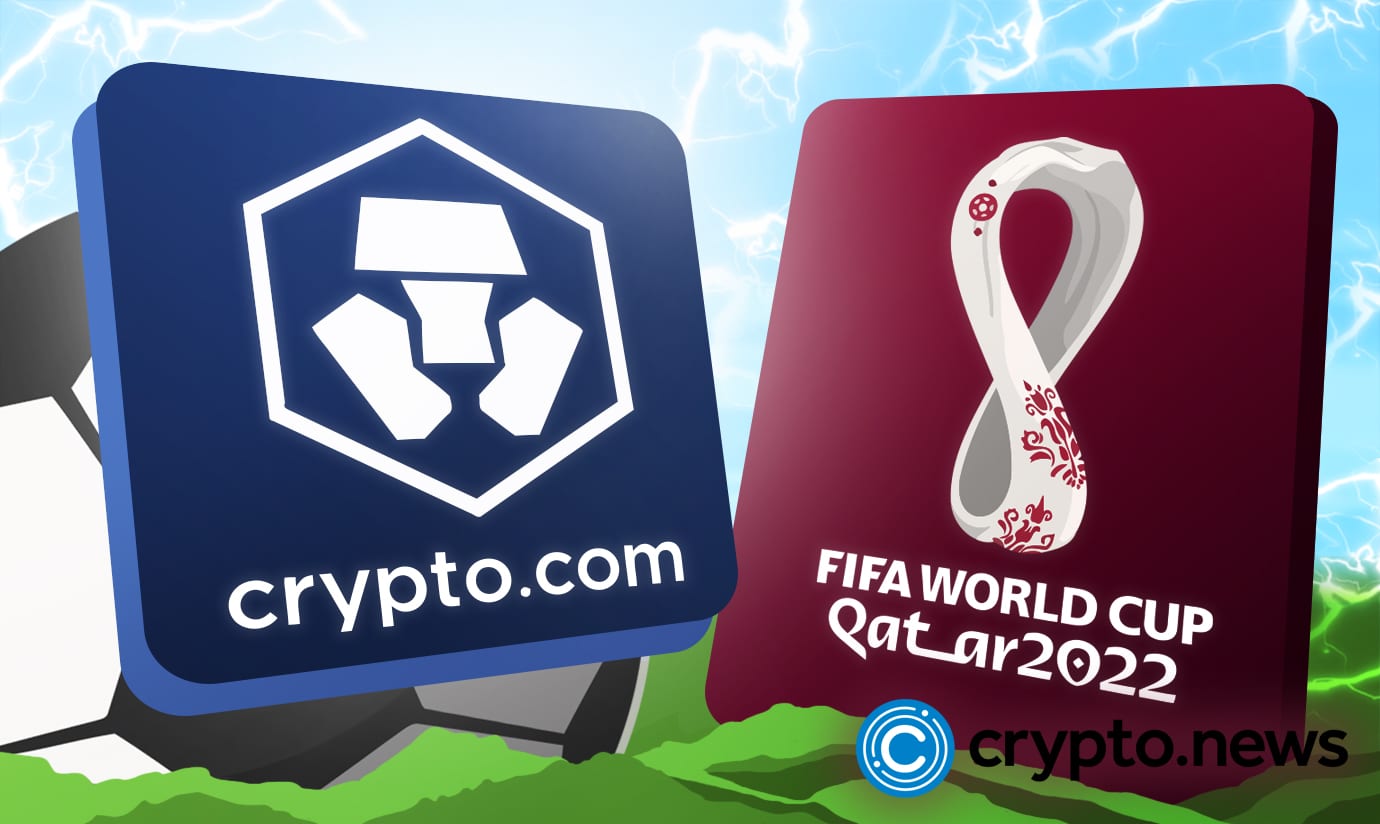 FIFA has announced that Crypto.com, a cryptocurrency trading platform, will be an official sponsor of Qatar's 2022 FIFA World Cup.
Crypto.com Will Promote FIFA's Growth
With offices in the Americas, Europe, and Asia, Crypto.com serves more than 10 million customers. Its service offerings are designed to accelerate the global adoption of cryptocurrency through a foundation of security, privacy, and regulatory compliance.
"Crypto.com has already demonstrated a commitment to supporting top-tier teams and leagues, major events and iconic venues across the world, and there is no platform bigger, or with a greater reach and cultural impact, than FIFA's global platform of football," said Kay Madati, FIFA's Chief Commercial Officer.
"We are delighted to have a global brand like Crypto.com join us as a sponsor of the exciting and groundbreaking FIFA World Cup in Qatar, ultimately helping to grow our beautiful game on a global scale."
In November, the exchange signed a 20-year deal to rename the Staples Center as the Crypto.com Arena. The company also secured multi-year sponsorships with various sports leagues and organizations.
Enhancing Fan Experience Globally
Crypto.com is known for its extensive partnership with various sports and entertainment properties. Some of these include professional football, ice hockey, and motorsport. 
In addition, the company secured a naming rights deal for a sports venue in Los Angeles, which became known as the Crypto.com Arena. Through its partnership with FIFA, Crypto.com will be able to provide various opportunities for its users to attend the upcoming World Cup in Qatar.
Kris Marszalek, Co-founder and Chief Executive Officer of Crypto.com, stated that it is excited about its partnership with FIFA, which will allow the company to expand its reach and drive further awareness of its platform globally. Through this partnership, Crypto.com will continue to develop new ways to enhance the fan experience globally.
Banning Crypto in Qatar 
Given the global appeal of soccer, Crypto.com is likely to attract a more prominent international audience. According to FIFA, more than 3.5 billion people watched the 2018 FIFA World Cup in Russia, with more than a billion watching the final between France and Croatia.
Notably, trading cryptocurrencies, including Bitcoin (BTC), has been generally prohibited in Qatar since the country's central bank issued a ban in 2018. The Qatar Financial Center Regulatory Authority confirmed it in January 2020. 
The Financial Conduct Authority issued regulations that will impose penalties on firms that offer virtual assets services in the financial center. The financial center was established in 2005 and had its own legal and tax infrastructure. It provides various services, such as the exchange of virtual assets. The Central Bank of Qatar also issued regulations to prevent terrorist financing and money laundering.
Qatar is among the countries to ban the operation of financial services related to cryptocurrencies. Other countries, such as India and China, have also restricted such services.
Curbing Corruption and Bribery 
Less than eight months till the start of the World Cup, the tournament has been overshadowed by allegations of corruption and bribery dating back to the Qatar 2022 bidding process. 
In April 2020, the US Department of Justice accused three people of "the payment and acceptance of bribes and kickbacks" for FIFA's selection of nations to host the World Cup, including Russia in 2018 and Qatar in 2022. 
Furthermore, the international non-governmental group Human Rights Watch has claimed that employees employed to build the event's infrastructure were subjected to abuse and slave-like circumstances.