Crypto Exchange Bitfinex Unveils Social Networking Platform "Bitfinex Pulse"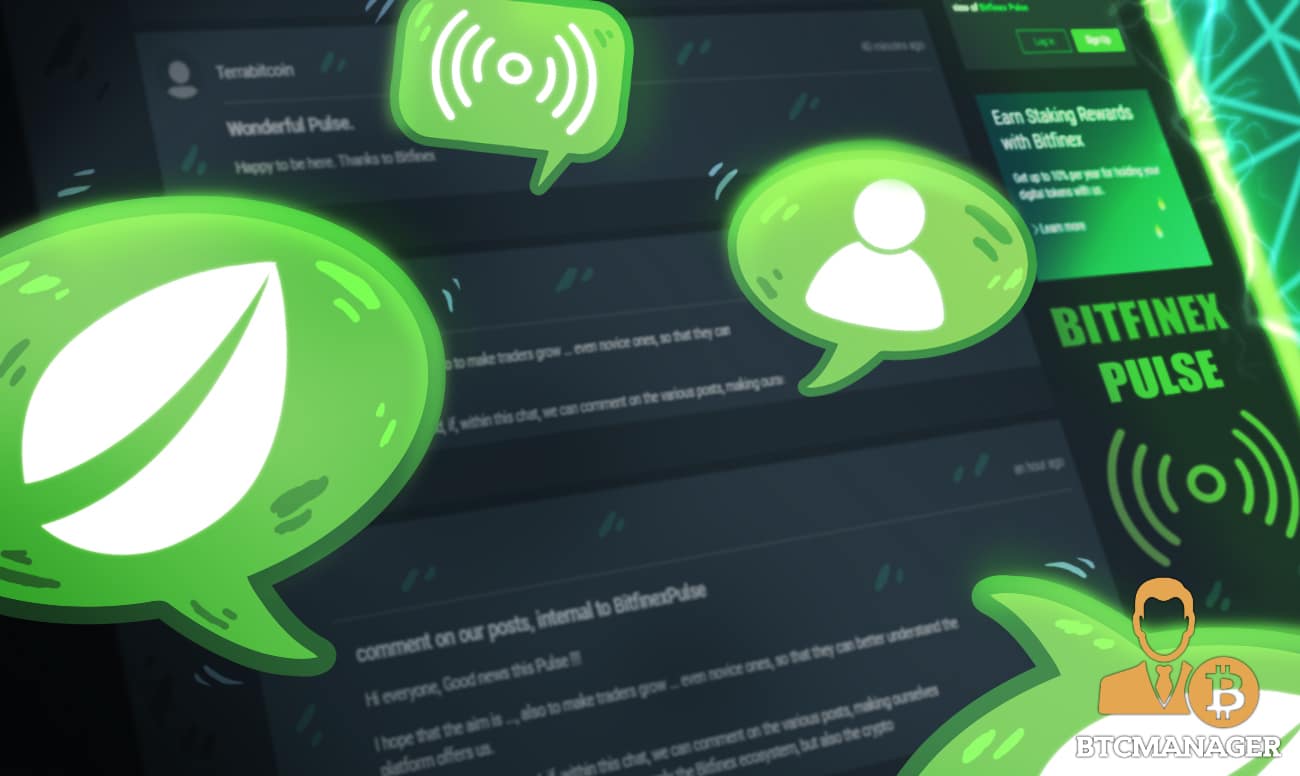 Bitfinex, a leading British Virgin Islands-based Bitcoin (BTC) trading venue, has announced the launch of its native social network called Bitfinex Pulse. The firm says the new social network will enable traders to share ideas and high-quality content that will give them an edge when trading, according to reports on April 27, 2020. 
Bitfinex Pulse Goes Live 
In a bid to make it easier for its users to interact with each other, collaborate and share high-quality content that could boost the outcome of their trades and generally unite members of its ecosystem, Bitfinex has rolled out its social networking platform named Bitfinex Pulse.
Per sources close to the development, Bitfinex Pulse is specifically designed to meet the needs of crypto traders on the exchange and make it possible for them to take advantage of the exchange's growing community to get a trading edge.
Bitfinex tweeted:
Bitfinex Pulse, the next generation of social trading, has finally arrived!

Distinguish yourself, join the trading community of the future and never miss that life-changing market insight again. https://t.co/RqzrBGY6i6 pic.twitter.com/KNluzdEB7P

— Bitfinex (@bitfinex) April 27, 2020
On the new Bitfinex Pulse, verified Bitfinex customers will be able to chat with each other. Though both verified and unverified customers will be able to publish their posts, also known as pulses, users will, however, be able to choose whether their posts should be visible to the public or not.
Providing Traders with Valuable Information
Commenting on the launch of Bitfinex Pulse, Paolo Ardoino, the chief technical officer of the exchange noted that the crypto-focused social networking service is designed to satisfy the yearnings of users and it will be a valuable and reliable source of information to traders.
Adroino said: 
"We have created Bitfinex Pulse in response to the demand of our users for a professional content distribution platform for crypto traders. Building on the success of the public leaderboard, which has already created crypto icons on Twitter."
The Bitfinex Pulse service is only available to Bitfinex customers and interested traders need to choose their preferred nicknames or use the same name associated with their Bitfinex account.
Despite the numerous criticisms and controversies associated with Bitfinex exchange, the crypto trading venue has continued to grow from strength to strength.
As reported by BTCManager, APRObit, a South Korean crypto exchange startup announced in February that it plans to use Bitfinex's joint order book system to offer its clients easy access to trading digital assets.