Crypto Lending Platform Hodlnaut Suspends Services Due to Liquidity Crisis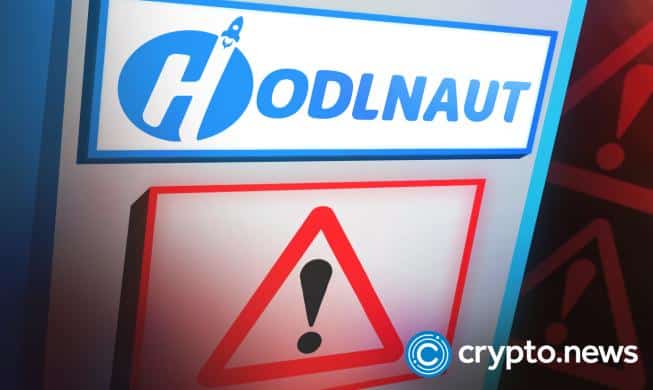 Singapore-based crypto lending platform Hodlnaut has immediately halted all withdrawals, token swaps, and deposits. The company has also stopped all borrowing and lending services due to "prevailing market conditions".
Move Meant to Stabilize Liquidity And Protect Assets
In a statement released on Monday, August 8, 2022, Hodlnaut stated that the decision to halt all trading activities on the platform was made to stabilize the company's liquidity and preserve its assets as it works to protect the long-term interest of its users.
"We understand this is disappointing news and its impact on you. We would like to reassure you that this difficult decision was taken for us to focus on stabilizing our liquidity and preserving assets while we work to find the best way to protect our users' long-term interests." The statement read in part.
Additionally, Hodlnaut signalled its intention to withdraw its application to the Monetary Authority of Singapore (MAS) for a license that would have enabled the company to provide regulated digital payment token (DPT) services.
The beleaguered crypto lender received approval in principle from MAS back in March for the license that governs its token swap functionality. The token swap feature allows Holdnaut users to trade cryptocurrencies such as Bitcoin (BTC) for Ethereum (ETH).
Company Working on Recovery Plan
Holdnaut also claimed that it is working on a recovery plan and pledged to keep its community updated on any progress as soon as possible. The company has also hired Damadora Ong LLC to consult on the timeline and practicality of the mooted recovery plan.
While customers can still access their accounts and view their balances, Hodlnaut could not provide a definite date for the resumption of its withdrawals and token swap services, acknowledging that it would not be a short process.
Users of the platform have been assured that their deposits will continue to earn interest of up to 7.25% every Monday until further notice. Additionally, funds held in fixed-term deposits will be automatically released into open-term accounts upon maturity, with interest being paid at the rate that was initially agreed.
The crypto lender has pencilled its next update for Friday, August 19, 2022. It also plans to periodically send emails with important information to its users and post on its official social media handles regarding the situation.
Hodlnaut Becomes Latest Victim of Volatile Crypto Market
Hodlnaut's move to freeze its services comes hot on the heels of several recent high-profile collapses in the cryptocurrency market. Last month, Zipmex, a crypto exchange, filed for bankruptcy in Singapore. Others, such as crypto lender Voyager Digital, have filed for Chapter 11 bankruptcy in the United States, which suspends all civil litigation and allows businesses to continue operating while developing a turnaround strategy.
Celsius, another cryptocurrency lender, declared bankruptcy in June after suspending withdrawals and transfers between accounts earlier. The company's ongoing court proceedings have revealed a twisted mess of negligence, market manipulation, and ignored red flags.