Crypto Market in Turmoil, Project Complete Funding Rounds, Eurozone Inflation Hits 8.9%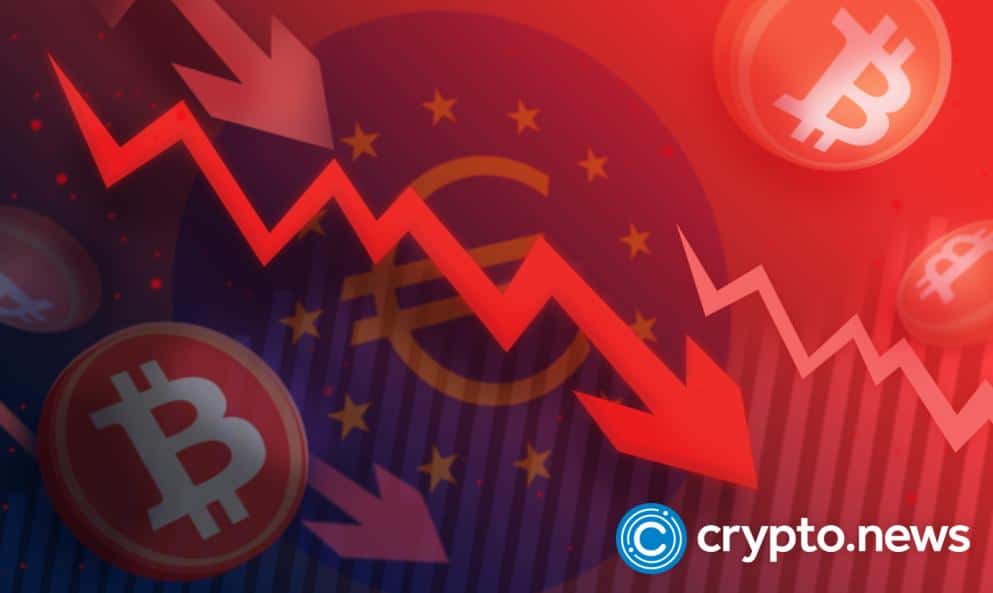 The crypto market suffered its worst decline in the past few weeks, losing over 7%. Several projects announced their funding rounds. Eurozone inflation increases to a 25-year high.
Eurozone Inflation at 25-year High
Recent reports show that the annual inflation rates for the Eurozone just recently hit 8.9% in July, the highest in the past 25 years. According to the news, living costs have continued to increase vastly across the continent, leading to the rise in CPI.
This inflation is steeply rising after the recorded rate of 8.6% in June. Most countries, especially in the EU, saw some inflation increases. Ireland recorded 9.6%, 21.3% in Latvia, 23.2% in Estonia and 20.9% in Lithuania. Accordingly, many other European countries recorded double-digit inflation in July.
According to several sources, within Europe, Malta and France recorded the lowest inflation at 6.8%. Germany, Italy, and Finland's rates stood at 8.5%, 8.4%, and 8%, respectively. 
Energy prices inflation in the Eurozone declined from 42% in June to 39.6% in July. However, the increased inflation in the Eurozone was mainly because of the rise in food, alcohol, and tobacco prices.
Safeheron Raises $7 Million in Funding Round
Safeheron, a Singapore-based safe custody solution, just recently completed successful funding round, raising $7 million. Safeheron was created as a self-custody solution for medium enterprises within web 3.0.
According to reports, Safeheron completed a series A funding round with Web3Vision and Yungi Partners & Hybrid Ventures co-leading this round. However, reports show that several other investors, including Primeblock Ventures, Water Drip Capital, and M77 Ventures, participated in this funding round.
This is not the first time Safeheron raised funds. Together with earlier rounds, Safeheron's total funding is $9 million. Reports show that Safeheron will use the funds to expand Safeheron's global presence and bolster the network's tech and infrastructure. Partner at Yunqi Partners, Yu Chen recently said;
"Custody security providers often compete for enterprise clients, shunning SMEs with unaffordable solutions. So, we're excited to back Safeheron, who's making safeguarding crypto assets with enterprise-grade custody security solutions more accessible."
Crypto Market Suffers Worst Plunge This Month
The crypto market today suffered the worst plunge since the start of August. According to Coinmarketcap, the crypto market lost value by over 7% in the past 24 hours. The market value dropped from $1.12 trillion to a low of $1.03.
Most cryptocurrencies, including Bitcoin, Ethereum, XRP, and Cardano, lost massive sums in the past 24 hours. Most of those assets recorded losses of over 8%. Bitcoin, for instance, dropped from around $23k to just about $21.3k. Among the biggest losers are Flow and Filecoin.
These price plunges today have led to dire consequences within the crypto ecosystem. Some reports show that over $605 million was liquidated from the crypto space in the past 24 hours.
When talking about the downtrends, Susannah Streeter, Hargreaves Lansdown's investment and market analyst, said;
"This fresh chill has descended amid fears that the market is heading for a crypto winter… Although at $21,800, Bitcoin is still some way off its June lows of under $19,000, volatility is again wracking the market."
According to most recent reports, the crypto market is not the only one suffering. A crypto market analyst at Etoro, Simon Peters, said;
"US equity markets have pulled back since Wednesday's release of the July Fed meeting minutes, the key takeaway being that the Fed likely won't be finished with rate hikes until inflation is tamed across the board, with no guidance offered on future rate increases either."
.bit Raises $13 Million
.bit recently completed a funding round raising $13 million. According to reports, this series A funding round was from CMB international, GSR Ventures, GGV Capital, SNZ, QingSong Fund, and Hashkey Capital.
Essentially, these funds will help build a cross-chain decentralized identity protocol. The network's open source protocol will help offer permissionless identification for DAOs and individuals.
The PR statement mentioned the project's use cases saying;
"Initial applications for .bit's decentralized identity protocol include Cryptocurrency transfer, decentralized domain resolution, personal profile display, etc. Further use cases for .bit's decentralized identity product include supporting the one billion citizens without legal identification."