Crypto-related stocks soar as Bitcoin gains 10% on the day
Crypto-based firms like Coinbase and MicroStrategy experience notable upticks on the stock market and Bitcoin rallies.
Companies with significant cryptocurrency holdings or operations are experiencing a positive market response as Bitcoin rallies over the $35,000 mark on Oct. 24th. 
Crypto exchange Coinbase Global Inc. and corporate Bitcoin investor MicroStrategy Inc. saw their stock prices swell by 14 percent and 12 percent, correspondingly, as the market commenced. Similarly, cryptocurrency mining companies Marathon Digital Holdings Inc. and Riot Platforms Inc. also reported over 13 percent in gains during the early hours of trading.


Crypto mining infrastructure provider Bit Digital also experienced a 4 percent increase on the stock market today, as Robinhood shares also experienced a notable 2 percent increase. The Bitcoin Fear and Greed Index has also shifted to green, which was mostly in the 'fear' zone throughout last month.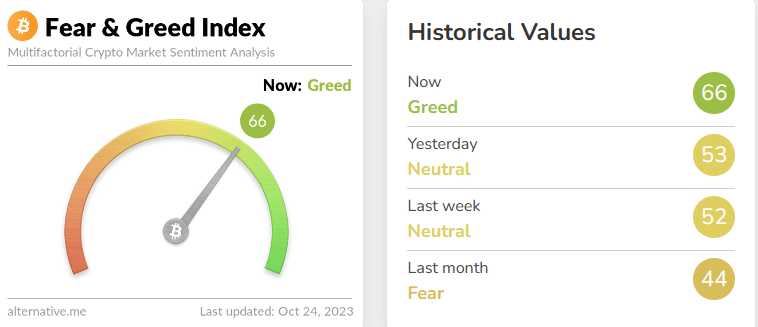 This upward trajectory in both the cryptocurrency and related stocks coincides with heightened anticipation surrounding the possible green light for the first Bitcoin spot exchange-traded fund in the United States. Coupled with Bitcoin's momentum, surpassing $31,000 just the day before, this has propelled shares of crypto-exposed firms for a consecutive second day.
The positive shifts in the cryptocurrency market point to an increasingly optimistic sentiment, providing a boost not just to Bitcoin but also to every institutional organization fundamentally tied to digital assets.