DAO Maker Shares Weekly Update with Numerous Partnerships, Integrations, Exchange Listings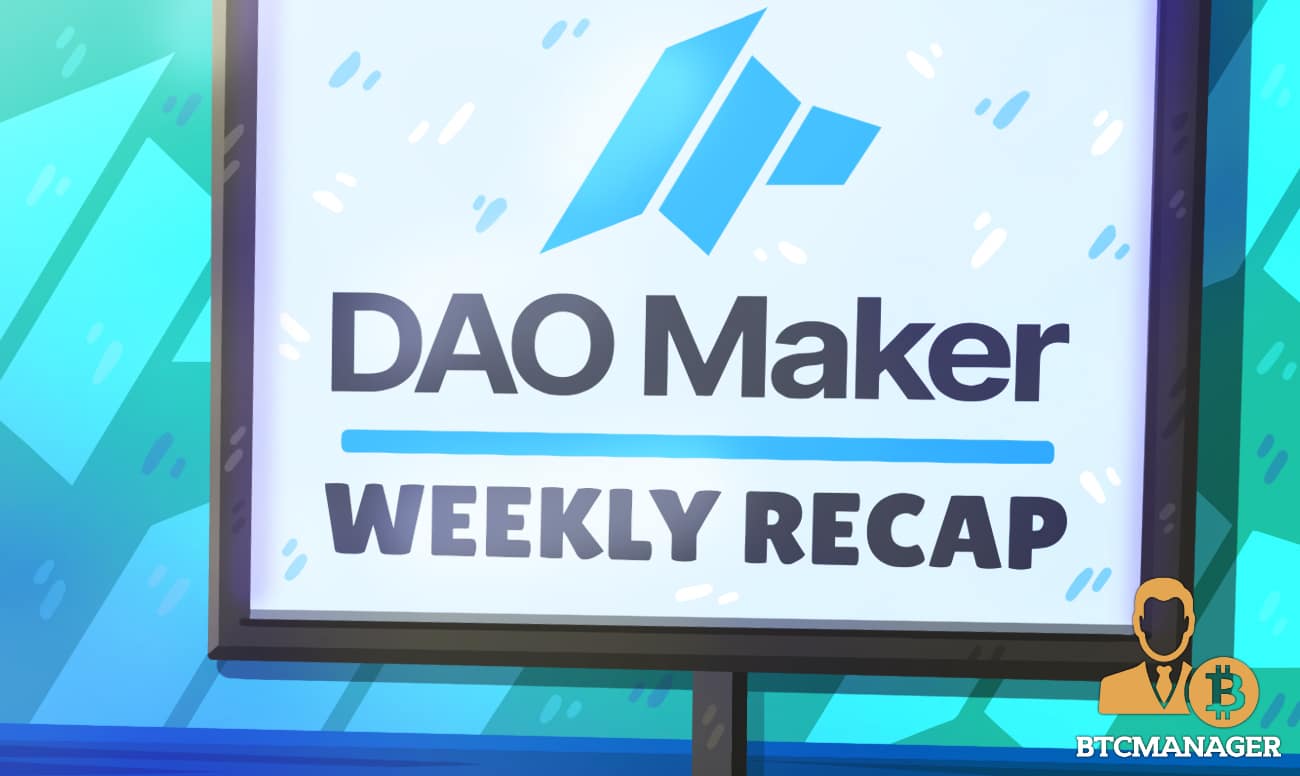 Another successful week for the DAO Maker team, partners, and community. We have summarized all developments in the weekly recap! Stay tuned and watch us take the crypto world by storm.
DAO Maker Narrative
SHO Community Rules and Staking Update
Business Development
GBA — Global Blockchain Association
Wallets/ FIAT Ramps
Exchanges/Staking
DAO Maker banks on designing innovative products, enabling users to have the best possible experience matching the ever growing cycle of crypto adoption. Our community spoke and we listened. Our think tanks and engineers then worked on creating what was in public demand. DAO maker proudly presents:
After the great success of Orion and OpenPredict in the last 6 months, DAO Maker is releasing its next in house incubation project.
YieldShield is an algorithmic DeFi farmer.
It applies the data analytics standards of multi-billion dollar high-frequency trading… to DeFi farming.
Xend Finance is one of the DAO Makers' clients, performing a public sale in SHO format on their platform. They are backed by Binance and Google Developers Launchpad.
SHO Community Rules and Staking Update
Based on community feedback we adjusted our SHO rules, to benefit all smaller and bigger $DAO hodlers faithful to the project, accordingly.
In regards to Business Development, it was a busy week for the team at DAO Maker as well. Over the course of the week, we have announced partnerships benefitting crypto enthusiasts in the EU and US. Coinsbit exchange adopting the DAO Token onto their platform, which adds the Ruble pair to DAO Makers FIAT family. Starting on March 2nd you will be able to trade $DAO/RUB amongst others pairs. Users will also be enabled to utilize Euro and exchange it straight from their bank account for DAO and vice versa. This partnership will ease up the process for our Russian and CIS supporters and will bring more efficiency to the ecosystem.
To continue with the next DAO/EUR pair, we have partnered with Guarda Wallet, which is one of the first fiat swap providers in the world and a valued contributor to our ecosystem. Similar to Coinsbit, Guarda will allow you to buy DAO for euro straight from your account.
Bibox will adopt DAO, widening our access to the Chinese market.
Kardiachain will enable ecosystem access for the DAO token, allowing DAO Maker to access their vast range of solutions, including:
Mainnet
KAI Master Wallet
KAI Membership App
KAIStarter Expansion with more partner projects
KAI DeFi Wealth Management
KAI Staker
KAI Membership — Mobile Banking Integration
KAI NFTs
Enterprise/Government Network Integration
DID Integration
Sparkpoint is adopting DAO into their Sparkpoint wallet app. It also features a built-in decentralized exchange powered by Changelly.
EzDefi has officially entered a strategic partnership with DAO Maker and has added DAO into their wallet inventory, allowing community members to store, transfer and use DAO freely.
Last but not least, a big welcome to GBA into DAO Maker's association fold. We would like you to welcome our next partner, GBA, the Governmental Blockchain Association operating out of the US. GBA is connecting governments and institutions, helping to promote blockchain solutions on an intergovernmental and intragovernmental level. Each working group within the GBA is focused on different issues, discovering where to apply which blockchain solution. This partnership will create a bridge between DAO Maker's Social Mining Platforms and GBA's network, sparking mutual interest in both communities. There is a universe of synergies ahead. You can look forward to seeing us on their offline and online channels. On March 17th, we will speak about Next Generation Development Platforms at a GBA hosted panel discussion.