DappRadar's dApp Store Now Available on Opera Crypto Browser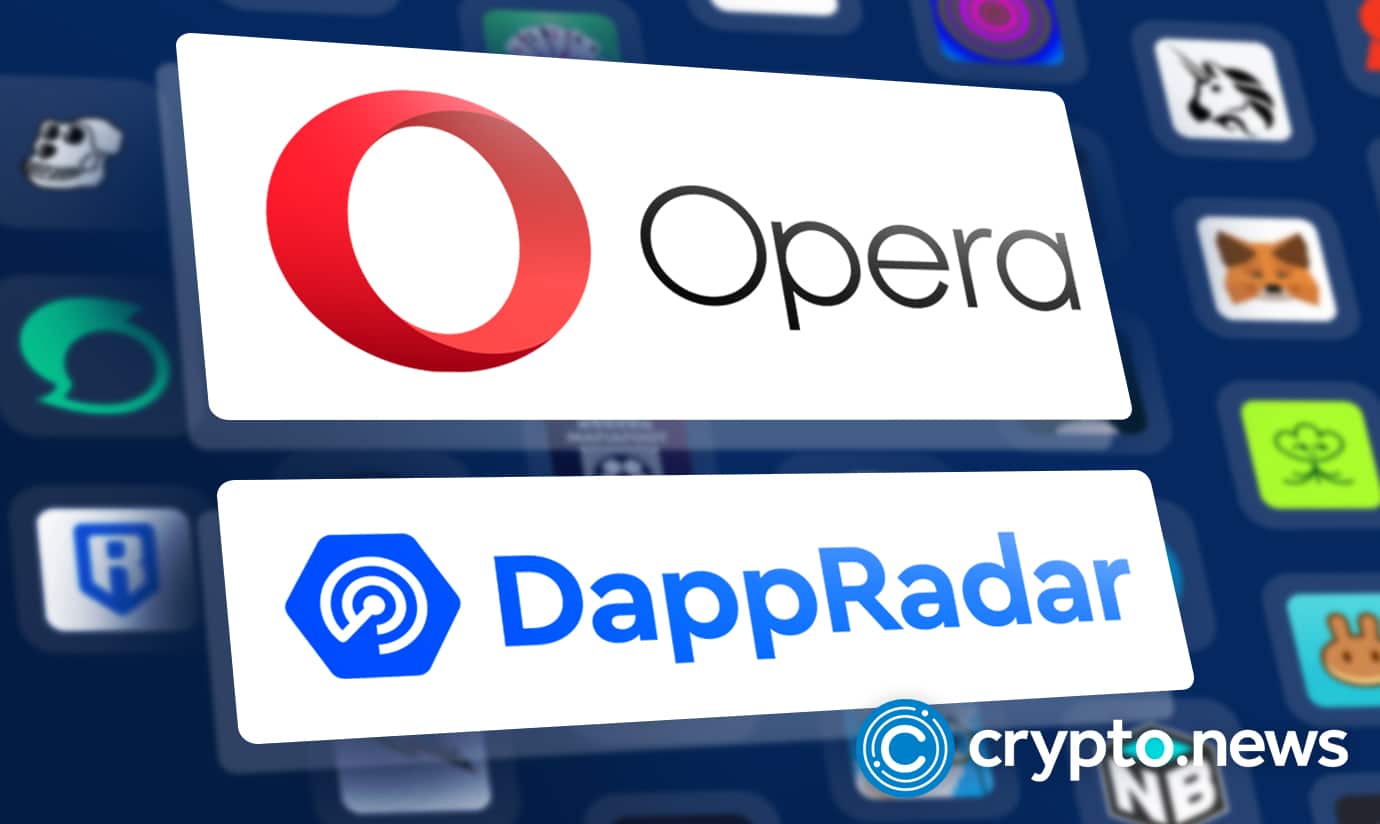 DappRadar and Opera have joined forces to make the more than 10,000 decentralized applications (dApps) on the former's platform to be accessed directly via the Opera Crypto Browser.
DappRadar & Opera Accelerating Web3 Adoption
DappRadar, the world's number one dApp store, has announced its partnership with Opera, the creators of the Opera Crypto Browser. The new alliance will enable users of Opera's Web3 crypto browser to seamlessly access the thousands of decentralized applications (dApps), decentralized finance (DeFi), and other blockchain solutions supported by DappRadar.
Importantly, the team has made it clear that it firmly believes that the integration of DappRadar's rich reliable data into Opera's Crypto Browser will make life easier for Web3 enthusiasts, as it provides them with an all-in-one solution that is both understandable and convenient across mobile and desktop devices.
The integration also enables DappRadar's reliable data to be accessible to Opera Crypto Browser's hundreds of millions of monthly active users who yearn for a better internet experience, through DappRadar's API, in a user-friendly front-end design.
Skirmantas Januskas, the CEO of DappRadar said:
"Over the past years, the number of Web3 decentralized applications (dApps) has exploded, with the dApp industry reaching a tipping point with millions of users engaged. I see our partnership with Opera, with its growing base of hundreds of millions of monthly users, as the start of a new era of dApp innovation and adoption."
Unique Insights & Accurate Metrics
What's more, Opera Crypto Browser users can now discover the juiciest crypto investment solutions by simply searching up-to-date dApp rankings on DappRadar. Users can now get live data and valuable metrics such as top dApps in various categories, and more.
Users will have access to detailed information of over 12,000 dApps across more than 49 protocols in various categories including NFTs, play-to-earn gaming, DeFi, and more.
The team adds:
"With the latest update to the Opera Crypto Browser, Opera has introduced a new tool further supporting dApp access for its users using multiple wallets at the same time. Opera's new Wallet Selector automates the precarious process of switching between crypto wallet extensions with dApps. The selector remembers users' preferences for different websites, allowing them to connect to dApps effortlessly."
Opera's Crypto Browser also features the latest blockchain news, details of upcoming airdrop events, podcasts, NFTs, videos, real-time crypto prices, gas fees, market sentiment, event calendar, and more.
Founded in 2018, DappRadar's Dapp Store makes it easy for its more than one million monthly active users to track, analyze and discover dApp activity. The platform currently hosts over 10,000 dApps from across 30+ blockchain networks and it also offers users a plethora of useful tools, including comprehensive NFT valuation, portfolio management, and more.
DappRadar launched its native RADAR token in December 2021. Users are rewarded with RADAR for their participation, contributions, and other activities on the platform.In 2018, Opera introduced the world's first browser with a built-in crypto wallet and Web3 support. In January 2022, the team launched the first version of the Opera Crypto Browser, a dedicated Web3 browser for crypto enthusiasts.