L.A. Dodgers Give out Tokenized Baseball Cards, Fans Reselling Them on eBay
The Los Angeles Dodgers have entered the digital space with a token giveaway using the popular ERC20 platform established by Ethereum, and the tokenized cards have already found their way onto eBay, Trustnodes reported on September 23.
Dodgers Gives out Thousands of Tokenized Baseball Cards and Ethereum Wallets
The Los Angeles Dodgers baseball team is the latest team to jump on the blockchain bandwagon, thanks to the technology's increased adoption in the world of sports.
The Dodgers have become the first ever baseball team to enter the digital space with what they are calling the first-ever crypto giveaway in both baseball and sports history.
A September 7, 2018, press release published on the team's official website provided details about the crypto giveaway, which took place on September 21, 2018. The first 40,000 fans in attendance received a card containing a code that used to unlock a virtual bobblehead of Clayton Kershaw, Justin Turner, or Kenley Jansen.

(Source: eBay)
The downloaded token could then be added to the user's Ethereum wallet. The player token received was randomly selected, with approximately an equal number of Kershaw, Turner, and Jansen codes distributed at the stadium gates.
Smart contract rules enable the Ethereum network to know what card each fan got, with only 40,000 such cards to ever be made. The Dodgers also said that the card could then be transferred to anyone digitally and can even be incorporated in games developed by crypto baseball or anyone else.
Dodgers Bring Mainstream Crypto Adoption Closer
The overall public response to the Dodger's crypto giveaway was mixed. Many crypto enthusiasts that managed to get the cards reported that most of the team's fans lacked education on security when it came to crypto wallets.
Awesome giveaway at Dodger Stadium tonight! @jorgecastillo loves his digital bobblehead. pic.twitter.com/DDyUUzYp5h

— Andy McCullough (@ByMcCullough) September 22, 2018
The cards have also managed to find their way onto eBay, where they're going for around $25, which is approximately 0.1 eth at current prices. However, as none of the listings have finalized bids, the crypto token's price could go up.
With new listings being posted each day, it's becoming obvious that the blockchain technology has found its way into mainstream sports. A football transfer has already been made by using cryptocurrencies, and several Premier League clubs have established partnerships with global investment platform eToro of which will be paid in cryptocurrency.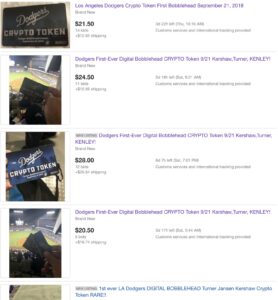 eBay listings showing Dodger's crypto tokens on September 22, 2018:
(Source: Trustnodes)
Many sports stars have already become the ambassadors to blockchain-based firms and crypto projects, with Barcelona superstar Leo Messi's endorsing SIRIN LABS and Tennis star Caroline Wozniacki penning a deal with Lympo, an app that uses cryptocurrency to promote and incentivize healthy habits.