Efinity (EFI) Token by Enjin Launches on OKEx, Blockchain.com, CoinList, Aims to Bring NFTs to the Mainstream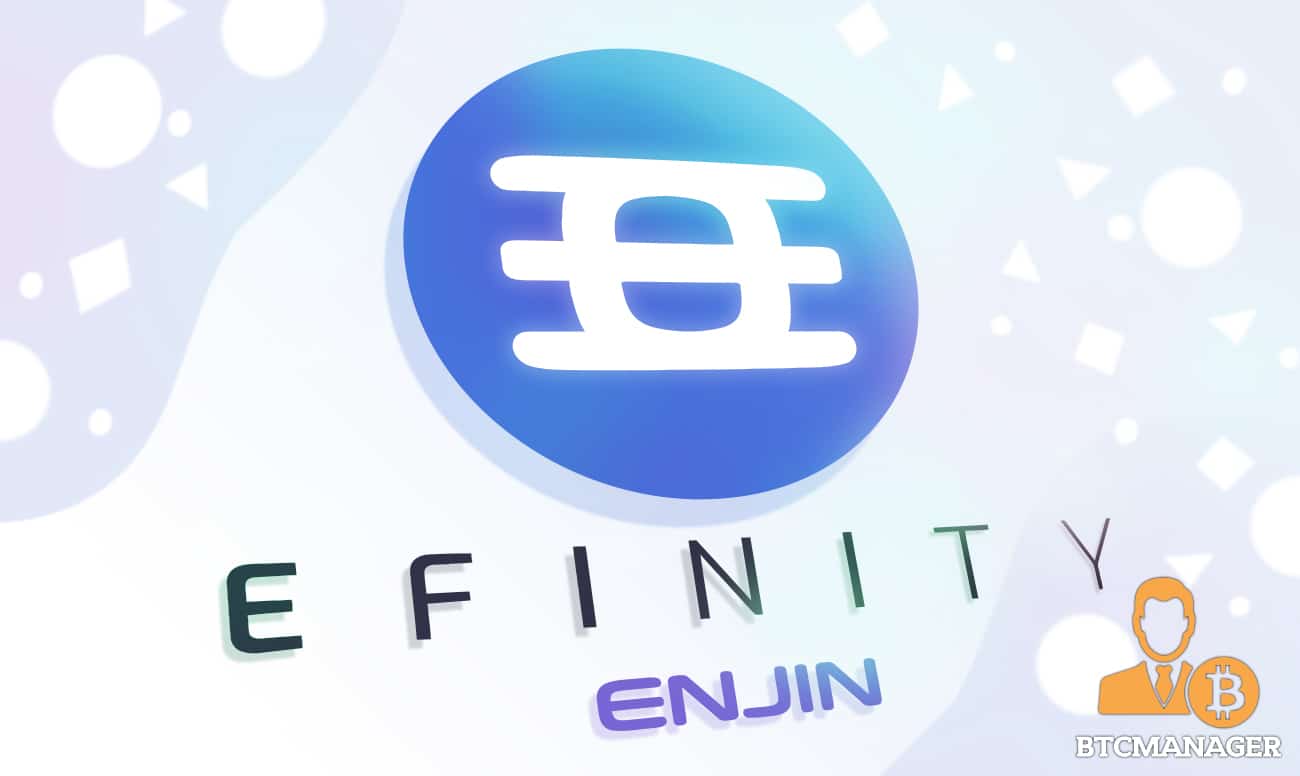 The future of the blockchain economy is multi-chain. To remain competitive in such a rapidly developing tech space, it is critical to support as many ecosystems as possible.
In that regard, Enjin—a scalable, energy-efficient, and innovative platform for developing non-fungible token (NFT) based virtual worlds—recently unveiled the Efinity blockchain for NFTs on Polkadot.
With the release and listing of Efinity Token (EFI) taking place today on OKEx, Blockchain.com, CoinList, and leading DEXes such as Uniswap and SushiSwap, the Enjin community is curious and eager to know how Efinity fits in the Enjin ecosystem.
So what do EFI and the Efinity blockchain mean for Enjin and NFTs as a whole? Let's break it down.
What is Efinity?
Efinity is a next-generation blockchain for non-fungible tokens (NFTs), developed by Enjin on Polkadot.
As a cross-chain token highway, Efinity will support NFTs from any blockchain, aiming to become the primary network of the NFT space.
NFTs are often viewed as an opportunity for blockchain to achieve mass adoption, but advanced as it may be, the technology's potential is hindered by some significant problems. Since the release of Ethereum, there have been attempts to build infrastructure and tokenization around this general-purpose blockchain, but Enjin believes there's an ever-growing need for a better, more well-rounded solution.
Enjin is building Efinity in an effort to tackle key problems like high transaction costs, interoperability, slow network speeds, poor user experience, and environmental impact.
Efinity is more than a new network. Developed as a Polkadot parachain, Efinity is a next-generation blockchain that is being tailored to benefit the entire NFT space.
Efinity envisions a future where NFTs are as ubiquitous as smartphones of today. The network is environmentally friendly, scalable, and built for games, apps, enterprises, and creators to deliver their own NFTs to mainstream audiences.
Enjin's decision to build on Polkadot is strategic; Efinity is a core piece of Enjin's cross-chain ecosystem, which also includes the new gas-free JumpNet blockchain and Ethereum.
Thanks to Polkadot's interoperability and the new Paratoken standard being developed by Enjin, Efinity will support fungible and non-fungible tokens from any network. Cross-chain bridges will enable NFTs from other blockchains can be moved to Efinity, effectively supercharging what the team calls Efinity's "next-generation features," low fees, and fast settlement times.
Powered by an energy-efficient consensus algorithm, Polkadot also supports Enjin's plans to enable carbon-neutral NFTs, without sacrificing decentralization and security.
To sum up the key features of Efinity, the energy-efficient and multi-chain NFT ecosystem will allow permanent upgradability via EFI governance. Further, the network is self-sufficient in nature in that it will leverage the EFI treasury to foster self-governed development.
A few other unique features of Efinity include Efinity Swap that facilitates perpetual cryptocurrency liquidity, perpetual NFT liquidity via marketplace price discovery, cross-chain interoperability via Snowfork bridges, and seamless onboarding of new-users through Discrete Accounts and Fuel Tanks.
The team recently shared that Efinity is testing at 120 million transactions per block, with transaction batching of 12,000 transactions. Learn more about what's happening at Efinity in the below development update video:
EFI Token
With a maximum token supply of 2 billion, EFI is the native token on Efinity, designed to pay for transaction fees, vote in governance events, facilitate liquidity, and reward network participants.
Unlike Bitcoin and Ethereum, Efinity's transaction fees are used to maintain governance, nominate efficient network administrators, and encourage active participation in the network.
Staking Enjin Coin (ENJ) into "collator nodes" allows holders to nominate the most efficient and stable nodes that run the blockchain—and earn EFI rewards for participating in collator selection.
In a recently concluded public sale via CoinList, 100M EFI sold out in just 2.5 hours, with 40k new EFI holders. Over 650k unique registrants indicated their wish to purchase in the EFI public sale—indicating the continued interest in non-fungible tokens (NFTs) as a gateway to mainstream adoption.
Earlier this year, Enjin also announced a private sale of EFI, which raised $18.9 million. The funding round was led by Crypto.com, DFG Group, and Hashed. The private sale was also supported by BlockTower, Blockchain.com Ventures, Hypersphere, LD Capital, HashKey Capital, Arrington XRP Capital, Fenbushi, Iconium, D1 Ventures, Animoca Brands, DeFi Alliance, and an extensive list of other firms and individuals.
Complementing the Enjin Ecosystem
The Efinity project is the continuation of Enjin's core objective of bringing NFTs to everyone.
Within the Enjin ecosystem, every minted NFT is infused with ENJ, giving them residual value. Over 1.14 billion blockchain assets have been minted with ENJ—all of which will benefit from the speed, features, and interoperability of Efinity.
The Efinity blockchain is an extension of Enjin's NFT ecosystem, primarily focused on making it easy, fast, and affordable to harness the power of NFTs as an emerging asset class. Building Efinity on Polkadot will support this goal, allowing Enjin to make their NFT ecosystem fun and accessible to everyone, regardless of user tech-savviness.
Due to scaling problems and sometimes miner greed, Ethereum gas fees can soar to double digits or higher, drastically diminishing user experience, slowing down the adoption of NFTs. On Efinity, transactions are confirmed in 6 seconds, which permits the fast response times needed for mainstream applications.
Efinity will be integrated with the Enjin ecosystem, allowing all Enjin-powered games, apps, and projects to take advantage of Efinity's features, from Microsoft's Azure Heroes program to open-world PS5 games like The Six Dragons.
The ENJ-EFI Connection: Combining for a Common Cause
The EFI and ENJ tokens are symbiotic, each playing a key role in driving NFT adoption and fueling the Enjin ecosystem:
– ENJ: Used to infuse digital assets like NFTs. Every asset minted contains ENJ, giving it residual value, which can be retrieved through "melting" at any time.
– EFI: As the first paratoken on the Efinity network, EFI is designed to pay for transaction fees and facilitate liquidity, community rewards, and governance of the NFT blockchain.
By staking ENJ in nodes (called "collators"), Enjin Coin holders can nominate the most efficient and stable nodes that run the blockchain and earn EFI rewards for their participation.
Part of Efinity's network fees, marketplace commissions, cross-chain bridging tolls, and smart contract fees will also go toward community rewards. Users will receive rewards and rebates for participation: nominating collators, infusing ENJ into NFTs for use on the network, and initiating transactions to trade and discover NFTs.
In addition, ENJ-infused NFTs may also be used to nominate collators, which will encourage the future creation and minting of Enjin-powered NFTs for use on Efinity.
On the governance side, Efinity is governed by the community, so every EFI holder can participate in proposals and voting to determine the network's future.
By holding their EFI tokens on JumpNet, users can also enjoy the benefits of increased transaction limits, allowing them to mint and distribute their NFTs on-chain, without fees via JumpNet.
Users interested in learning more about Efinity can read the whitepaper at efinity.io.