EOS Accused Of Ethereum (ETH) Price Manipulation Ahead Of Mainnet Launch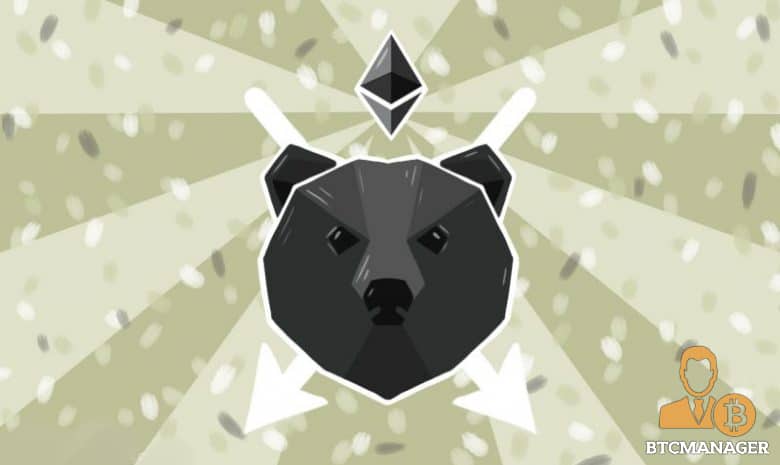 On May 27, 2018, a Reddit user TraderJoeSmo on the r/Ethtrader subreddit raised the alarm about a suspected artificial lowering of the market value of ETH by a competitor cryptocurrency, EOS.
A few hundred comments later, it was evident that EOS had indeed contributed in some way to fuelling the ongoing downward trend of the price of ether.
EOS Background
Marketed as a superior alternative to Bitcoin and Ethereum, EOS is a smart contract platform with its cryptocurrency token. The primary difference it offers is the use of the Delegated Proof of Stake (DPoS) consensus mechanism to carry out transaction hashing, instead of the Proof of Work (PoW) mechanism used by most other blockchains including Bitcoin and Ethereum.
DPoS promises to result in transaction processing speeds that are much faster than Bitcoin and Ethereum.
Riding a wave of investor optimism, EOS defied all market expectations in 2017 by becoming the most successful ICO in history. It made use of an unprecedented 350-day ICO in an ecosystem where ICOs typically last for just a few weeks, and the tactic was an unqualified success. EOS succeeded in raising a record sum of 5,148,884.15 ETH, or roughly $700 million before even having an operational prototype of the EOS Mainnet.
Essentially, despite showing no proof of operability beyond the claims in its technical white paper, the promises surrounding the operation of the proposed EOS Mainnet were convincing enough to convince investors to hand over a total ETH sum amounting to about 5.2 percent of all currently available ETH tokens. The ether holdings resulted in a measure of criticism toward EOS, but the company insists that the Mainnet will indeed go live in June 2018.
Some analysts believe that EOS has raised about $2.6 billion in total, with a market capitalization touching $10.6 billion. The vast majority of the trades that drive this market capitalization to take place on cryptocurrency exchanges like Binance, Bithumb, Huobi, OKEx, and Upbit.
ETH Dumping Controversy
According to the allegation, EOS has been pushing down the market price of ether by dumping over one million ETH on the market, causing an oversupply that resulted in a negative price correction.
In other words, EOS has been using its massive ETH holdings as an instrument for fixing the market against Ethereum's ether as its launch date draws closer.
Going by the accusation, EOS is not attempting to compete fairly with Ethereum but is instead trying to rig the market in its favor, hoping that investors will be spooked by ether's downward price trend and will instead convert their ETH holdings into EOS when it launches.
The proof for the accusation is the transaction sheet for the EOS ICO wallet available here and the wallet showing the remaining available funds.
Using SANbase to track the ETH movements carried out by various ICOs, it can be seen that EOS alone has moved about 1.38 million ETH between April 2017 and May 2017; more than all the other ICOs put together.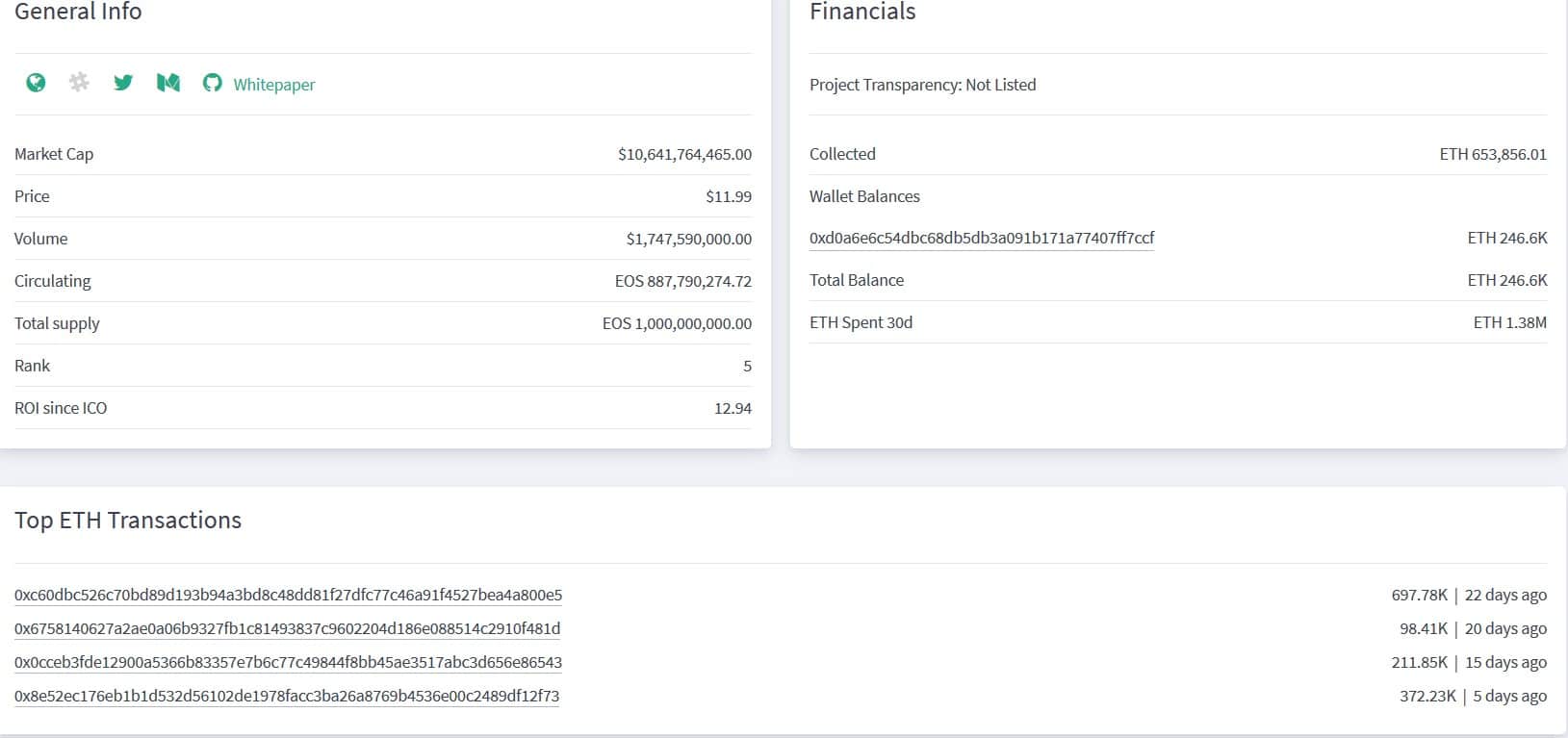 Source: SANbase
It is improbable that the sum of 1.38 million ETH, about $712 million, is being placed on the market to raise money to take care of engineering, design, marketing or legal costs, which are the typical expenses incurred by a blockchain platform after an ICO.
Severe Implications
When EOS then goes live on cryptocurrency exchanges in June, investors may be more likely to place their crypto holdings in EOS, which again is betting heavily on being faster and more functional than either of the two cryptocurrency market behemoths. This is strictly speaking not illegal or is at least in a legal grey area so it may get a pass.
The more serious implication is a second scenario where EOS is using its massive ether war chest to buy its coins and artificially inflate its relative market value. As the ETH price falls, it can then buy back a significant amount of ETH and repeat the process potentially many times. This, of course, would make a complete travesty of the democratic ideals that underpin all blockchain developments, and even more crucially, under SEC regulations this could be illegal.
There have been many accusations on the internet inferring that this is precisely what has taken place several times in the course of the EOS ICO, but such information is impossible to confirm or deny.
What is known, however, is that the sudden ETH asset selloff by EOS is not in good faith and can only distort the market. It is at best an attempt to give its token an unearned market status when it launches it mainnet on June 2, and at worst it is a strategy of dodgy legal and ethical standing.