EOS Block Producer Purchases Voice.com Domain for $30 Million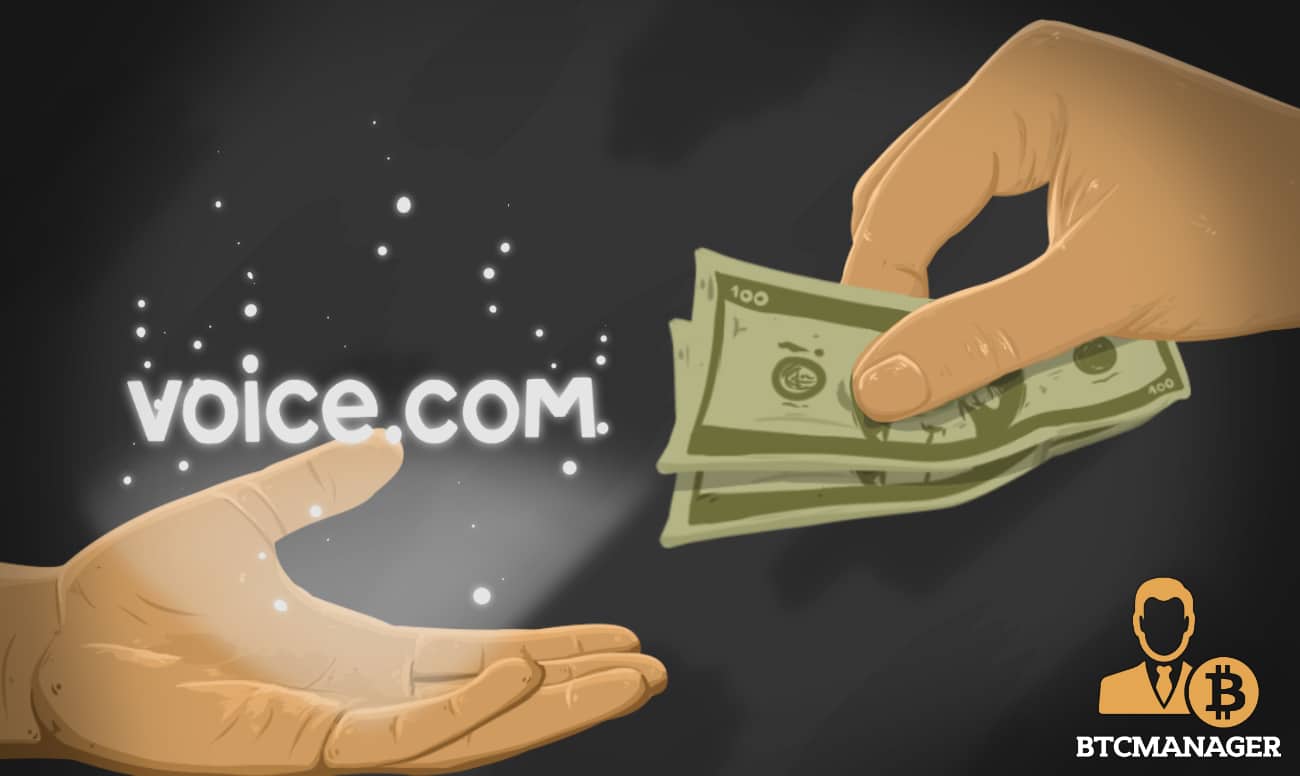 As part of its broader plans to make its decentralized social media platform Voice hugely successful, EOS block producer, Block.one has purchased the Voice.com domain name from MicroStrategy for a whopping $30 million, according to a filing published by the United States Securities and Exchange Commission (SEC) on June 18, 2019.
MicroStrategy Sell Voice.com for $30M
As stated in an SEC filing, MicroStrategy, a business analytics and mobility platform that enables enterprises to build and deploy analytics and mobility apps, has sold Voice.com, one of its numerous reserved domain names, to Block.one. The latter will use it as the official domain of its decentralized social media platform.
Per the team, the Voice.com domain name was paid for in cash by Block.one and the transaction was facilitated by GoDaddy, a U.S.-based publicly traded internet domain registrar and web hosting company.
The deal was reportedly finalized on May 30, 2019, and Voice.com is now the official site of the decentralized social media platform powered by the EOS blockchain.
As reported by BTCManager on June 3, 2019, Block.one announced the launch of Voice, a decentralized social networking platform designed to revolutionize the social media ecosystem with blockchain technology.
Block.one is focused on reducing the monopoly of heavyweights like Facebook and give the masses a whole new social media experience where their data is not shared without their consent.
Commenting on the deal, Marge Breya, Senior Executive Vice President and Chief Marketing Officer of MicroStrategy, described Block.one's decision to purchase the Voice.com domain as a smart strategic move. Breya added:
"The word 'voice' is simple and universally understood. It's also ubiquitous. As a search term, it returns billions of results on the internet. An ultra-premium domain name such as Voice.com will definitely help a company achieve instant brand recognition, ignite a business and massively accelerate value creation."
MicroStrategy says it has more than a dozen "evocative and powerful" domain names it's looking to leverage for equity or other strategic transactions with interested entities, including Emma.com, Wisdom.com, Glory.com, and more.
In related news, BTCManager informed on June 17, 2019, that Unstoppable Domains, a software startup building uncensorable blockchain domains, had announced plans to auction 60 .zil domains on June 27, 2019.
Some of the .zil domain names on offer include bitcoin.zil, satoshi.zil, gold.zil, insurance.zil, elonmusk.zil, israel.zil, and many others.