EOS Foundation Signs MoU with Busan City to Boost Blockchain Investments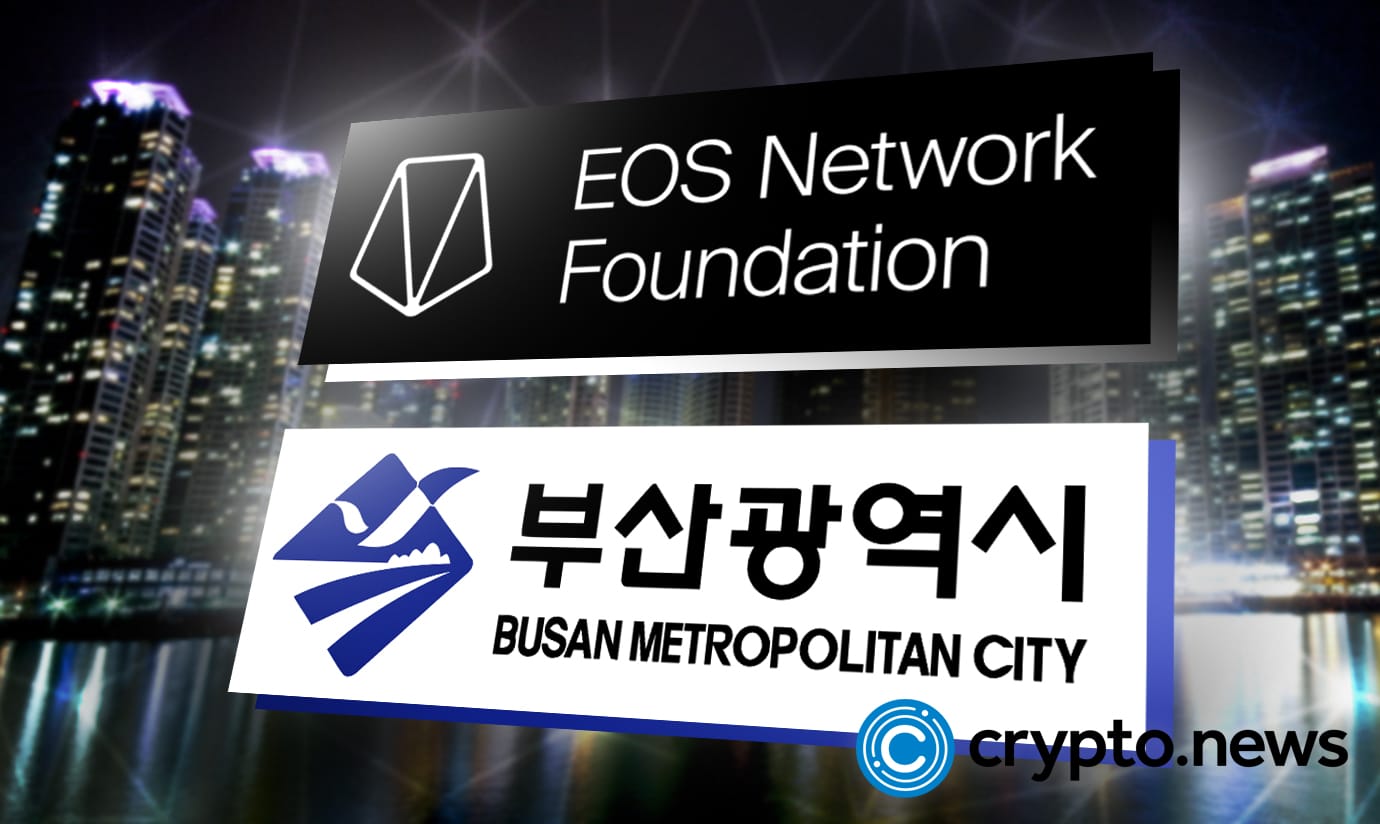 The Busan Metropolitan City government has signed a memorandum of understanding (MoU) with a group of blockchain venture firms led by the EOS Network Foundation in a deal that will see millions of dollars invested in Busan-based blockchain startups over the next three years.
Venture Capital Alliance to Raise $100 million
EOS Network Foundation has collaborated with AlphaNonce, CoinNess, Foresight Ventures, OKX Blockdream Ventures, and Ragnar Capital Management to sign a binding agreement with South Korea's second-largest city, Busan, to launch the Venture Capital Alliance of Busan Blockchain (VCABB).
According to the report, the alliance, which jointly holds and manages $700 million in assets, will invest $100 million in growing Web3 startups to encourage the growth and adoption of blockchain technology in Busan. The first investment is expected to last until 2025.
The EOS Network Foundation (ENF) is a non-profit organization that coordinates financial and non-financial support to encourage the growth and development of the EOS Network. The hub raised 6.5 million EOS (~ $21 million) directly from the community after cutting ties with the popular blockchain solution, Block.One.
Speaking on the partnership, Yves La Rose, founder and CEO of the EOS Network Foundation, expressed his delight with the agreement, stating that the alliance will help bring EOS and its technology to the "forefront." He added:
"South Korea is home to a number of world-class VC firms and Web3 startups, and we believe that the creation of the Venture Capital Alliance Busan Blockchain (VCABB) will help accelerate the adoption of blockchain globally. We are committed to working with the city of Busan and our partners to invest in tangible blockchain-related developments that will benefit the city and its stakeholders. This MoU is a major step forward in our mission to promote the use of EOS blockchain technology."
Because of this agreement, the VCABB will enjoy a cooperative and enabling environment that will increase the adoption rate of blockchain investment in the city. In addition, the alliance will support the city's plans for an education center and accelerator program for budding blockchain companies.
Tony Cheng, Foresight Ventures General Partner, said;
"We hope to invest in and bring over interesting projects to the city of Busan. We are extremely bullish on the local ecosystem and hope to play a part in its future growth."
Busan is South Korea's Crypto and Web3 Hub
Busan has long been a blockchain hub in South Korea. Prior to being approved as a "regulation-free blockchain zone" by the South Korean government in 2019, the city of Busan built a blockchain-based virtual power plant in 2018.
The large port city has been working to become a hot spot for blockchain technology by partnering with many top players in the industry. It has signed agreements with crypto companies like Binance, Gate.io, and Huobi to help develop the blockchain infrastructure in the city and the country.
Meanwhile, South Korea is clamping down on crypto companies suspected of illegal activities. In September 2022, investigators in South Korea raided Woori Bank for evidence of unlawful cryptocurrency transactions.