Established Retail Brands Are Following Startups In Embracing The NFT Revolution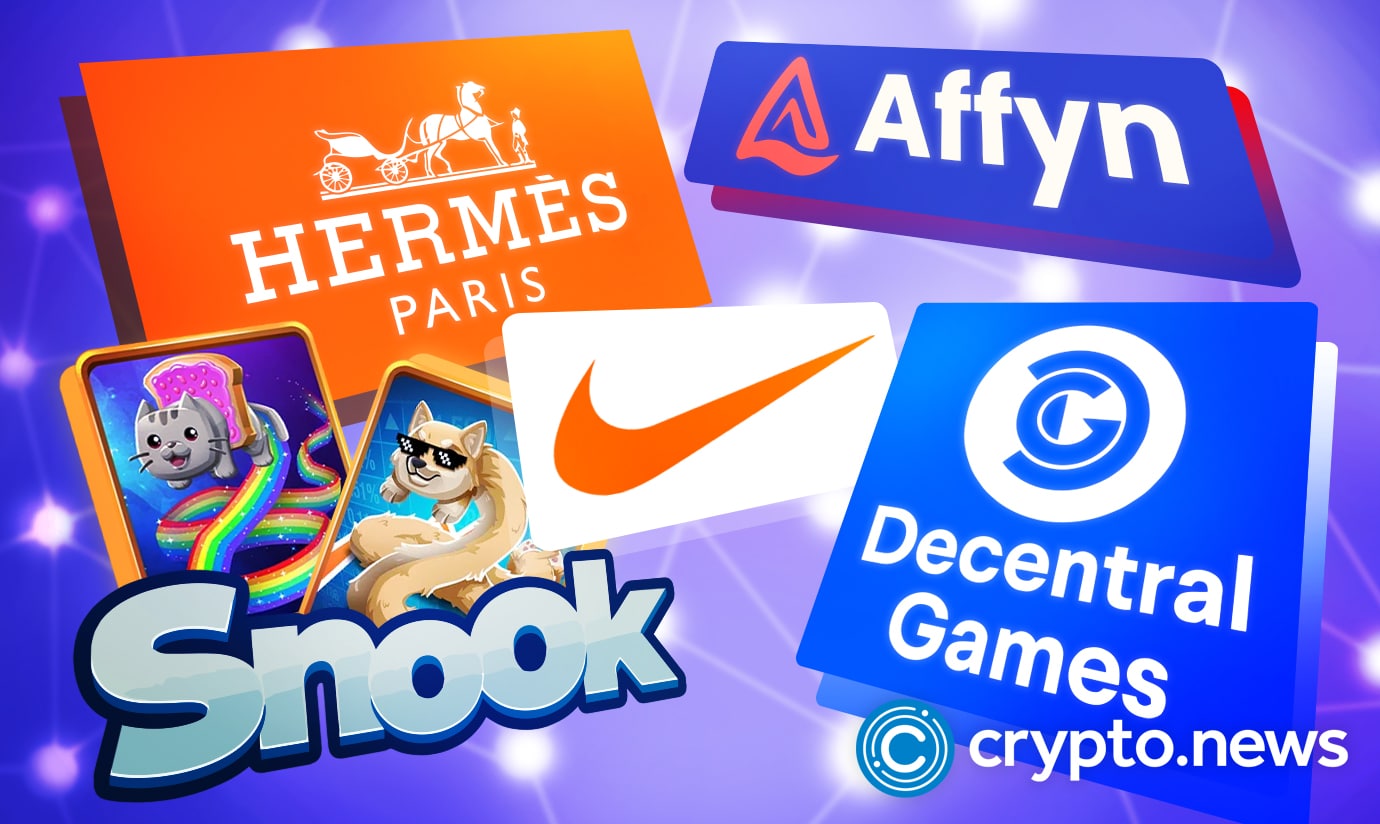 The Non-fungible token (NFT) industry has come a long way from its humble beginnings. The 2021 Dapp Industry Report by DappRadar revealed that NFT trading volume soared past $23 billion in 2021.
Besides a surge in demand for NFTs across blockchain gaming, metaverse, and Web3 spaces, there's been a significant rise in the number of mainstream retail brands embracing NFTs. In less than a year, globally-renowned brands like Nike, Adidas, Gucci, and Gap have forayed into the NFT space as the first step of their journey towards Web3 and the metaverse.
Adding to the momentum, luxury brand Hermès embarked on its own Web3 journey, filing a trademark application for NFTs, cryptocurrencies, and the metaverse with the United States Patent and Trademark Office (USPTO).
McKinsey's 2022 State of Fashion report indicates that NFTs will likely become mainstream for retailers in 2022. In the futuristic retail world, the digital sale of assets is expected to become a staple due to the rapid growth of the market and the numerous profit and brand recognition opportunities that it offers.
In the meantime, easy-to-use platforms like the Binance NFT Marketplace are playing a key role in lowering the entry barriers for brands and consumers. Underlining this point, Switzerland-based luxury watch brand Franck Muller has teamed up with Binance NFT to launch its collection of digital wearables and physical watches. Not to be left out, VERTU Paris joined forces with Binance NFT to launch its new flagship smartphone via an exclusive NFT sales process to celebrate the brand's 22nd anniversary.
Accordingly, it shouldn't come as a surprise if more mainstream brands continue integrating NFTs into their existing business models.
NFTs are the connecting dots between Web3 and the metaverse, which is why big corporations are eager to experiment with them. Moreover, consumer behavior has also undergone a significant shift, with the majority of the buying population now dominated by tech-savvy millennials and younger generations.
Nike "Just Did It"
Early adopters like Nike are already reaping the benefits of integrating NFTs into their business models. The demand for Nike's NFTs boomed after the company announced the acquisition of NFT startup RTFKT last year in December.
Despite the ongoing bearish conditions, Nike has set a new record by becoming the world's first mainstream retail brand to register the highest earnings via digital commodity sales. Per the latest report by Dune Analytics and NFTGators, the cumulative earnings from all Nike-related NFT projects has crossed $185 million.
And Nike isn't just the only big name on this list. Dolce & Gabbana made nearly $25 million, while Gucci, Adidas, Tiffany, Budweiser, Lacoste, and many others have also earned millions through NFT sales in the past few months.
Web3 And Metaverse Startups Join The Race
This promising growth, especially for NFTs, isn't just limited to the big brands alone. In fact, an increasing number of emerging startups across the blockchain gaming, play-to-earn (P2E), Web3, and the metaverse industries are redefining NFTs narratives by unlocking new use-cases and even more utility, which in turn is attracting more users (and brands) to experiment with blockchain technology.
Among the innovators in the space is Affyn – a Singapore-based startup. Affyn recently unveiled its Nexus World metaverse project featuring a free-to-play play-and-earn game that leverages Augmented Reality (AR), mobile geolocation, and blockchain technology. Mobile geolocation-based gaming has gained substantial popularity over the last few years, especially after the launch of Pokemon Go.
Affyn stands out because its in-game NFTs can be used across other Web3 and metaverse platforms. On top of that, the platform's native $FYN token can be used to pay directly for a wide range of real-world expenses like traveling, food, entertainment, and lifestyle, among other things.
Despite the current market conditions, Affyn's limited edition NFT collection registered massive demand. The entire collection was sold within one hundred seconds of listing, with the secondary sales price for the NFTs reaching as high as $3,000 compared to the initial sale price of $156.
Another game shaking up the NFT space is Snook – a skilled-based online multiplayer P2E game that adds a new twist to the famous Snake IO game. Unlike other play-to-earn games, the value of the in-game NFT in Snook is directly influenced by the player's skills. The higher the skill, the higher the value of the NFT, which is quite different from the existing standards, whereby the value of NFTs is primarily driven by buzz and speculation.
The Snook team recently launched a new game mode called the Big Boys Table (BBT) to expand its offerings further. The BBT is a branded and token-gated system where projects can interact with their community members. With Snook's BBT-themed rooms, projects get access to several customizations, including the option to design branded in-game assets, gated rooms powered by tokens, and the ability to allow users to create tournaments and even their own rooms.
As one of the leading games built atop the Polygon blockchain, Snook continually expands its offerings to enable businesses and organizations to better connect with its consumers through the balanced mix of gamification, engagement, and incentives.
Finally, there's Decentral Games – the most popular play & own gaming studio of the Decentraland metaverse. Backed by Binance, Polygon, Decentraland, HashKey Group, GBV, and other well-known names across the industry, Decentral Games recently partnered with payments giant Mastercard for its metaverse advertising campaigns. Decentral Games Ice Poker single-handedly drives nearly 60% of the total user traffic on Decentraland.
The Decentral Games Treasury now holds approximately $19M of $DG tokens, stable coins, metaverse land, LP positions, Polygon validator node, & other assets – more than double what it had last year.