Ethereum Powering AMD and Nvidia to New Highs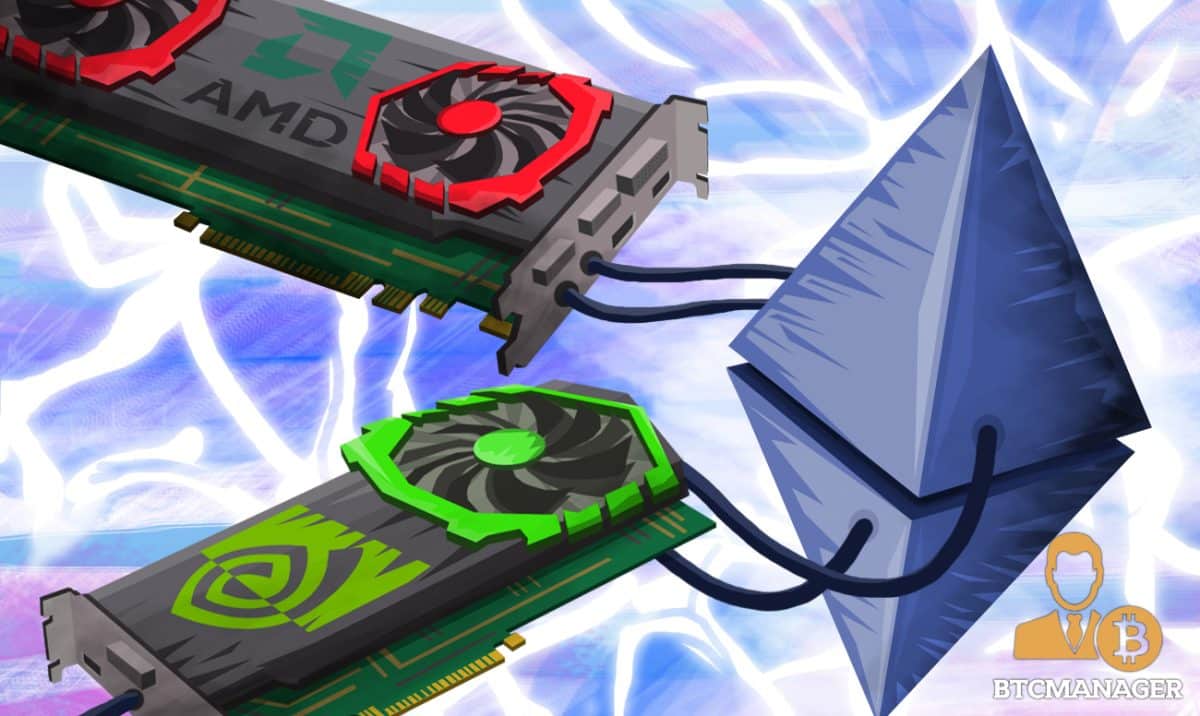 While cryptocurrency investors are asking when the bears will go away, investors in Advanced Micro Devices (AMD) and Nvidia stocks keep smiling from ear to ear because Ethereum is pushing their holdings to greater heights with each passing day.
According to Morgan Stanley analysts, led by Joseph Moore, the price of Ethereum's cryptocurrency has risen over 8,900 percent high over the past 12 months, despite the recent corrections. This fact has made Ethereum mining more profitable, invariably motivating more and more people to purchase their own AMD or Nvidia graphics processing units (GPU) and join the highly lucrative business of ether mining.
Crypto analysts have confirmed that the profitability of Ethereum mining has shot up over 200 percent since October 2017, even though the price of ether dropped to the $900 price region around January 22-23.
As per Morgan Stanley's calculations, nowadays miners of ether earn as much as roughly $1.76 in profits on daily bases per graphics processing unit they own. This estimate is a large increment from the measly $0.56 miners earned back in October 2017, assuming that the miner's mining equipment is an AMD Radeon 580 and spends approximately $0.70 every day for each GPU's power consumption.
While profitability got on the greener side of life, computing power exclusively allocated to Ethereum mining surged by 2,200 terahash per minute in the third quarter to 3,672 terahash every minute in the fourth quarter.
All things worked well for the good of Morgan Stanley as the as the continued profitability of Ethereum mining and the increase in computing power dedicated to it, tremendously boosted the bank's fourth-quarter sales estimates for both AMD and Nvidia.
The overwhelming increase in demand for graphics processing units for altcoin mining massively helped boost business for Nvidia and AMD in 2017.
The financial institution said it expects AMD to declare revenues of $1.55 billion in the fourth quarter of 2017 and $1.43 billion in the first quarter of 2018, each surpassing the bank's previous estimates when the cryptocurrency's journey to the moon hadn't kicked off.
Morgan Stanley has also hinted that it expects Nvidia's first-quarter earnings to be at $2.81 billion and $2.55 billion for the second quarter. Also, the bank's analysts stated:
"We are raising estimates meaningfully for both graphics vendors, but sustainability is a long-term issue especially for AMD."
The surge in the price of established cryptocurrencies like ether, ether classic, and monero have also contributed to increasing the costs of GPUs. However, the sad thing about soaring GPUs price is that it decreases profitability for miners and has even motivated manufacturers to tell to retailers to prioritize gamers.