Formula 1 Racing Company McLaren Joins the NFT Trend with Tezos (XTZ)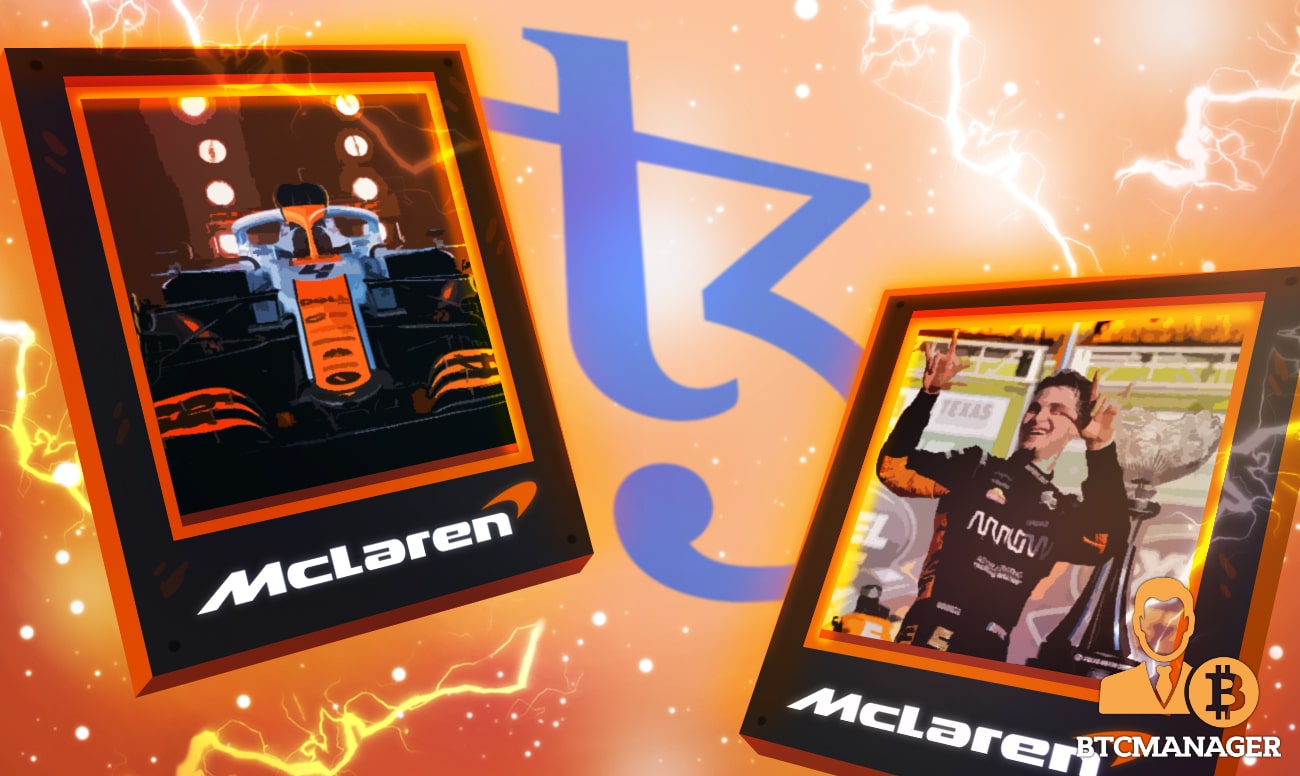 McLaren Racing has inked a partnership deal with the Tezos (XTZ) blockchain project in a bid to mint its super unique non-fungible tokens (NFTs) on the network. The team says the multi-year deal makes Tezos its official blockchain partner across Formula 1, INDYCAR, and esports, according to a press release on June 17, 2021.
McLaren Racing Adopts Tezos for NFTs 
McLaren Racing, a British motor racing giant with multiple Formula 1 Championship victories since 1974, has inked a technical partnership deal with Tezos (XTZ), an open-source proof-of-stake (PoS) based blockchain project for assets and applications, to foster fan engagement through non-fungible tokens (NFTs).
As stated in a press release, the alliance with Tezos is aimed at enabling McLaren to build a dedicated platform for minting clean digital collectibles that will mirror its rich racing heritage and renowned driver line-up across its Formula 1, INDYCAR, and esports teams, to offer fans an unrivaled NFT experience.
Sustainable Innovation 
Unlike established blockchains such as Bitcoin and Ethereum that are powered by the energy-intensive proof-of-work (PoW) consensus algorithm, Tezos' PoS mechanism consumes far less energy and McLaren has hinted that Tezos' negligible carbon footprint makes it the platform of choice for its sustainable innovation push.
Commenting on the project, Lindsey Eckhouse, Director, Licensing, eCommerce and esports at McLaren Racing describes the firm's alliance with Tezos as an innovative move that will bring fans even closer to the brand.
"Tezos and McLaren Racing uniting to create a unique fan-focused NF platform is an innovative step in an exciting and rapidly developing industry. At McLaren, we are known for putting fans at the core of everything we do, and this is another partnership that will allow us to enter a space where fans can own key pieces of our team. We are looking forward to launching the platform with Tezos to create bespoke NFTs with our Formula 1, INDYCAR, and esports teams."
Interestingly, the partnership will also expose the Tezos brand to millions of car racing lovers across the world, as the team has hinted that the project's name and logo will be visible on the race suits of McLaren F1 drivers Lando Norris and Daniel Riccardo, as well as AMSP drivers Pato O'Ward and Felix Rosenqvist.
That's not all, the team says Tezos will also be the presenting partner of the McLaren Shadow esports team.
At press time the price of Tezos' XTZ token sits at $3.24, with a market cap of $2.75 billion, according to CoinMarketCap.
Forward-thinking global brands are increasingly exploring the potential of crypto-collectibles for fan engagement and rewards.
As reported by BTCManager earlier in April 2021, professional wrestling company the World Wrestling Entertainment (WWE) Inc., rolled out NFTs themed around legendary wrestler, The Undertaker, in a bid to enable fans of the sport to own a "digital piece of history."
More recently, on June 15, Fox Entertainment announced that it's creating a new animated series dubbed Krapopolis, which will come with a dedicated NFT marketplace that would enable fans to buy and sell digital collectibles based on the Krapopolis series.