Freeway Stops Operations Due to "Extraordinary Volatility" in the Crypto and FX Markets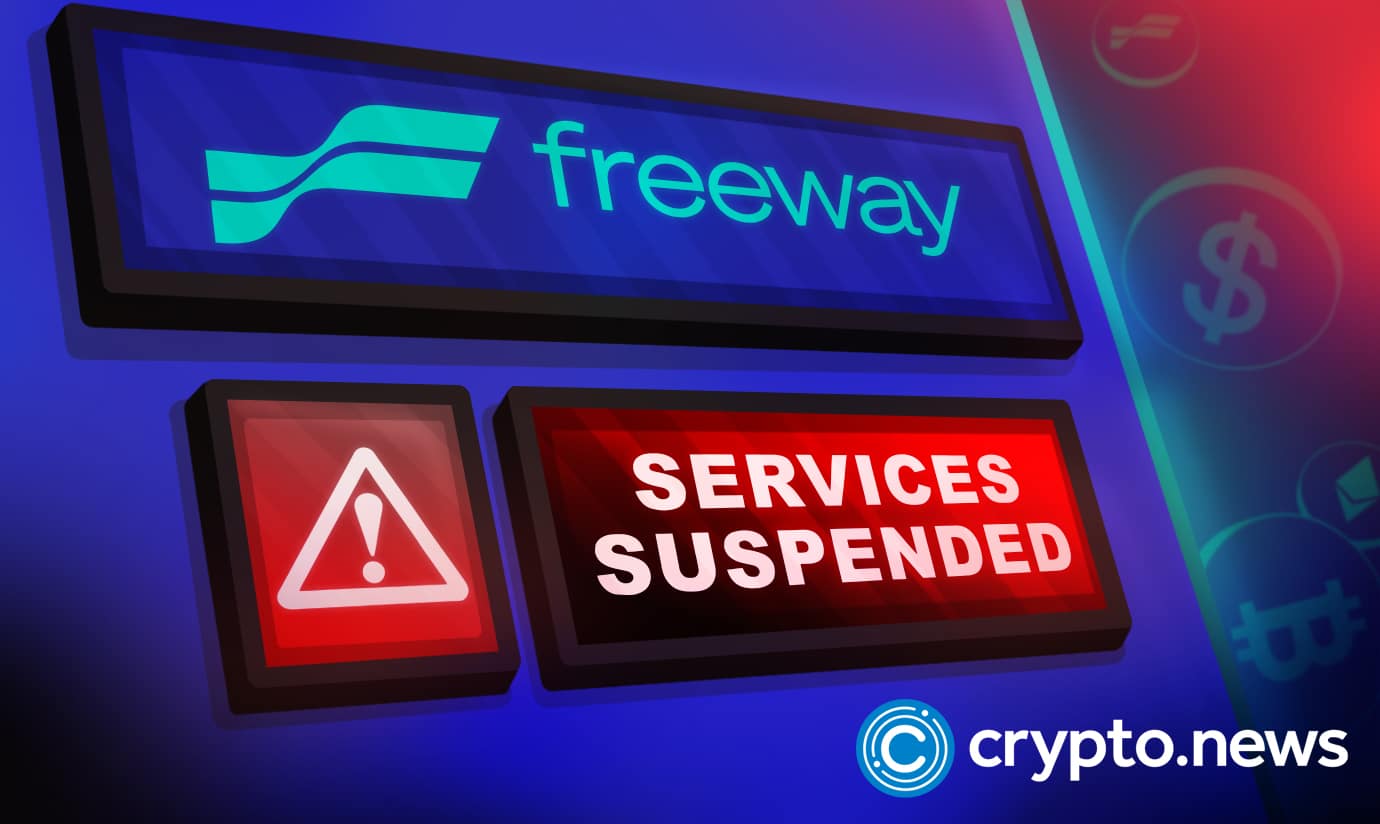 Freeway, a cryptocurrency exchange platform, has halted its transaction services due to "extraordinary volatility" in the foreign exchange and cryptocurrency markets.
Freeway Halts Deposits and Purchases
The platform declared in the tweet on October 23 that it is stopping purchases and deposits and that it would not be buying Supercharger simulations until its revised tactics are deployed
"When we are prepared to resume partial Supercharger simulation purchases (buy-backs), we will let you know. We will also let you know when we can resume full Supercharger simulation purchases, as well as on-platform Freeway Token (FWT) Deposits and Buys."
The Freeway website states that its "Superchargers" product may reward customers with yearly yields of up to 43%. Users may fund regulated brokerage accounts with fiat and cryptocurrency deposits, which are then leveraged for returns. Freeway, a centralized platform, claims to combine the finest aspects of traditional financial and decentralized finance (DeFi).
Despite saying in the statement that there are intentions to diversify its asset base and control exposure to future market changes and volatility, Freeway has not given any specifics about its new strategy. The article ends by promising to deliver details shortly. However, it is unclear exactly what this may entail for the site and its users.
The announcement regarding the suspension of various services has caused the price of their token Freeway (FWT) to plunge by more than 75% during the past 24 hours. Users have been sharing their worries on social media and in the Freeway Telegram channel in the wake of other high-profile problems with cryptocurrency companies and exchanges.
The two most important questions are whether withdrawals will be fulfilled and whether Freeway will join other well-known cryptocurrency sites in closing permanently.
Cryptocurrency exchange platforms in the fall. What could be wrong?
News of the suspension of various services by Freeway came in just after LocalCryptos announced that the firm would no longer be in service after five years of customer service. The P2P exchange network LocalCryptos stated in a statement that it planned to shut down as painlessly as possible in the next weeks and asked its customers to relocate their coins and companies to other gateways.
But according to LocalCryptos, the decision to close down was influenced by a number of problems. According to the industry, the first of these reasons was a bear market. In contrast to Freeway, the exchange also offered the team members' health and anticipated issues with regulatory development as additional grounds.
The cryptocurrency trading platform CoinExchange had also previously announced on its website that it was ceasing operations. The crypto exchange hierarchy said that the market is no longer advantageous for continuing operations, similar to LocalCryptos' circumstances.
What this means to the ecosystem
With the increasing number of hacks and imposed regulations by local governments on cryptocurrencies and exchange platforms, we could see more exchange platforms shutting down their doors. This will, however, provide a platform for new exchange sites as well as room for veteran platforms to grow their platforms to fit the changing conditions in the industry better.