Gaming industry Myria Releases Its Scaling Solution for Ethereum Layer 2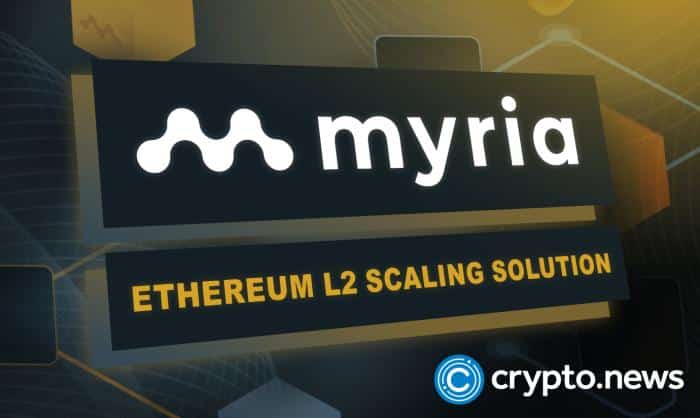 Myria has announced the debut of their much-anticipated Ethereum layer-2 (L2) scaling solution centered on blockchain gaming and offers rapid and safe trades and zero gas fee transactions for NFTs. 
What's Myria?
 Myria is an Ethereum-based layer 2 scaling solution that was created to support NFT, blockchain games, digital assets, and other things. To make blockchain gaming a reality, the business integrates a gaming platform with the necessary apps, developer tools, and scalable infrastructure. The solution is notably one of the increasing number of Ethereum layer-2 providers aimed at increasing the throughput of the first smart contracting platform through off-chain means.
What Does this Mean?
With the Myria L2 launch, developers and gamers may use the protocol's scaling advantages thanks to tools like the Myria Developer SDK, Myria Wallet, and the NFT marketplace.
It will process up to 9,000 transactions per section (TPS) can be supported by Myria's L2 thanks to the use of StarkWare's Zero-Knowledge Rollup (ZK-Rollup) technology, which is a startling improvement over Ethereum's less than 50 TPS.
Fans of blockchain games and NFTs will now be able to create, trade, and transfer NFTs instantly with no gas fees and carbon emissions by creating their Myria wallets with 'one-click.' Brendan Duhamel, the co-founder of Myria, said, "With this launch, the team is really excited to see our vision finally come to reality."
Presently, the site has more than 1.2 million verified registered users.
With the help of Myria's collection of REST APIs and SDKs, the Myria Developer Solution adopts an API-first strategy and simplifies complex blockchain interactions.
The Upgrade also Favors Developers
For a developer, this approach will make it possible to start any NFT application, such as a blockchain game, in a matter of hours without being familiar with blockchain coding languages like Solidity. 
Prior to the release of its L2, Myria demonstrated the adoption of its protocol by powering more than 100 projects, demonstrating how its L2 benefits can be delivered through a seamless blockchain development experience.
"We are tremendously delighted to bring the industry this next step ahead with what we've done," said Brendan Duhamel, co-founder of Myria. We believe blockchain gaming will be the next significant application area for NFTs because of the enormous potential in our underlying technology to allow NFT scaling. Because of this, we developed NFT solutions specifically to benefit game developers and game builders. We're only getting warmed up!"
With over 150 developers, Myria's exceptional team now includes experts from the gaming and blockchain industries who have worked for companies like Ubisoft, EA, Riot Games, Blizzard Activision, Tencent, Chainlink, BitMex, and more.
In the upcoming weeks, Myria's L2 scaling solution will debut Moonville Farms, a play-and-earn NFT game that was recently developed in collaboration with Leapblock Studios.
Furthermore, Myria and cricket legend AB de Villiers have teamed together to produce Mr. 360 Cricket, a play-and-win mobile game that is anticipated to introduce billions of cricket fans worldwide to blockchain gaming.
To create on Myria L2, game developers can get in touch with us here.
People who are interested in Myria can follow them on Twitter and Discord.