Why Goldman and JPMorgan Invested $32 Million in Blockchain Despite Bear Market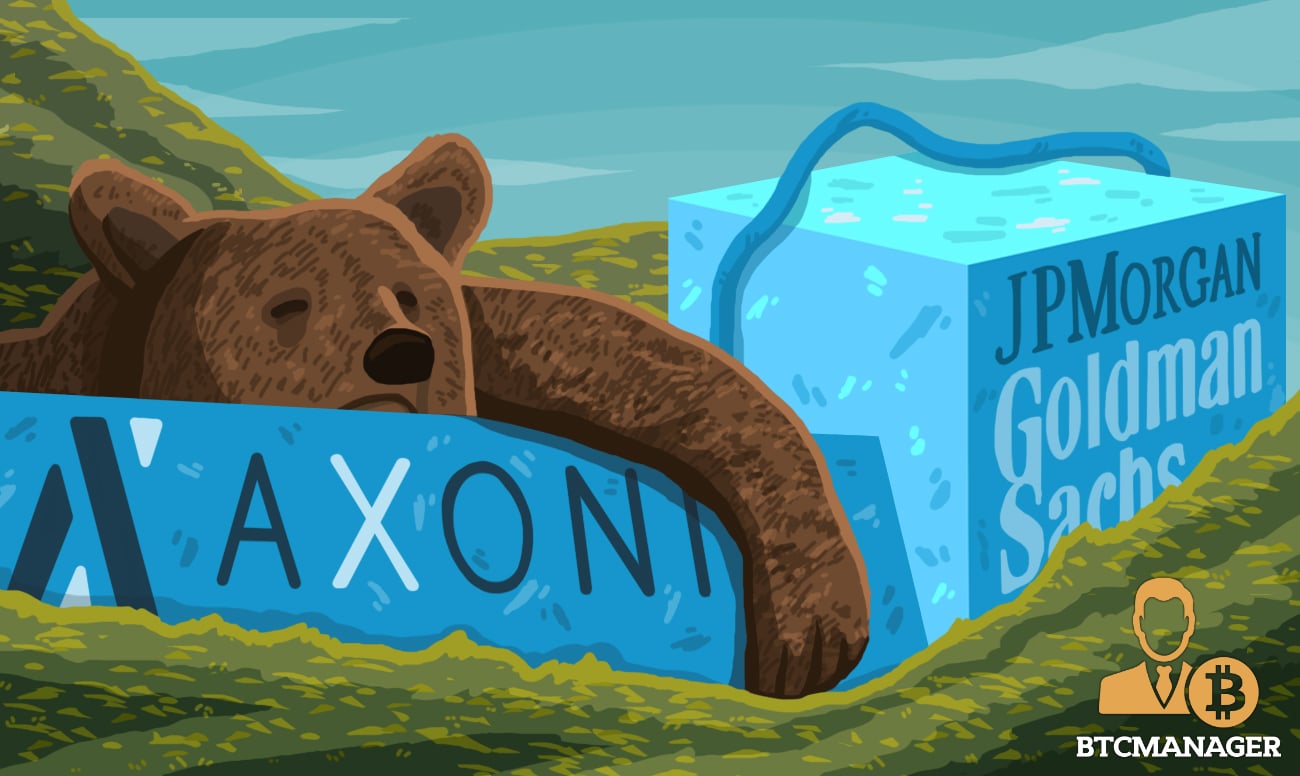 JPMorgan and Goldman Sachs, two of the biggest banks in the global finance sector, have led a $32 million Series B funding round for blockchain startup Axoni, to deploy blockchain-based solutions in the traditional finance industry.
$55 Million in New Capital
Since 2016, as the only competitor to R3CEV, a significant blockchain consortium supported by banks such as Citibank, BBVA, Barclays, Bank of America, BNP Paribas, Axoni has solely focused on the development and deployment of enterprise-grade blockchain platforms that are compatible with the existing infrastructure of large-scale conglomerates.
Throughout the past year, Axoni has overseen some of the most highly anticipated blockchain initiatives in the sector, including the development of a custom-built blockchain to facilitate the settlement of the Depository Trust and Clearing Corporation's $11 trillion Trade Information Warehouse.
In an interview with Forbes editor Michael del Castillo, Axoni CEO Greg Schvey disclosed that its latest Series B funding round pushed the company's total capital to $55 million, allowing the institution to aggressively expand its relatively small team of 55 full-time employees and focus on building high-performance blockchains designed for enterprises.
Two years ago, Axoni raised more than $21 million from technology firm NEX, funding most of its operations with the capital raised in its Series A.
Schvey emphasized that while the company is not profitable as of yet, it did not secure the $32 million funding round because the firm needed more capital to finance its operations, but rather to secure strategic investors in the traditional finance industry.
As of August 2018, many of the world's largest financial and technology institutions such as Wells Fargo, JPMorgan, Citigroup, NEX Group, Franklin Templeton, Andreessen Horowitz, and Digital Currency Group remain as stakeholders in Axoni, supporting the development of blockchain-based technologies.
In the long-term, Schvey explained that the investors and partners Axoni has secured over the past 24 months will enable the firm to turn blockchain projects into relevant products.
"These are very strategic investors. We have deep strategic and commercial engagements with most of them," Schvey said, adding that the company has been cautious and deliberate in bringing in new partners into the firm.
"It's much more than a check when you work with firms like this," said Schvey. "And they've really been great partners."
Potential Move to Ethereum
Since the creation of Bitcoin nine years ago, the global cryptocurrency community has established open-source development as a key philosophy in blockchain development.
Most public blockchain networks in the market such as Bitcoin and Ethereum have open-sourced their codebases, allowing developers to transparently evaluate and improve upon the existing codebase.
Soon, Schvey said that the Axoni development team would open-source the codebase of Axcore, the main blockchain protocol of Axoni, to possibly launch it on top of the Ethereum blockchain network.
The CEO further explained that the clear philosophy and vision of Axoni to focus on building innovative software, outside of the frame of centralized development, has simplified the process of collaboration with other projects in the industry.
"At the end of the day, when you're that aligned on the technical vision, it makes it easier to collaborate and cooperate. Ultimately, I would definitely, definitely expect that a substantial amount of time and energy and resources go into collaborations with Clearmatics and other firms who have taken a similar view," Schvey said.
The involvement of Goldman Sachs and JPMorgan in the development of enterprise-grade and open-source blockchain software demonstrates the intent of banks and regulated financial institutions to understand and build on top of new technology.