Hackers Assault Bitcoin.org Website, Prompting Its Developers to Take It Offline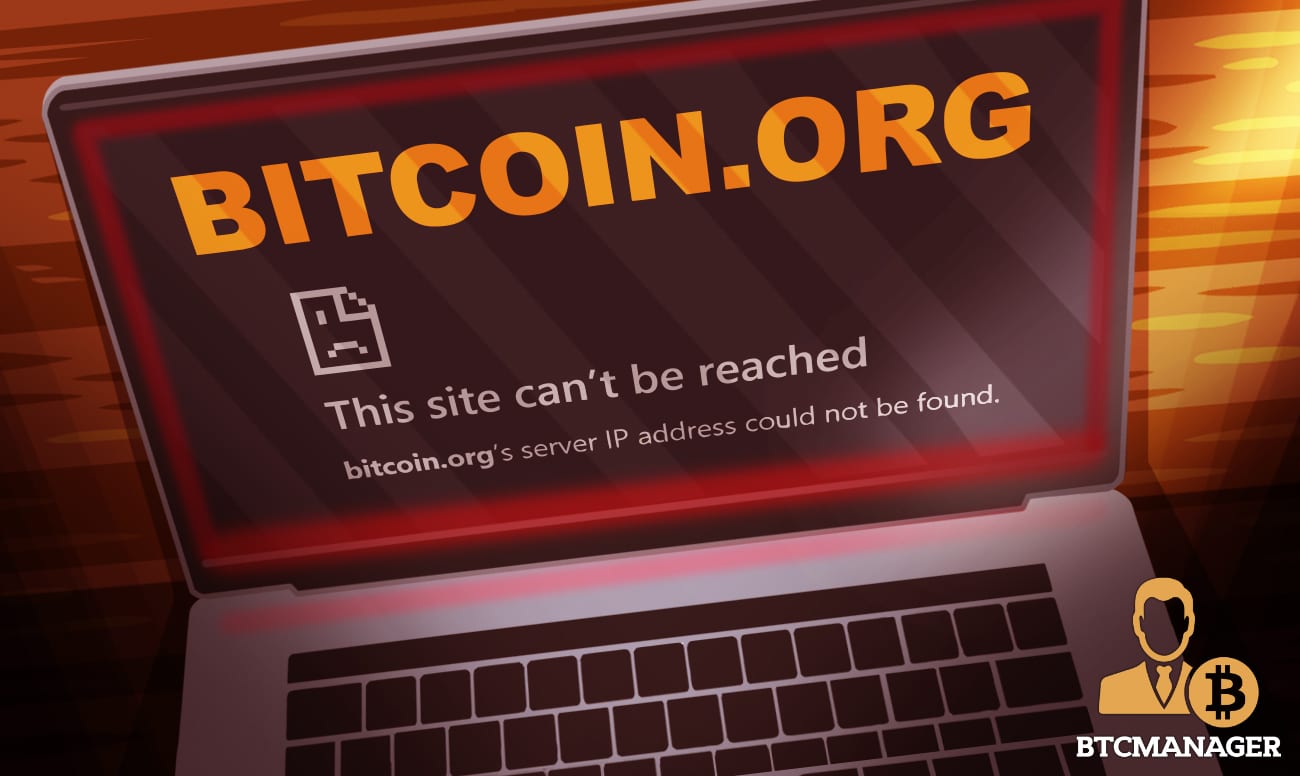 Cobra Bitcoin took to its official Twitter account to announce a cyber attack today at around 8 AM. It reported that investigations on how the hacker put up their malicious software on the site are ongoing, and it will take them a couple of days.
Bitcoin.org Suffers in The Hands of 'Cyber Experts'
Bitcoin.org is one of the initial BTC websites. It is under the management of an anonymous curator, Cobra. On Sep. 23rd, Cobra took to their official Twitter account to report that they were compromised and their site would be down for some time.
As per BTC developer Matt Corallo, their site got hacked, and a pseudo replaced their entire site. The scam version of the site asked its customers to send free Bitcoin to an anonymous address.
Looks like https://t.co/AgTe1vwfPK got hacked and the entire site replaced with a scam asking for free Bitcoin. Do *not* send funds to that address.

— Matt Corallo (@TheBlueMatt) September 23, 2021
He also asked people not to send any funds to that particular address since its unauthorized.
This urgent announcement and decision to shut down the maintenance site came after Cobra's customers reported the case. However, the scammers benefitted from deposits of about $17,000 by the time Cobra took a step to bring down their site.
Surprisingly Susceptible to Cyberattacks.
The event is not the first time that Bitcoin.org has suffered a malicious attack.
On July 5th, 2021, Cobra took to its Twitter account to announce that Bitcoin.org had suffered its first-ever DDoS attack. Cobra expressed its devastation since this was the first time their site had suffered at the hands of the malicious individual(s).
This attack was gruesome since the Bitcoin.org servers did not receive any traffic, and the culprits were asking for ransom in the form of BTC. However, they managed to get their site up. This attack came after a UK court ordered the site to quit hosting the Bitcoin white paper, thus dealing a massive blow to them.
How Cyber-Attacks are Affecting the Crypto World
Cases of malicious attacks directed at cryptos have been on the rise in recent times.
In mid-2021, the NY Times reported that Tesla's CEO account appeared to be under attack since it asked for BTC transfers. They claimed that dozens of funds belonging to other great names like Barack Obama, Kanye West, Joseph R. Biden, and Bill Gates also had similar posts. Of course, that was a scam since these people do not rely on 'donations' for a living.
Such attacks may be the reason why many Altcoins have experienced a recession in the Q2 of 2021. 
Many have made panic sales since most people do not like investing their money in risky businesses. Unless networks deal with cyberattacks once and for all, they may cause a significant recession in crypto technology.