H&M Group's Premium Fashion Brand COS Taps VeChainThor Public Blockchain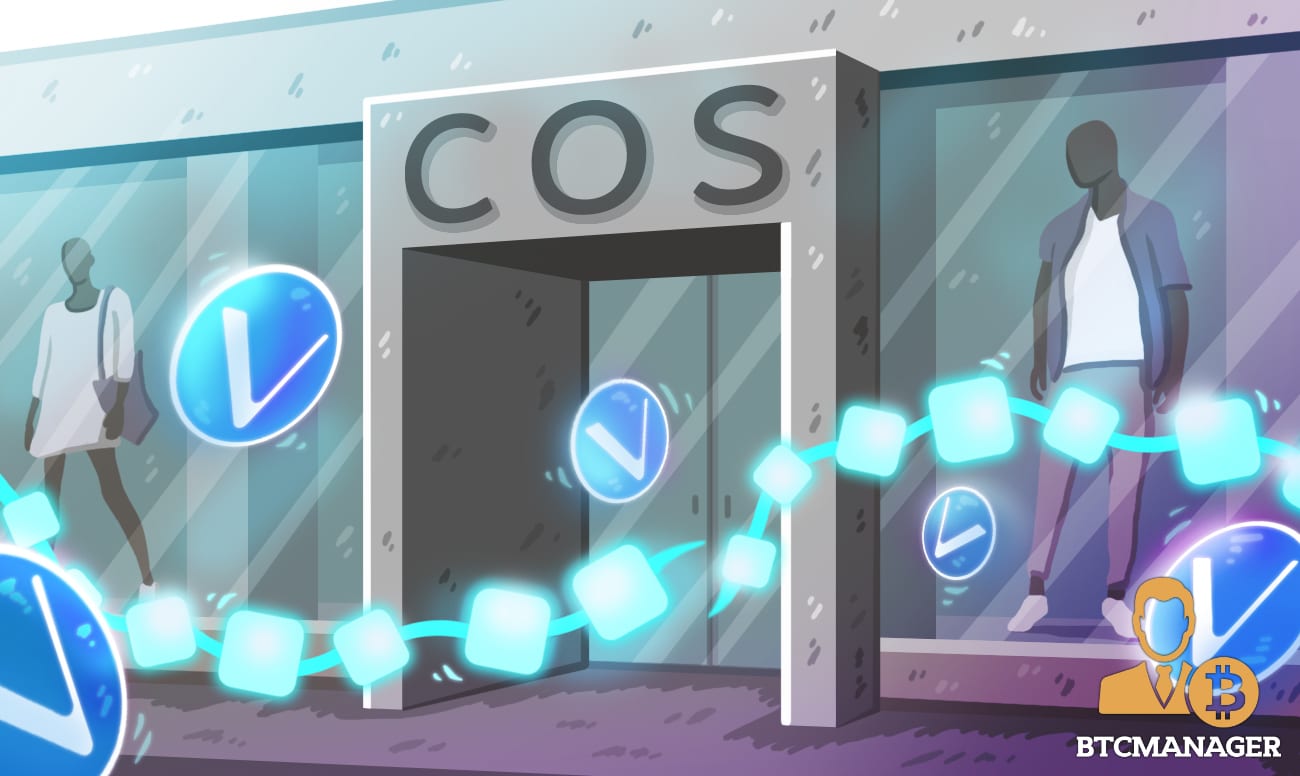 Popular clothing firm H&M's high-end premium brand, COS, has embraced supply chain blockchain project VeChain's (VET) services to better serve its customers. Specifically, COS has tapped VeChain Toolchain to leverage the benefits of a public blockchain network for supply chain and sustainability management.
COS Uses VeChain Toolchain to Provide Advanced Servicing Options
Singapore-based distributed ledger technology (DLT) project VeChain has found yet another user, this time, in H&M's premium fashion brand, COS.
Per sources close to the matter, following the successful pilot in Europe with H&M sister brand Arket and its sustainable wool beanie back in 2018, COS has now decided to move ahead with its decision to adopt and launch the use of VeChain software and hardware via the application of VeChain Toolchain.
Greenwashing of products and supplychain is increasingly becoming a high priority problem for large corporations when it comes to reporting about their sustainability efforts. @vechainofficial + @DNVGL are providers of a Proof of Sustainability solution. https://t.co/dqpiP03AmU

— CREAMethod (@CREAMethod) April 24, 2020
The alliance between COS and VeChain came to notice when a project community member in a shopping mall in Guangzhou, China, discovered that COS was using DNV GL's MyStory Product – a traceability system powered by the VeChain Thor blockchain.
What Does the Partnership Entail?
Being a premium brand and fetching premium prices, COS has tapped VeChain's distributed ledger technology (DLT) solutions to not only enhance its brand profile but also to prove the authenticity and sustainability of its raw materials with consumers.
Sustainability, being one of the burning issues in the world right now, requires aid from emerging technologies including blockchain, and AI, among others, to spread awareness among the masses. Further, despite its best efforts to manufacture and deliver sustainable products to its customers, for COS, communicating and educating its customers on the issue of sustainability is not a particularly easy task.
Notably, DNV GL's MyStory product enables manufacturers of goods to upload unique product data and traceability information onto the VeChainThor public blockchain. Once the data has been uploaded, companies can choose to either keep the data internally for supply chain and auditing purposes or it as part of product branding and marketing. COS, in this instance, chose to utilize the data by linking their clothing products with QR or NFC tags.
Customers who scan these QR or NFC tags can view the entire traceability history of the product, including the pictures and videos of the manufacturing process which involves various sustainable materials. In this manner, COS can communicate clearly with customers and promote its sustainability efforts in an educating way.
It's also worth highlighting that COS has also hinted at using the VeChainThor Blockchain for other purposes in the future, including using it for the enhancement of reselling experience for its customers and for bolstering its internal supply chain traceability.