How One Suspicious Exchange Clogged Up Ethereum Network With $17 Billion Volume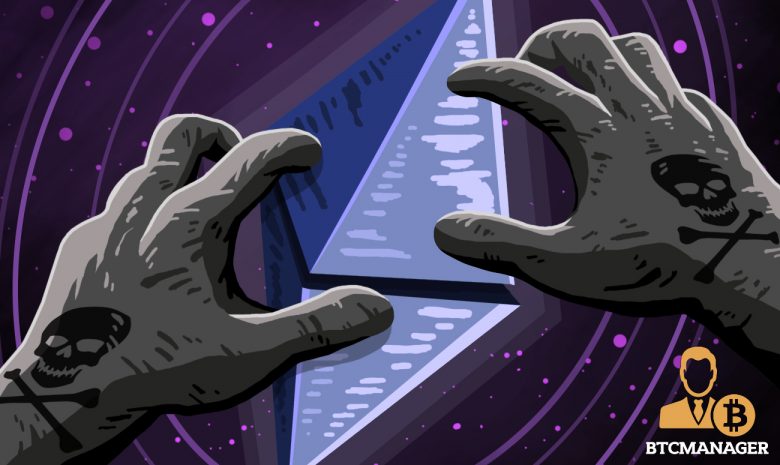 FCoin, a China-based cryptocurrency exchange which vowed to compete against Binance, the world's biggest crypto exchange in volume, has single handedly clogged up the entire Ethereum network throughout the past week.
Unnecessary Large Airdrops
On July 2, the transaction fee of the Ethereum network reached 5862 ether, well surpassing its all-time high on January 10, when the total gas cost on Ethereum reached 3696 ether.
Users of the Ethereum blockchain protocol were taken aback by the sudden increase in the number of ether transactions and fees, which temporarily clogged up the network. The abrupt rise in transactions essentially crippled Ethereum for many hours, preventing various decentralized applications (dApps) and ether users from sending transactions without high gas costs and transaction fees.
The strange spike in ether transactions on July 2, 2018, was in result of the controversial business model of FCoin, a Chinese exchange founded by the former chief technology officer of Huobi, currently  the third largest cryptocurrency exchange by volume, which encourages users to vote for soon-to-be listed digital assets by the form of airdrops.
On the FCoin exchange, candidates of exchange listings are required to airdrop tokens to the users of the platform who then vote to pick digital assets to list on the day. Assets with the highest number of votes are listed to the platform and can begin the process of integration.
But, the voting process requires a method called airdrop, a process of distributing a large amount of token to a certain user base. Airdrops are often used by newly created blockchain projects that hope to increase the adoption of their tokens. Most often, blockchain projects distribute their tokens to bitcoin and ether users, to obtain active cryptocurrency users and bring them to their communities.
An airdrop to a hundred thousand users requires a hundred thousand transactions. Because each user of FCoin is issued with one token to vote, if five projects are competing against each other and FCoin has 100,000 users, 500,000 transactions need to be made on-chain, on the Ethereum protocol, on a single day.
Currently, the Ethereum blockchain protocol can barely handle 1 million transactions per day. Eventually, Ethereum creator Vitalik Buterin said that with innovative scaling solutions like Sharding and Plasma, the Ethereum network will be able to process 1 million transactions per second. But, complete integration of these scaling solutions may take months to years and as of now, it is difficult to process large chunks of transactions on-chain.
Fcoin's business model, which heavily congested the Ethereum blockchain network by spamming the network with insignificant on-chain transactions, crippled Ethereum for several days throughout the past week.
Mixed Responses
Some ether users and dapp developers have notified Buterin and the Ethereum Foundation about the issue, expressing their opposition towards the utilization of systems that can congest the Ethereum network.
In contrast, some users have stated that the FCoin case has demonstrated the nature of the cryptocurrency sector and the urgent necessity of both first and second-layer scaling solutions to drastically improve blockchain scalability.
"This isn't a clog, it's just highlighting issues that need solving before true adoption can manifest. System issues like this don't need to be viewed so negatively," one online Ethereum community member said.
While it is of the utmost importance of developers and the community to identify issues in scaling and other aspects of a blockchain that may limit mainstream adoption, scaling issues on Ethereum and every other blockchain have already been identified and open-source developer groups are in progress of solving these issues.
0x and other exchange protocols utilize transaction batching and off-chain solutions to compile many ether transactions together to reduce the number of onchain transactions that are broadcasted to the Ethereum network. Projects need to understand the limitations of Ethereum and blockchain technology as a whole and work toward improving the ecosystem considering current conditions.