Huobi Global Launches a 2 Months Free Trading for USDD Pairs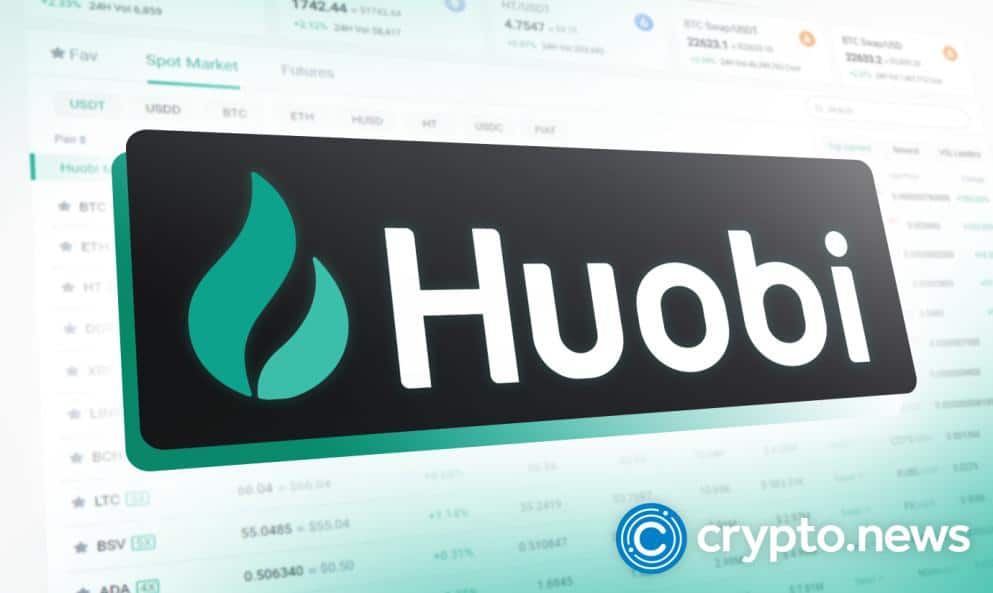 Popular Chinese crypto exchange Huobi Global has commenced a 0% trading fee period for USDD pairs. The promo is to last for only two months.
Free Trading on Huobi Global
Huobi Global, one of the biggest token trading outposts in the Asia markets, has just declared the launch of a 0% Trading Fee promo for the launch of its USDD-related trading Pairs. Huobi made its release public in a press release on its platform earlier today, October 19, 2022.
In its public statement, the Singapore-based crypto-asset exchange said its 0% trading fee promo would be available for trading only USDD pairs on Global Spot, Huobi's trading platform. Huobi also stated that the promo was to reward its users. According to Huobi, the promo commenced yesterday at exactly 16:00 (UTC) on October 18th, 2022 and will last until 15:59 (UTC) on December 31st of the same year.
Huobi's zero per cent trading fee promo covers 11 trading pairs in total, featuring only USDD-related pairs. The activity only involves BTC/USDD, ETH/USD, TRX/USDD, SUN/USDD, WIN/USDD, NFT/USDD, JST/USDD, BTT/USDD, USDD/USDC, USDD/USDT,  and APT/USDD. Huobi says:
"During the promotion period, users who participate in USDD-related trading (11 pairs above) will enjoy 0% trading fees . After the promotion ends, trading fee rates will return to normal".
Also, all listed trading pairs will be excluded from tiered fee cumulative trading volume calculations during the trading period. According to Huobi, users have started enjoying the free trading promo, and any updates on the offer will be announced on its website.
Focusing On the USDD
The USDD, decentralized USD, is an algorithmic stablecoin recently released by Justin Sun, founder of TRON and new owner of Huobi.
Recently, news of Justin's acquisition of Huobi made the rounds in the crypto community. Justin revealed his new role as an advisor to the Huobi exchange and now owns "tens of millions", about 75% of its tokens.
At the purchase, Justin stated his intentions to focus on Huobi's global expansion.
Huobi, the Crypto Santa
Although there have been several incentive programs by different crypto exchanges and projects in the past, Huobi Global seems to be going big on promos lately. Since its inception in 2013, the Asian crypto exchange has launched hundreds of promotions, including airdrops, Free trading, referral rewards, first deposit commissions, trading rewards, welcome bonuses etc.
Among other incentives, Huobi currently runs an over $3,000 welcome promo, enabling new users to earn up to $3,278 when they sign up and complete tasks on Huobi's trading platform. Huobi also offers savings rewards whereby users earn about 88% APY on their idle crypto, as well as a 40 per cent commission for referrals.
Also, Huobi Global offers a 100USDT cashback voucher to users who have hit a cumulative spot trading volume of over 10,000USDT.
Other Ongoing Crypto Promos
Binance, a leading global crypto exchange, is offering a $600 special welcome offer for users joining Binance with BitDegree, a crypto learning platform. In this offer, users must complete tasks to earn $600.
Bitcoin DeFi project, CoinmarketCap is also offering exclusive crypto airdrops on its platform. Experienced users can participate in airdrops right on CoinMarketCap. To qualify, traders are required to try out all of the features of CoinmarketCap's site and be able to see the full airdrop calendar. The platform also offers airdrop partnership opportunities to interested crypto projects.