Hyped-up Cardano DeFi project Ardana grinds to a halt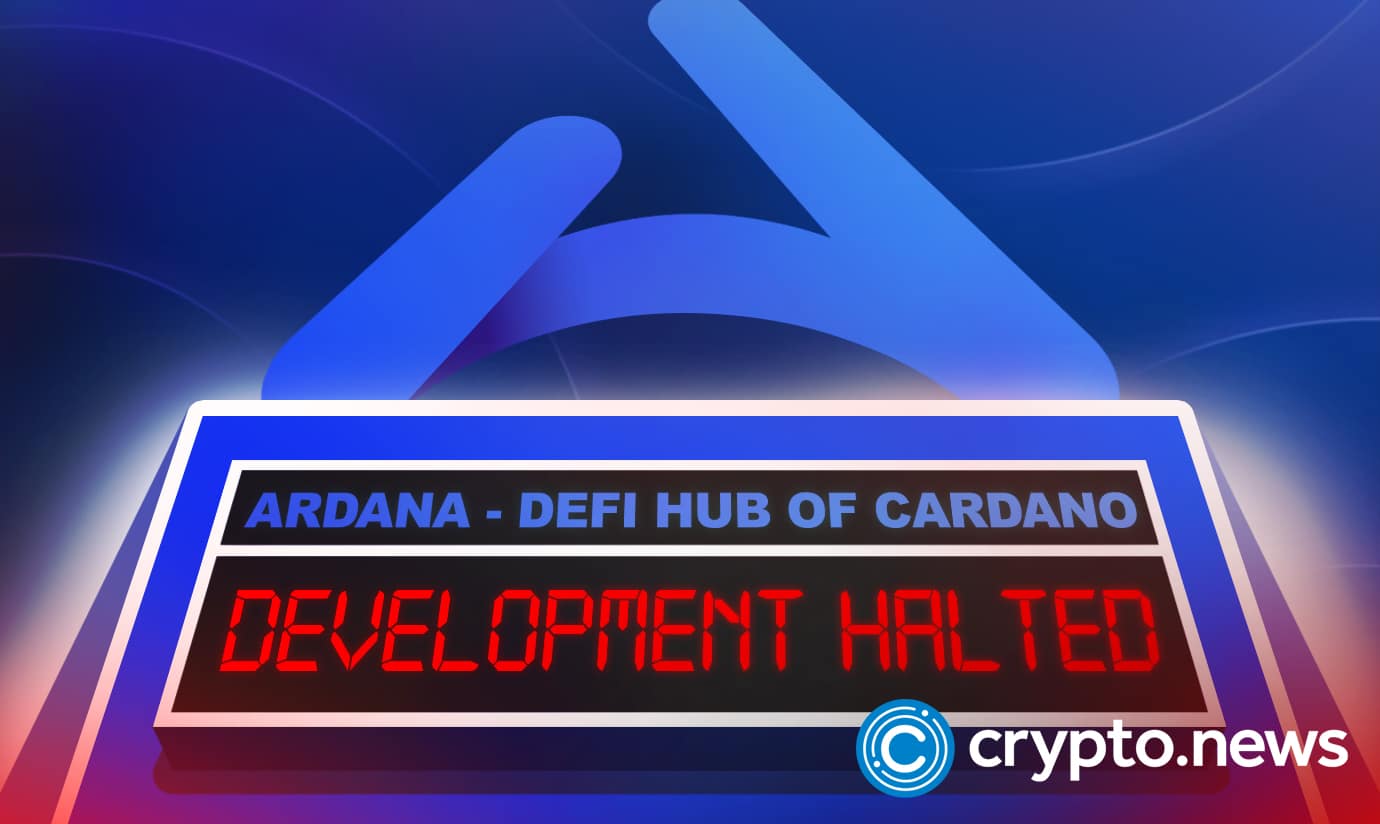 After several hyping in the Cardano Summit 2021, the once-promising decentralized finance project, Ardana (DANA), built on perennial top-ten proof-of-stake blockchain Cardano (ADA), took to Twitter yesterday, 24th of November, to announce that it has halted development.
The team stated it could not move on due to some "recent development" regarding the project's funding and its timeline.
They tweeted addressing the Ardana community yesterday:
"Development on Cardano has been difficult with alot of funding going into tooling, infrastructure and security. This, alongside the uncertainty around development completion has led to the best course of action being halting development of dUSD."
They stated their code will remain open source "for builders to continue their work going forward as they wish." The Ardana project worked on stablecoin minting and foreign exchange services and aspired to be "the MakerDAO and the Curve Finance of Cardano." 
It was barely a year into development after raising $10 million last year via a funding round led by a now-defunct crypto hedge fund Three Arrows Capital, Cardano's cFund, and Ascensive Assets.
DANA, the Ardana token, once traded at $9.2916, according to cryptocurrency data provider, Coinmarketcap. In the last few days, it has sunk 82.54% as it is currently traded at $0.01046. 
Is the Ardana project's excuse not good enough?
The news of the Ardana project halt was not met with a favorable reception as community members could not reconcile with Ardana's project halt excuses.
Firstly, there were doubts about the credibility of the team. Ardana was not just well funded with $10 million; it had an active community willing to invest an arm in the project. At the start of the project, the team was so confident in their work that they got the whole thing hyped up and led their community into a ditch because they were not accountable enough.
Secondly, Ardana had put out a tweet earlier this year, stating Cardano, the network they were working with, was not ideal despite receiving funding and publicity from the network. They tweeted
"To put it simply, we could launch our products within a few weeks if we so wanted. However, the underlying network on Cardano is currently not ideal for any protocol dealing with liquidations; it's not safe enough for us to launch without risking user funds."