InfiniteWorld Buys Game Studio, Super Bit Machine As Part Of Web3 Expansion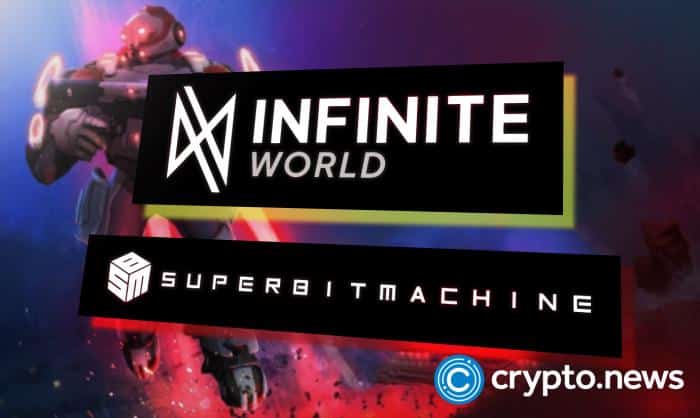 InfiniteWorld has purchased the gaming firm Super Bit Machine for an unknown sum. This is part of the company's expansion into metaverse and Web3 technology.
InfiniteWorld is aiming to employ the independent gaming studio, the creator of Armajet, to generate games that will drive customer engagement. Also, the metaverse technology firm intends to enable marketers to develop, monetize, and connect with online content.
InfiniteWorld To Achieve Web3 Expansion Using Gaming
According to Brad Allen, InfiniteWorld's CEO, the company wants to bring Web2 communities to Web3. It believes that gaming is the way to do so.
He added that metaverse and Web3 are about creating new experiences and interactions. The CEO said the company features expandable gameplay and infrastructure technologies that enable it to rapidly enter the market with this higher degree of engagement.
Super Bit Machine is a mobile game development company founded by seasoned professionals with expertise in managing multiplayer games on Android and iOS.
In an interview, the Pioneer's of Super Bit Machine, Allen and Alexander Krivicich, said they are optimistic about gaming, the metaverse, and Web3 amid the economic crisis.
InfiniteWorld To Offer Web3 and Metaverse Experiences
The goal of the purchase is to increase InfiniteWorld's capacity to provide brands with Web3 and metaverse experiences. It would also provide real-time multiplayer game creation skills, which will form part of its major product portfolio.
According to Allen, the agreement also represents the continuous fusion of blockchain technology and gaming platforms. Additionally, it would link the conventional gaming experiences provided by PCs, consoles, and mobile devices with flexible Web3 capabilities.
Furthermore, Allen said the company is happy to partner with professional game development with great achievements in the gaming sector. He said the firm wants to become a shop for creators and brands that want to transit to Web3.
Alexander Krivicich noted that gaming is very important if one must increase Web3 adoption. Also, he added that the future of gaming experiences would happen in the metaverse. 
Krivicich Will Become Chief Strategy Officer At InfiniteWorld
Meanwhile, Krivicich will become InfiniteWorld's new chief strategy officer. He said InfiniteWorld had maintained its position as a pioneer in metaverse technology. The firm has made gaming a central aspect of its brand and internal intellectual property strategies.
Furthermore, InfiniteWorld intends to go public using SPAC (a special purpose acquisition company). This would have been an easier way for the company without performing initial public offerings.
But given the volatile stock market, it is becoming more difficult. InfiniteWorld also intends to raise $145 million through its SPAC with Aries I Acquisition Corporation.