Intel Bitcoin Mining Patent Offers Lower Power Consumption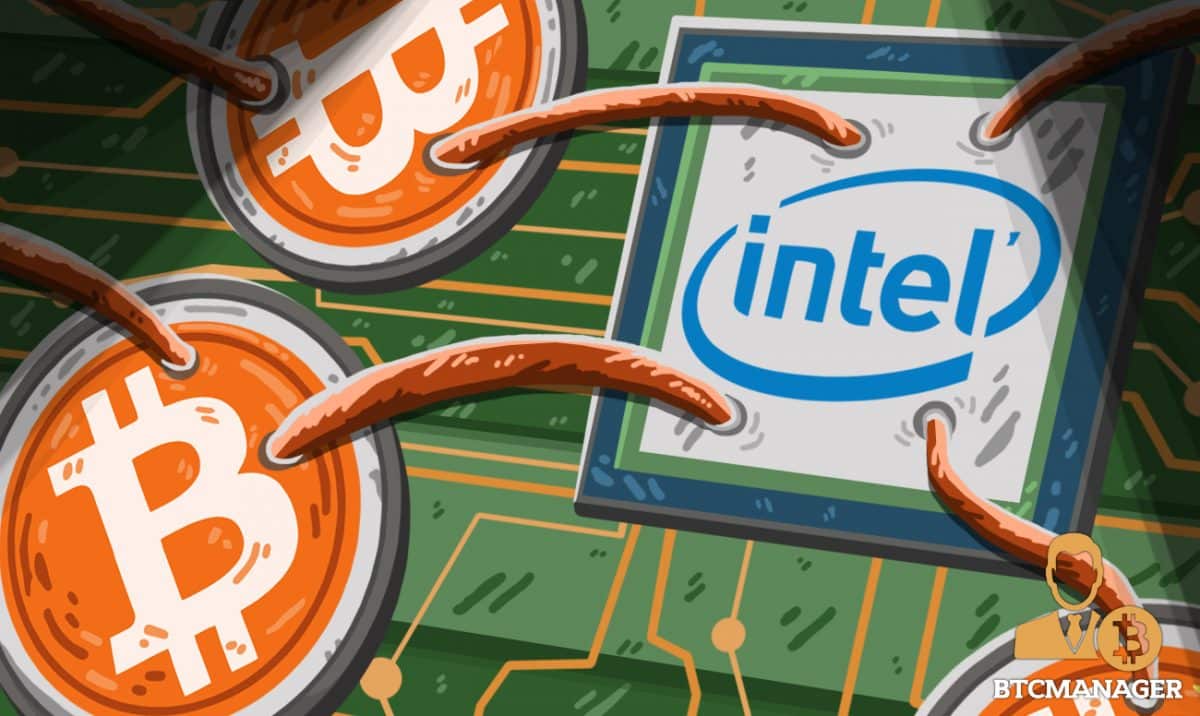 On March 28, 2018, American technology giant Intel has filed a patent for a Bitcoin mining "hardware accelerator" to, theoretically at least, improve the efficiency of cryptocurrency mining chips.
Cooling Down a Hot Process
Records available with the U.S. Patent and Trademark Office shows that the application had first been submitted on September 23, 2016.
The patent, filed on behalf of Intel Technologies, has listed its inventors as Suresh Vikram, Satpathy Sudhir, and Mathew Sanu, all residents of Hillsboro.
Within the patent, the world's largest semiconductor manufacturer has proposed a bitcoin mining "hardware accelerator" that includes a processor core and an accelerator coupled to the processor core.
Since the Bitcoin protocol works using the proof-of-work (PoW) consensus mechanism, new coins are added by a process known as mining. Many computers across the network attempt to solve a predetermined mathematical puzzle, which once solved, releases a bounty in BTC.
The first one to arrive at the solution is rewarded with the process repeating approximately every ten minutes. Miners also use specialized mining hardware chips known as ASICs for the sole purpose of mining cryptocurrencies.
These dedicated chips are expensive, have high electricity requirement and output vast amounts of heat.
Intel to the Mining Rescue
Intel, however, has claimed that its new hardware accelerator, explicitly aimed at Bitcoin miners, would boast over 35 percent efficiency as compared to existing mining chips.
Miners that have recently been plagued with high electricity costs may find such a breakthrough to be a blessing in disguise.
On top of that relief, most of the electricity used to power the mining network comes from coal-based power plants of which contributes extensively to climate change. Intel's new hardware may even help reduce the electricity consumed by contract mining providers.
The patent application reads:
"Because the software and hardware utilized in bitcoin mining uses brute force to repeatedly and endlessly perform SHA-256 functions, the process of bitcoin mining can be very power-intensive and utilize large amounts of hardware space. The embodiments described herein optimize bitcoin mining operations by reducing the space utilized and power consumed by bitcoin mining hardware."
SHA stands for Secure Hash Algorithm and is essentially a 256-bit block cipher algorithm which encrypts the intermediate hash value using the message block as a key.
For any miner, the most expensive operation may be the task of finding the 32-bit nonce. Intel proposes to solve this in the following:
"Looking for a minimum number of leading zeros that would ensure the hash to be smaller than the target. The target, and hence the leading zero requirement, may change depending on the rate of new block creation to maintain the rate at approximately one block every ten minutes. Decreasing the target may decrease the probability of finding a valid hash and hence increase the overall search space to generate a new block for the chain."
In 2015, Intel had designed custom chips for 21 Inc., a Silicon Valley-based mining center. Following that, it perhaps comes as no surprise that it began cryptocurrency related R&D and filed the patent a year later, in 2016.