Inter Conceals Main Sponsors Digitalbits for Not Paying First Sponsorship Instalment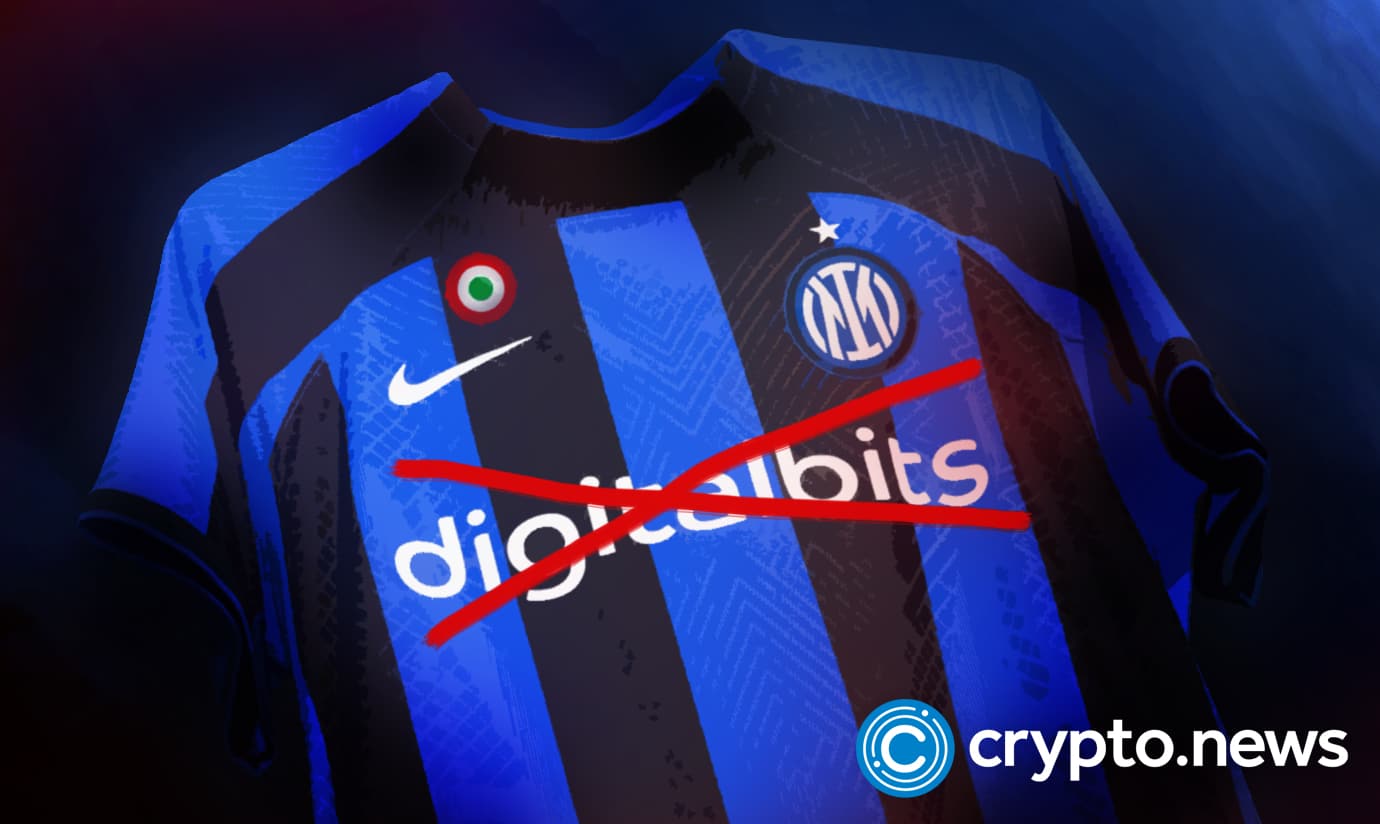 On July 29th, 2022, Gazzetta, an Italia sports publication, announced that Inter Milan obscured their main sponsor, DigitalBits. This came as the blockchain network failed to submit the first installment of their €85 million ($100 million) sponsorship deal.
Inter Milan Obscures Sponsorship Deal
In a new publication earlier today, Gazzetta announced that Inter is obscuring Digitalbits from the shirt for failure to honor their part of the deal. According to the news reports, DigitalBits did not pay the first installment of their 4-year, $100 million sponsorship deal.
The Italian publication's statement reads;
"The company did not pay the first installment and the name disappeared from Inter.it. The overall agreement is 85 million over four years… The company that launched the XDB cryptocurrency did not honor the first payment tranche for this season, as part of the overall agreement that Inter should (at this point the conditional is a must) bring a total 85 million in four years."
Last season, DigitalBits was the sleeve sponsor for Inter's shirts. According to reports, in the 2022-23 season, Digitalbits would take the shirt's front part. But, reports indicate that the Nerazzurri club will hide the sponsor on their shirt since the sponsor has not paid the dues. This relationship seems entirely ruined, and the parties are currently filtering intentions to collaborate and solve the problems.
Before DigitalBits made a deal with Inter, the football club enjoyed sponsorship deals from Socios.com and Pirelli.
Crypto Projects Sponsoring Football Clubs
The deal between Zytara (the network behind Digitalbits) and Inter was signed sometime last year. Zytara became Inter's Official Global Digital banking partner in the deal, while DigitalBits took the official Global Cryptocurrency role.
Zytara was to collaborate with the footballing giant in developing the club's mobile app, which would later be integrated into Inter Milan's app. Inter fans can log into a Zytara account and access crypto-based products while purchasing home game tickets quickly and easily on the app.
The DigitalBits company is a protocol layer blockchain designed to help digital asset consumers. It's not the only crypto-focused network to sponsor football projects.
Tezos became the official sponsor of Manchester United. The deal stipulated that Tezos name would appear on Manchester United's warm-up jerseys. Stake.com has also been an official sleeve sponsor of football club Watford. Doge and Bitcoin also sponsored Watford at some point. These are just a small number of projects among the many which supported football teams. The OKX crypto exchange network made a deal with Manchester City FC.
Crypto Market Winter Causing Problems
While Digitalbit has not come to say it publicly, the recent crypto winter could be one of the reasons for the delayed payment. These winters have led to the fall of many top crypto projects, including Voyager, Celsius, and others.