JPMorgan Chase Mulling Merging Its Quorum Blockchain with ConsenSys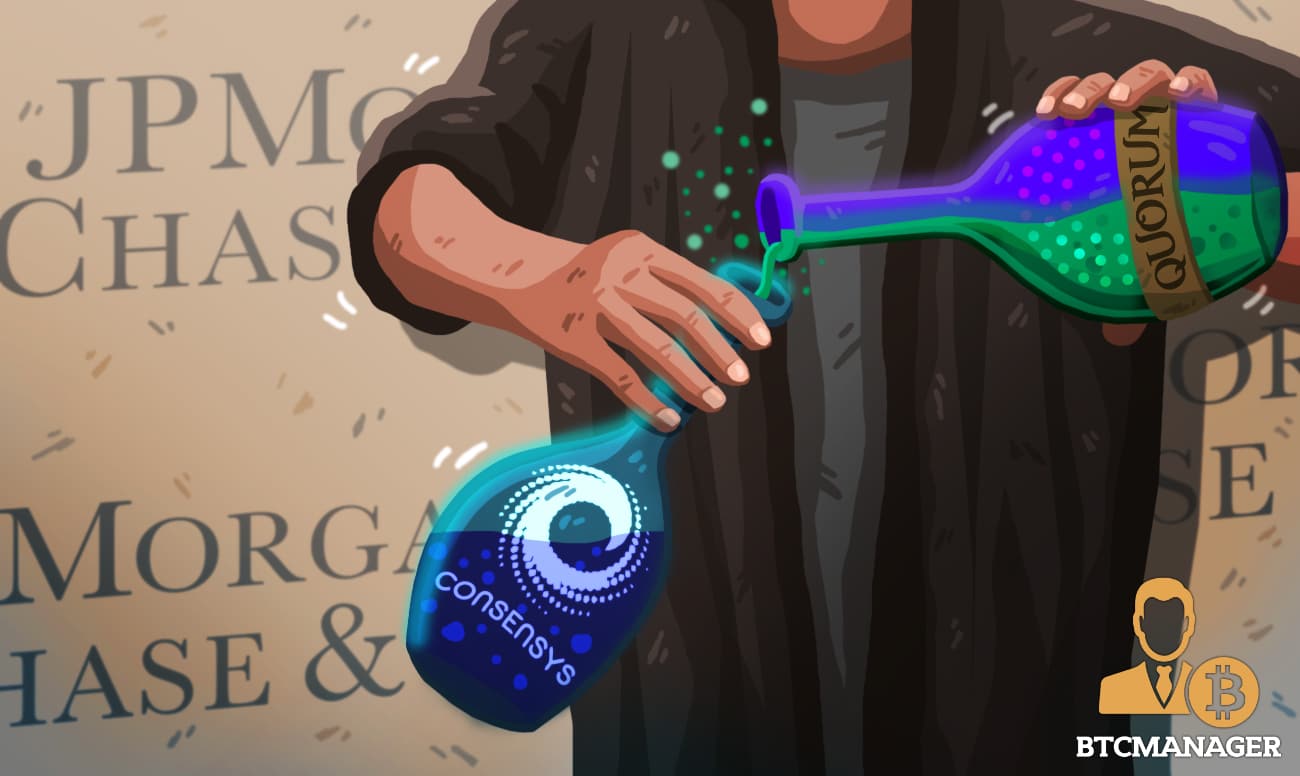 Major U.S.-based bank JPMorgan Chase & Co. is mulling merging its blockchain unit Quorum with Brooklyn-based distributed ledger technology (DLT) startup ConsenSys, Reuters reports, February 11, 2020.
JPMorgan Contemplating Merging Blockchain Unit
According to a recent Reuters report, banking titan JPMorgan Chase & Co. is all set to merge its DLT unit Quorum with blockchain startup ConsenSys. Per sources close to the matter, the high-profile deal is likely to be formally announced within the next six months. Notably, the exact financial details of the deal are still unclear, sources close to the matter told Reuters.
The sources added that, at present, approximately 25 people work for Quorum globally. They added that it is also unclear currently whether the employees will join ConsenSys after the business transaction.
For the uninitiated, JPMorgan launched its blockchain-based cross-border payment solution in March 2018 as an independent project. The internal blockchain network was built by JPMorgan using the Ethereum network.
Quorum is reportedly being used by JPMorgan as a tool to run the Interbank Information Network – JPMorgan-headed payments network that currently involves more than 300 banks across the globe.
The bank had also suggested last year that it would be leveraging the Quorum blockchain to issue its own digital token dubbed JPMorgan Coin. At the time, the banking behemoth had mulled launching its own digital token to make instantaneous payments using DLT.
No Change to Quorum Brand
One of the persons close to the matter said that the merger with ConsenSys would have no impact on the IIN and various other JPMorgan projects running on Quorum. The source added that JPMorgan has been considering spinning off Quorum for close to two years. The bank had evaluated options including setting up an open-source foundation, creating a new startup or merging it with another firm.
The source further added that being an open-source software development platform, Quorum's code is free and may be modified and redistributed. Post the merger, the bank will continue to maintain the Quorum brand.
In similar news, BTCManager reported in September 2019 how British retail and commercial bank Lloyds Bank had joined forces with fintech startup Komgo to leverage DLT for its trade finance operations.