Justin Sun's JUST DeFi Platform JST Token Sold Out Under Five Minutes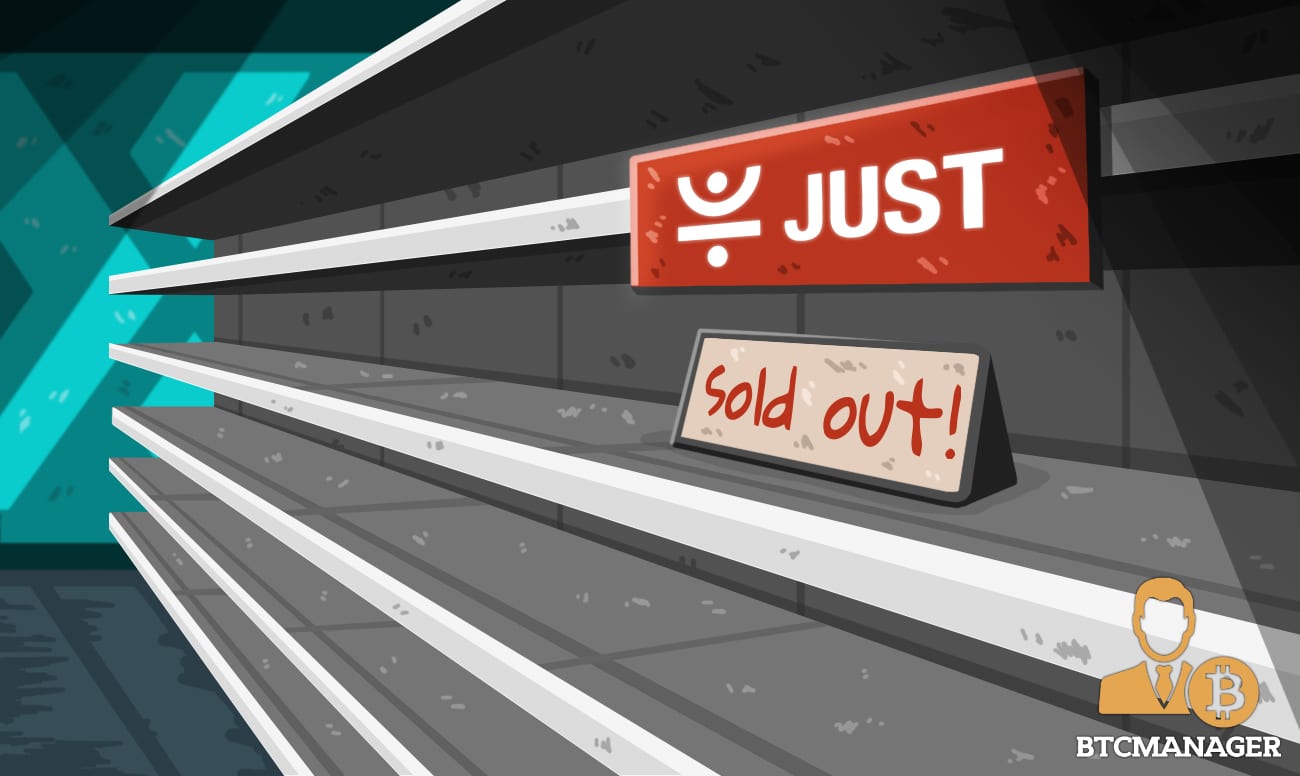 Justin Sun, the eccentric creator of the TRON (TRX) distributed ledger technology (DLT) project has taken to Twitter on May 5, 2020, to announce that his JUST DeFi platform's initial exchange offering (IEO) of the JST altcoin has been hugely successful, as all the coins got sold out within 4 minutes 26 seconds.
JST Token Sale Hugely Successful
In another significant development for the Justin Sun and the entire TRON (TRX) ecosystem, the former has announced that the initial exchange offering of $JST token has been a huge success, as the event ended within just five minutes on Poloniex's IEO platform, LaunchBase.
Sun tweeted:
"$JST tokens sold out in 4 minutes 26 seconds! Winning participants from the token flash sale will now be able to see your $JST in your #Poloniex account. Once $JST is listed on #Poloniex, full trading, withdrawals, and deposits will be enabled." 
As reported by BTCManager earlier in March 2020, Sun announced the launch of Djed, a decentralized finance platform designed to function just like the MakerDAO ecosystem. DJed got rebranded to JUST in April, after successful testing. 
"JUST means "fair and Just." JUST Foundation aims to create a RON-based stablecoins lending platform where everything is contract-based, any JST holders can participate in governing the USDJ currency system and achieve decentralized autonomy, where true justice and fairness can be guaranteed," declared Sun.
For those who are unaware, $JST is the native altcoin of the JUST DeFi platform, while USDJ is its stablecoin. 
"USDJ is a new currency generated through decentralized smart contracts on the TRON network. Anyone can pledge TRX as collateral to generate USDJ. USDJ enters into free circulation as any other cryptocurrency does once generated. It is pegged to the US dollar through Collateralized Debt Positions (CDPs), and also has autonomous feedback mechanisms," explained Sun.
Mixed Reactions
Interestingly, Justin Sun's tweet has attracted mixed reactions on Twitter, with some expressing doubts over his claims.
Twitter user @subsidieland wrote:
Give us the info on blockchain with timestamps…

— Subsidieland; bitcoin is king. F*** the Woke (@subsidieland) May 5, 2020
@AlexDcrypto tweeted: 
Congratulation for your 'own' purchase 👎

— alexDcrypto – stake2earn.com 🌜 (@AlexDcrypto) May 5, 2020
The DeFi ecosystem is steadily growing, with MakerDAO leading the charge with a total of $474.1 million locked as collateral. Synthetix has $128.7 million, followed by Compound, Uniswap and Aave with $89.5 million, $43.7 million and $43.5 million respectively, as seen on DefiPulse.