Rarible vs. OpenSea: Which NFT Marketplace Is Better?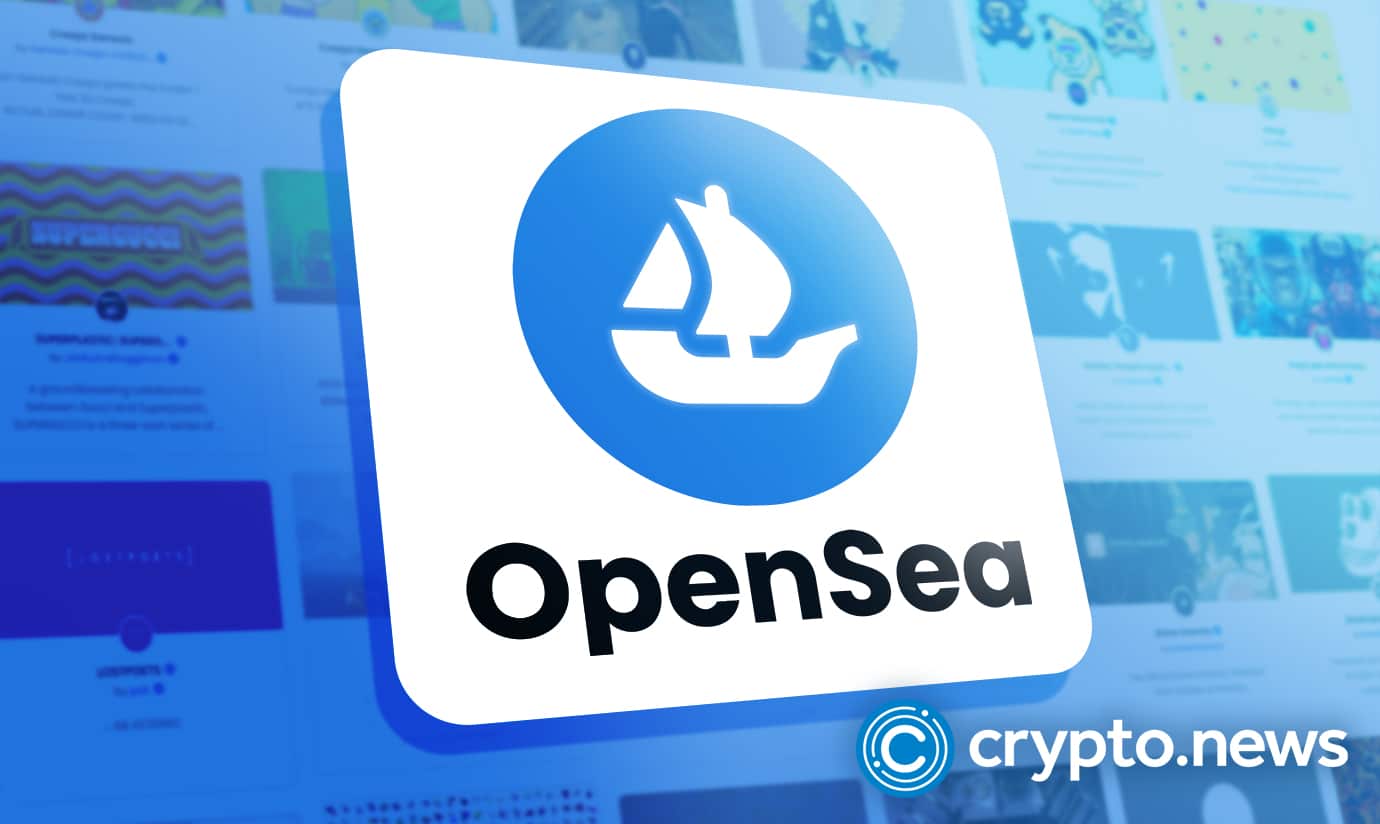 You may find it hard to choose an NFT marketplace now that there are many in the crypto space. With this comparison guide between Rarible vs. OpenSea, you may just learn what you need to know to make an informed decision.
What Is OpenSea? An Open Sea of NFTs
OpenSea is a peer-to-peer NFT market that allows users to buy, sell, and mint non-fungible tokens (NFTs).
Devin Finzer and Alex Attalah founded the marketplace in 2017, the same year CryptoKitties, one of the first NFT games, was launched. According to Finzer, OpenSea attributes its success to "being in the right place at the right time."
OpenSea is the largest NFT marketplace in the world, recording monthly volumes in the hundreds of millions of dollars. Users can trade all types of NFTs on this marketplace, including art, collectibles, music, sports, photography, wearables, and in-game items.
OpenSea is a secondary NFT marketplace meaning that sellers and buyers can trade NFTs directly with each other. This is different from a primary NFT market, where sales take place on the creator's website. Hence, trading occurs directly between the creator and buyers.
OpenSea provides cross-chain support across the Ethereum, Solana, Polygon, and Klaytn blockchains, and all transactions are made in crypto. The main digital currencies used on the platform are ETH/WETH, DAI, SOL, and USDC.
High-profile individuals like entrepreneur Mark Cuban, basketball player Kevin Durant, actor Ashton Kutcher, and Reddit co-founder Alexis Ohanian support OpenSea. Moreover, the marketplace has the backing of companies such as Coinbase, Y Combinator, and Andreessen Horowitz.
Crypto is money – let`s use it!
You can use CryptoWallet to buy, sell, and trade crypto.
Sign up today
What is Rarible?
Rarible is a peer-to-peer NFT marketplace and a protocol built on the Ethereum blockchain.
The protocol is governed by a decentralized autonomous organization (DAO), and its governance token is called RARI. Holders of this token vote for or against governance proposals.
This secondary NFT marketplace enables sellers and buyers to trade NFTs directly with each other. Users can also mint non-fungible tokens on Rarible. Alexei Falin and Alexander Salnikov established the platform in 2020.
Rarible supports various categories of NFTs such as music, art, games, metaverse, photography, and sports. It is also a multichain NFT marketplace allowing users to mint, buy, and sell NFTs on Ethereum, Solana, Flow, Tezos, and Polygon. The platform has received funding from CoinFund, Venrock, and 1kx.
Rarible registers monthly trading volumes worth hundreds of thousands of dollars, according to data on DappRadar. Users on this platform can buy NFTs with a credit card for fixed-price listings.
OpenSea vs. Rarible: Similarities and Differences
Similarities
Support for a wide range of NFTs: Rarible and OpenSea equally support a wide range of NFT categories like art, sports, domains, photography, and music NFTs.
Secondary NFT marketplaces: Rarible and OpenSea are secondary non-fungible token marketplaces, where buyers and sellers can trade directly with each other.
Support multiple blockchains: Both NFT marketplaces support several blockchains. Users on Rarible can access five blockchains compared to four on OpenSea.
Service Fees: Each NFT marketplace charges users a service fee of 2.5%.
Royalty fees: OpenSea and Rarible have royalty fees of up to 10%. These are fees that creators can earn every time their NFTs are sold on these marketplaces.
Lazy minting: Rarible and OpenSea allow users to lazy mint NFTs. NFTs created through lazy minting aren't actually on the blockchain. As a result, sellers can create new NFTs and only pay blockchain transaction fees when transferring the NFT to a buyer. This saves sellers money because the actual minting of an NFT would cost them transaction fees. If the NFT fails to sell, then they would incur a loss, having minted the asset already.
Rankings: Each NFT marketplace ranks the top non-fungible tokens by volume. This can help users find the most popular NFTs easily as creators tend to sell their NFT collection on the largest platforms to sell as many NFTs as possible.
Differences
Credit card support: Rarible users can pay for fixed-price NFTs using a credit card while auction listings are crypto-exclusive. On the contrary, OpenSea only allows cryptocurrency payments for all its listings.
Userbase and trading volumes: OpenSea has more monthly traders than Rarible. The 30-day data on DappRadar shows that OpenSea attracts traders in the hundreds of thousands while Rarible only gets thousands. Moreover, OpenSea has more trade volumes than Rarible.
Decentralized governance: Rarible's governance is decentralized, while OpenSea's isn't. Rarible has made more efforts toward increasing decentralization through the DAO-governed protocol and the governance token RARI. Therefore, users that hold RARI can participate more actively in the protocol's decision-making process. However, Rarible has reportedly not achieved full decentralized governance since the core team has the final say on all decisions.
Open-source protocol: NFT projects can use the Rarible protocol to build NFT storefronts, NFT management apps, and applications for NFT minting. This makes Rarible more than just an NFT marketplace.
Which One's Better for Sellers?
OpenSea is a popular NFT marketplace that attracts hundreds of thousands of collectors each month. Therefore, sellers are likely to get more eyes on their NFT listings on OpenSea than on Rarible.
Additionally, the high-profile individuals and companies backing OpenSea could give it more credibility, making it attractive to many users. The high traffic might be a good thing for sellers.
Which One's Better for Collectors?
Rarible provides credit card support for fixed-price listings, giving collectors the flexibility to buy NFTs with their local currencies. Moreover, collectors may take advantage of the lower traffic on Rarible to bid on NFTs without getting too much competition.
Overall, this comparison between Rarible vs. OpenSea reveals that both NFT marketplaces have many similar features but each has its own unique strengths and weaknesses. Therefore, choose the platform that best meets your needs or even consider using both for different purposes.
Keep in mind, however, that buying NFTs is an investment like any other, and you should proceed with caution.
FAQs
What are NFTs?
Non-fungible tokens (NFTs) are unique digital assets representing real-world and virtual goods such as art, photographs, real estate, event tickets, in-game items, and music on the blockchain. These tokens are non-fungible, which means you can't replace one NFT with another.
Is OpenSea easy to use?
You only need to connect a supported wallet to use OpenSea. Ensure the wallet has the supported crypto assets before minting, buying, or transferring an NFT. OpenSea supports MetaMask, Coinbase Wallet, Trust Wallet, and Solflare, among others.
Can I mint NFTs on OpenSea without coding knowledge?
OpenSea has made it so easy for users to mint NFTs that you don't need any coding knowledge to do it. Minting on Rarible doesn't require coding skills either.
Where can I buy $RARI token?
Rarible's governance token is available for purchase on crypto exchanges like Uniswap, Poloniex, Hotbit, and Balancer.
Is it safe to connect my wallet to Rarible?
Your digital assets will remain safe as long as you don't share your wallet's secret seed phrase. Use the same caution on OpenSea to secure your funds.