What is Bitcoin ETF and which companies applied for it in the US?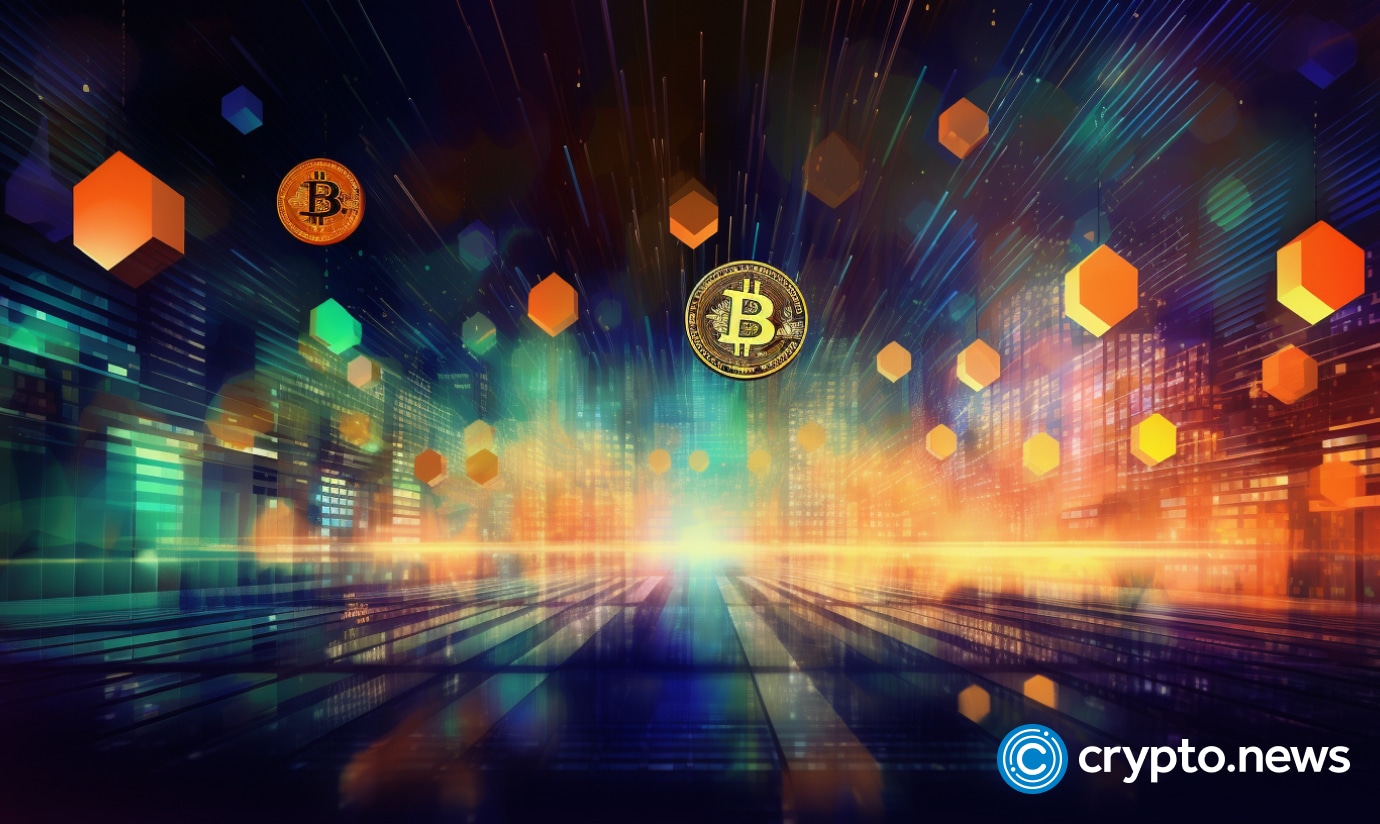 Discover the world of Bitcoin ETFs. Uncover their benefits, drawbacks, and key players re-entering the space with fresh applications.
Table of Contents
What is Bitcoin ETF?
BTC ETFs, or Bitcoin exchange-traded funds, are investment vehicles that allow investors to gain exposure to Bitcoin without directly owning the cryptocurrency. These funds are designed to track the price of Bitcoin or the performance of Bitcoin-related assets.
Here's how BTC ETFs typically work. The fund manager holds a certain amount of Bitcoin, and investors can buy shares or units of the ETF. The value of these shares is directly linked to the price of Bitcoin. As Bitcoin prices fluctuate, the value of the ETF shares also changes accordingly.
Why Bitcoin ETFs?
There are several reasons why Bitcoin ETFs play an important role in the crypto ecosystem:
Accessibility
BTC ETFs make it easier for mainstream investors to gain exposure to Bitcoin. Traditional investment vehicles, like futures contracts or buying and holding Bitcoin directly, may be complex or less accessible to certain investors.
ETFs provide a familiar investment structure regulated and traded on established exchanges.
Risk diversification
By investing in a BTC ETF, investors can diversify their cryptocurrency exposure without the need to hold and manage Bitcoin directly. The fund manager spreads the investment across multiple Bitcoin holdings and related assets, potentially reducing the risk associated with a single investment.
Regulatory oversight
BTC ETFs are subject to regulatory oversight by financial authorities, which can provide investors with security. ETFs must meet certain regulatory requirements, such as transparency, reporting, and custody standards, which can help protect investors' interests.
Liquidity
BTC ETFs are traded on established exchanges, making buying and selling shares easier for investors. This liquidity enhances market efficiency and allows investors to enter or exit their positions more quickly than other Bitcoin investment methods.
Institutional adoption
The introduction of BTC ETFs can potentially attract institutional investors, such as pension funds, mutual funds, and other large financial institutions. These institutional investors often have regulatory or investment restrictions that prevent them from directly investing in cryptocurrencies. The availability of BTC ETFs can provide a bridge for these institutional investors to access the Bitcoin market indirectly.
An unsteady dance: the SEC and Bitcoin ETFs
The relationship between the US Securities and Exchange Commission (SEC) and Bitcoin ETFs has been historically tense. The SEC, a key financial regulator in the US, has frequently voiced concerns about potential market manipulation and the inherent volatility of Bitcoin, which extends to Bitcoin ETFs.
Since the first proposal by the Winklevoss Bitcoin Trust in 2013, the SEC has consistently shown caution, resulting in multiple rejections and delays.
However, as demand for Bitcoin ETFs grows and the crypto market matures, there's optimism that the SEC might revisit its position.
The Winklevoss Bitcoin Trust: an unsuccessful pioneer
Initiated in July 2013 by Cameron and Tyler Winklevoss, the Winklevoss Bitcoin Trust was a pioneering effort in the Bitcoin ETF space. However, the SEC rejected this proposal in March 2017. 
In 2018, the SEC rejected the Winklevoss twins' second attempt to launch the first-ever Bitcoin ETF. The commission cited concerns about fraud, manipulation, and investor protection. The Winklevoss brothers argued for the resistance of Bitcoin markets to manipulation, but the SEC found no supporting evidence.
Grayscale's unconventional route
In July 2017, Grayscale, another significant player, filed an application for its Grayscale Bitcoin Trust (GBTC). Rather than awaiting SEC approval, Grayscale listed its fund on the OTC market, thus bypassing the rigorous SEC approval process.
ProShares: a double blow
ProShares entered the fray in September 2017, filing applications for two Bitcoin ETFs — the ProShares Bitcoin ETF and the ProShares Short Bitcoin ETF. However, both faced rejection in August 2018. The SEC cited concerns over potential market manipulation and insufficient investor protection measures.
Bitwise and Realty Shares
Bitwise proposed the Bitwise Bitcoin ETF Trust in January 2019, only to have it rejected about nine months later. Shortly after, in February 2019, Realty Shares ETF Trust proposed a Bitcoin fund that was withdrawn two days later.
WisdomTree
January 2022 saw WisdomTree bring innovation as it applied for a BTC ETF. The SEC rejected this proposal in October 2022, expressing that it did not protect against potential fraudulent and manipulative practices, nor did it serve the public interest.
Most recent Bitcoin ETF filings
Some of the world's largest financial institutions have put forward filings for their ETFs, attempting to get the elusive SEC approval. 
Blackrock's ambitious venture
BlackRock, the behemoth with $9 trillion under its management, applied for a Bitcoin ETF. The SEC has officially kickstarted the review process for the application, hinting at the potential introduction of the U.S.'s inaugural spot Bitcoin ETFs. Bloomberg Intelligence's ETF Research Analyst, James Seyffart, was among the first to spot this progression, sharing his observations on Twitter. Alongside BlackRock, major players like Fidelity, WisdomTree Funds, Invesco US, and VanEck have had their applications acknowledged, as seen on NASDAQ's rulemaking page. Although this acknowledgment doesn't guarantee approval, the heightened anticipation remains.
WisdomTree's expedited efforts
WisdomTree Investments, a recognized US asset manager, has swiftly followed Blackrock's lead and applied for a new Bitcoin-focused ETF. The timing of this move is critical, considering the SEC's ongoing legal battles with cryptocurrency exchanges.
Like Blackrock, WisdomTree also focuses on leveraging a robust custodian for its Bitcoin Trust. The objective is to balance minimizing expenses while maximizing returns, offering investors a cost-efficient and potentially profitable investment option. The company is also focusing on utilizing an independent pricing source to evaluate its Bitcoin assets' value.
However, the regulatory challenges are significant. With the SEC's consistent stance of caution regarding Bitcoin ETFs, the path to approval remains uncertain, even amidst increasing competition and innovation in the market.
Invesco's renewed confidence
Invesco, an investment management firm overseeing $1.49 trillion in assets, has made another attempt to establish a spot Bitcoin ETF. Following its initial joint application with Galaxy Digital in 2021, the firm's latest filing indicates its belief in the pressing need for such a product.
Invesco argues that the lack of a spot Bitcoin ETF exposes investors to riskier alternatives, such as platform companies that face potential bankruptcy. It is likely that the recent application by Blackrock, a significant player in the investment management industry, has spurred Invesco to reapply. 
Fidelity: back in the game
Fidelity Investments, a financial titan overseeing $11 trillion in assets, has made a return to the Bitcoin ETF landscape. The company has launched a new initiative named the Wise Origin Bitcoin Trust.
Fidelity's latest filing attempts to navigate the SEC's concerns about potential market manipulation, which led to the rejection of its previous application in 2022. Unlike its previous attempt, Fidelity's latest initiative includes a "surveillance sharing agreement" with an undisclosed U.S.-based Bitcoin trading platform.
This mirrors a similar agreement included in BlackRock's recent filing and represents a strategic move to assuage the SEC's concerns.
Direxion: Bitcoin and Ether ETFs
Direxion, a renowned ETF issuer, has approached the US SEC with filings for Bitcoin and Ether futures products. Direxion joins the league of eminent entities, like BlackRock and Valkyrie, eyeing the futures ETF market. Their ambition, as outlined in their application, centers on capital growth through crypto futures contracts on the Chicago Mercantile Exchange (CME). While several Bitcoin futures ETFs have seen the light, Ethereum-tracking ETFs remain unapproved by the SEC.
Valkyrie's proposal
The SEC has accepted Valkyrie's Bitcoin ETF proposal, with official reviews underway. Marked on the SEC's Nasdaq rulemaking list on July 17, Valkyrie's submission came closely on the heels of BlackRock's proposal, making it the latest ETF proposal being scrutinized. Notably, with its "BRRR" ticker, the proposed fund gives a nod to a well-known Bitcoin meme, blending financial ambitions with a dash of crypto culture.
Risks associated with Bitcoin ETFs
Given the backdrop of this ongoing discussion, let's delve into the risks these financial instruments bring.
Regulatory hurdles
The primary challenge that Bitcoin ETFs face is regulatory. The SEC has repeatedly expressed concerns over potential market manipulation and fraud in cryptocurrency, leading to several rejections of Bitcoin ETF applications.
Even with attempts by firms to incorporate surveillance-sharing agreements and robust custodial arrangements, there's no guarantee these measures will meet the stringent standards set by the regulatory agency.
Dependence on custodians
While using established custodians can enhance security, it also reintroduces a degree of centralized risk. The reliance on custodians contradicts the decentralized nature of cryptocurrencies, potentially exposing investors to risks associated with the custodian's operations, such as hacks or bankruptcy.
Market volatility
Despite attempts to increase liquidity and market stability, the inherently volatile nature of Bitcoin and other cryptocurrencies remains a major concern. Even with the introduction of ETFs, Bitcoin's price can still be subject to wild swings, posing significant risks to investors.
Innovation stifling
The introduction of Bitcoin ETFs could potentially stifle innovation in the cryptocurrency space. As traditional financial institutions step in, they may attempt to mold the sector to fit existing financial models and regulatory frameworks, which could hinder the development of new, disruptive cryptocurrency technologies and models.
The road ahead
Looking forward, the fate of Bitcoin ETFs lies significantly in the hands of regulatory bodies, chiefly the SEC. The SEC's decisions have the potential to not only determine the individual success of these ETF applications but also shape the broader cryptocurrency market's trajectory.
If the SEC begins to approve Bitcoin ETFs, it will signal a seismic shift in regulatory sentiment. This could open the floodgates to a wave of institutional and retail investors into the cryptocurrency market, thereby mainstreaming digital assets.
The increase in market capitalization and liquidity could potentially lessen Bitcoin's notorious price volatility, making it a more stable investment asset.
Moreover, a nod from the SEC could trigger similar positive reactions from regulatory bodies worldwide, fostering a more favorable and harmonious global regulatory environment for cryptocurrencies. It might also spur innovations in other digital asset ETFs, expanding the scope of crypto investing beyond Bitcoin.
However, if the SEC continues rejecting Bitcoin ETF applications, the impact could be significantly adverse. It would likely deter institutional participation, limit market liquidity, and potentially exacerbate Bitcoin's price volatility.
The ongoing uncertainty could also stifle innovation, as firms might be reluctant to invest in new technologies and models without clear regulatory guidance.
There's also the risk that persistent rejections could force the cryptocurrency market to move in a more isolated direction from traditional financial systems. This segregation might limit the potential for cryptocurrencies to transform the broader financial landscape.
As we navigate this uncertain terrain, one thing is clear – the decisions made today will shape the landscape of the digital assets market for years to come.